chevy chase
Jumping into the 1620s…
[The English ballad], The Ballad of Chevy Chase, [tells] the story of a large hunting party upon a parcel of hunting land (or chase) in the Cheviot Hills (a range of rolling hills straddling the Anglo-Scottish border between Northumberland and the Scottish Borders), hence the term, Chevy Chase. The hunt is led by Percy, the English Earl of Northumberland. The Scottish Earl Douglas had forbidden this hunt and interpreted it as an invasion of Scotland. In response, he attacked, causing a bloody battle [where] only 110 people survived.

There are two extant ballads […], both of which narrate the same story. As ballads existed within oral tradition[s] before being written down, other versions of this once popular song also may have existed. Moreover, other ballads used its tune without necessarily referring to [this particular ballad].
This ballad was entered in the Stationers' Register in 1624. The title is alternatively spelled Chevy Chace. The ballad is generally thought to describe the Battle of Otterburn. Some of the verses correspond to that battle but, not all. The Battle of Otterburn took place in 1388. At that [b]attle, Henry Percy (Hotspur) was captured, not killed. He was killed in 1403 in an uprising against Henry IV.

The death of Earl Douglas
Author: John Frederick Tayler
Image Credit: All Posters & Wikimedia

[A]nother possibility [was] border warfare between a Percy and a Douglas in 1435 or 1436. Henry Percy of Northumberland made a raid into Scotland with 4,000 men. He was met by William Douglas, Earl of Angus at Piperden. There were great losses on each side but, the Scots prevailed.

Over time, and the various evolutions of the ballad, events and personages have gotten confused.
Additional Reading & Sources:
The Naming of Chevy Chase (Chevy Chase Historical Society)
Chevy Chase (Contemplations From the Marianas Trench)
Battle of Chevy Chase (Douglas History UK)
The Battle of Chevy Chase (Luminarium: Anthology of English Literature)
Who or What is Chevy Chase? (The Straight Dope)
Battle of Otterburn (Wikipedia)
The Ballad of Chevy Chase (Wikipedia)
The Ballad of Chevy Chase (A Cappella)

The Battle of Otterburn Ballad

Thirty years ago, today, the #1 film at the box office was Fletch Lives, starring Chevy Chase, Hal Holbrook, Julianne Phillips, R. Lee Ermey, Richard Libertini, Randall 'Tex' Cobb, Cleavon Little, George Wyner, Patricia Kalember, Geoffrey Lewis, Richard Belzer, Phil Hartman and Noelle Beck. Released March 17, it was a sequel to Fletch (1985), a movie about an investigative reporter named Irwin Maurice "Fletch" Fletcher, a character created in 1974 by mystery writer Gregory McDonald. It was directed by Michael Ritchie with music by Harold Faltermeyer.
Fletch fans rejoice! The reckless I.M. Fletcher, investigative reporter, returns to the screen. This time, the chameleon-like reporter ventures to Belle Isle, a sprawling 80-acre Louisiana plantation which Fletch inherits from his aunt. Trouble begins when a lovely attorney mysteriously turns up dead, a neighborly lawyer warns him to leave town and a ravishing real estate agent comes calling with a persistent offer he may not be able to refuse. Fletch must unravel the reasons for the mad land scramble with his trademark bag of hilarious disguises.
Quotes
From Chris Willman:
[…] a movie with a hero whose every other line of dialogue is a snide wisecrack directed at a fool. In this meager sequel, as in its popular predecessor, Chevy Chase demolishes every easy target in sight with a quip of the tongue. Some of the lines are funny but, after a while, you just want to smack him. […] Chevy, who isn't playing a character (least of all the character first created by novelist Gregory McDonald) so much as reprising his nonplussed, punchline-spouting "Weekend Update" anchor role. […] Ritchie lets sophomoric scatology predominate over satire at every turn and, […] the gags are more crass than corrosive. […] moviegoers might think twice about signing on as the film makers' partners in put-down when they're clearly also its targets. Beware: [the movie] may assume that all Southerners are dim bulbs but, it doesn't think you're so bright yourself.
From Roger Ebert:
[The movie] is one more dispirited slog through the rummage sale of movie clichés […] If you were writing a screenplay, would you think a movie involving […] pathetic clichés had the slightest chance of interesting anyone? Chase's assignment is to bring an angle, an edge, to plot materials that are otherwise completely without interest. And it's theoretically possible for that to happen […] But, Chase is wrong for this material because of the pose of detachment and indifference that he brings to so many roles. He seems to be visiting the plot as a benevolent but, indifferent outsider. […] sometimes he seems to be covering himself, playing detached so that nobody can blame him if the comedy doesn't work. In this film he seems to have no emotions at all […] Chase is at arm's length from the plot, making little asides and whimsical commentaries while his hapless supporting cast does what it can with underwritten roles. A mystery is concealed somewhere in the folds of the movie's plot but, one that will not surprise anyone who has seen half a dozen other mysteries. The identity of the bad guy can be deduced by applying the Law of Character Economy, which states that the mystery villain is always the only character in the plot who seems otherwise unnecessary. It admittedly takes a little more thought than usual to apply the law in this case, since so many of the characters seem unnecessary.
Trivia Bits
♦ The original character from the novel was a Marine veteran.
♦ Though there were eight sequels, and prequels, written by Gregory McDonald that could have been used as the basis for the second "Fletch" movie at the time, Universal decided to write a completely new story.
♦ The last name of televangelist Jimmy Lee Farnsworth is the same as that of the widely acknowledged inventor of television, Philo T. Farnsworth.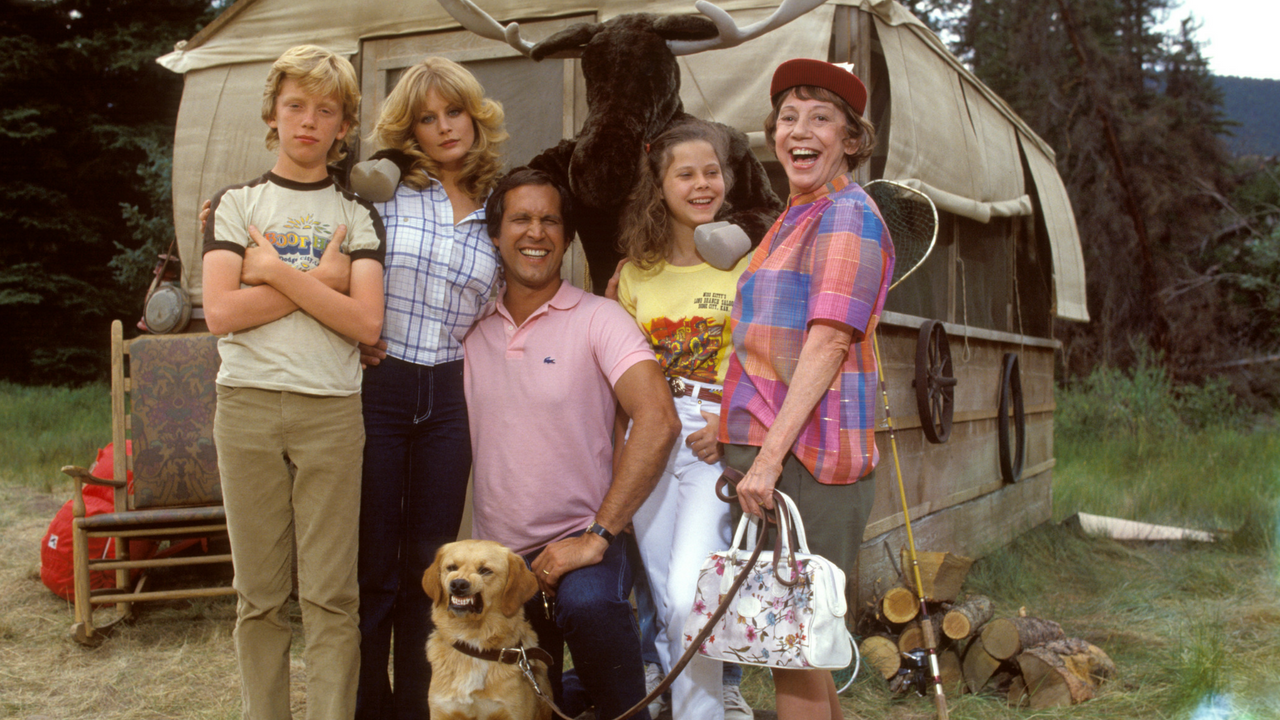 It's Flick Friday! The number one movie 35 years ago, today, is National Lampoon's Vacation!
[I saw this movie in the summer before beginning my senior year of high school. It is a very different movie from the sequels as there was nudity. It wasn't considered a 'family friendly' movie back then. It was very risqué. It is the only movie of the series with an 'R' rating. The movies afterwards were toned down. And, it's a little embarrassing, too. My mother's maiden name is Griswold. I kept my mouth shut in school but, boy did my cousins take some ribbing. And, yes. We are just that weird. LOL! ~Victoria]