News
A suicide bomber drives a truck packed with explosives into the U.S. Marine barracks in Beirut, killing 241 U.S. military personnel. That same morning, 58 French soldiers were killed in their barracks two miles away in a separate suicide terrorist attack. The U.S. Marines were part of a multinational force sent to Lebanon in August 1982 to oversee the Palestinian withdrawal from Lebanon.

In 1975, a bloody civil war erupted in Lebanon, with Palestinian and leftist Muslim guerrillas battling militias of the Christian Phalange Party, the Maronite Christian community and other groups. During the next few years, Syrian, Israeli and United Nations interventions failed to resolve the factional fighting and, on August 20, 1982, a multinational force including 800 U.S. Marines was ordered to Beirut to help coordinate the Palestinian withdrawal.

[Following] the massacre of Palestinian refugees by a Christian militia, [the] next day, the first U.S. Marine to die during the mission was killed while defusing a bomb. Other Marines fell prey to snipers. On April 18, 1983, a suicide bomber driving a van devastated the U.S. embassy in Beirut, killing 63 people, including 17 Americans. Then, on October 23, a Lebanese terrorist plowed his bomb-laden truck through three guard posts, a barbed-wire fence and into the lobby of the Marines Corps headquarters in Beirut. [He] detonated a massive bomb killing 241 Marine, Navy and Army personnel. The bomb, which was made of a sophisticated explosive enhanced by gas, had an explosive power equivalent to 18,000 pounds of dynamite. The identities of the embassy and barracks bombers were not determined but, they were suspected to be Shiite terrorists associated with Iran.

Beirut Memorial Online

Serious questions also arose over the quality of security in the American sector of war-torn Beirut. The U.S. peacekeeping force occupied an exposed area near the airport but, for political reasons, the Marine Commander had not been allowed to maintain a completely secure perimeter before the attack.

On February 26, 1984, the main force of Marines left Lebanon, leaving just a small contingent to guard the U.S. embassy in Beirut.
[Source]
This one hits home. One of the Marines killed in that bombing graduated from my high school. He graduated in 1982 (two years ahead of me) and I never got to meet him but, I knew his younger brother whom was a year behind me. Many years later, I wound up married to the Corps for 12 years. My ex and I visited the Beirut Bombing Memorial in Jacksonville when he returned from Iraq War duty. I took pictures but, I don't remember what happened to them. ~Vic
Burlington Times-News Article (Johnny's name on the wall…)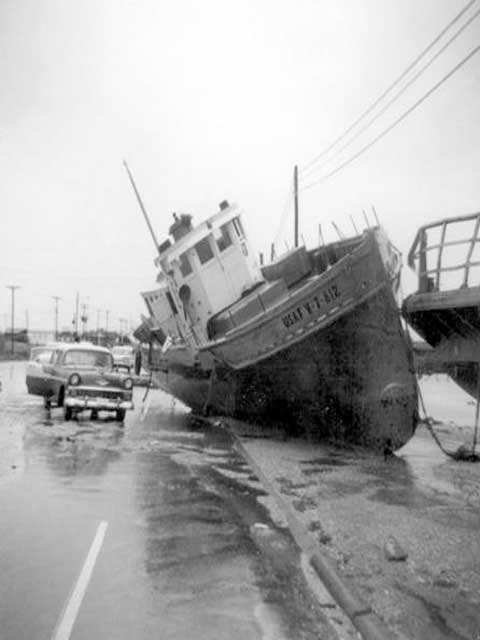 I realize that September 11 is usually reserved for the remembrance of 9/11 but, that seems to be all over the news as it is. There are other things that have happened on September 11. ~Vic
Fifty-eight years ago, today, Category 4 Hurricane Carla slammed into Texas, making landfall near Port O'Connor. She was the first Category 5 of the 1961 Atlantic hurricane season.
From the National Weather Service:
Carla was the most intense hurricane to make landfall on the Texas coast in the 20th century and second in recorded history only to the Indianola hurricane of 1886. Carla was the last of 6 hurricanes to make landfall on the Texas coast as a Category 4 hurricane on the Saffir-Simpson scale, with sustained winds stronger than 130 mph, in the 20th century. Carla ranks as the 9th most intense hurricane to affect the United States since 1851.

Carla made landfall on the afternoon of the 11th on the northeast part of Matagorda Island as a strong Category 4 hurricane […]. The eye of Carla moved across Port O'Connor and Port Lavaca and, then, inland just east of Victoria. Carla weakened to a tropical storm on the morning of the 12th just east of Austin.

Carla was an extremely large hurricane with devastating effects from the winds and storm surge […]. The extreme tides inundated downtown Port Lavaca with 2 feet of flood water and displaced fishing boats and tug boats on Highway 35. With the slow movement of Carla, the hurricane pushed a storm surge of 22 feet above mean sea level at the head of Lavaca Bay in Port Lavaca. This is the highest storm surge in Texas hurricane history.
From Wikipedia:
[Little-known] newsman Dan Rather reported live from the second floor of a building in Texas City during the storm, an act that would be imitated by later reporters. This marked the first live television broadcast of a hurricane. Rather also alerted the public of the size of Carla in a way that "literally changed the way the world sees hurricanes", according to a fellow reporter. Broadcasting live at the Weather Bureau Office in Galveston, Rather asked a meteorologist to draw an outline of the Gulf of Mexico on a transparent sheet of plastic. He then held the map over the black and white radar screen, which put the size of Carla into perspective, saying that Carla was the size of the Gulf of Mexico. CBS was so impressed with Rather's work that he was offered the position of correspondent.
Carla remains number one on the Hurricane Severity Index.
Forty years ago, today, the Disco Demolition took place at Chicago's Comiskey Park. What started out as a baseball promotion turned into a mêlée that damaged the field.
[..] disco didn't quite die a natural death by collapsing under its own weight. Instead, it was killed by a public backlash that reached its peak on this day in 1979 […]. That incident, which led to at least nine injuries, 39 arrests and, the cancellation and forfeit of a Major League Baseball game, is widely credited […] or, blamed for […] dealing disco its death blow.

The event was the brainchild of Steve Dahl and Garry Meier, popular disk jockeys on Chicago's WLUP "The Loop" FM. […] many […] rock DJs were displaced by disco [but], only Dahl was inspired to launch a semi-comic vendetta aimed at "the eradication and elimination of the dreaded musical disease."

On May 2, the rainout of a game between the Chicago White Sox and the Detroit Tigers led to the scheduling of a doubleheader on July 12. Dahl and Meier approached the White Sox with a rather unorthodox idea for an attendance-boosting promotion […]. […] allow Dahl to blow up a dumpster full of disco records between games of the doubleheader. White Sox executive Mike Veeck embraced the idea […].

[…] organizers […] grossly [underestimated] the appeal of the 98-cent discount tickets offered to anyone who brought a disco record to the park to add to the explosive-rigged dumpster. WLUP and the White Sox expected perhaps 5,000 more fans than the average draw of 15,000 or so […]. What they got, instead, was a raucous sellout crowd of 40,000+ and an even more raucous overflow crowd of as many as 40,000 more outside on Shields Avenue.

What followed was utter chaos, as fans by the thousands stormed the field, […] began to wreak havoc, shimmying up the foul poles, tearing up the grass and lighting vinyl bonfires on the diamond while the stadium scoreboard implored them to return to their seats. Conditions were judged too dangerous for the scheduled game to begin and the Detroit Tigers were awarded a win by forfeit.

[Source]
In the weeks before the event, Dahl invited his listeners to bring records they wanted to see destroyed to Comiskey Park. Owner Bill Veeck was concerned the promotion might become a disaster […]. His fears were substantiated when he saw the people walking towards the ballpark that afternoon. […] many carried signs that described disco in profane terms.

Some leapt turnstiles, climbed fences and entered through open windows. Attendees were supposed to deposit their records into a large box [but], once the box was overflowing, many people brought their discs to their seats. Many of the records were not collected by staff and were thrown like flying discs from the stands. Tigers designated hitter Rusty Staub remembered that the records would slice through the air and land sticking out of the ground. He urged teammates to wear batting helmets when playing their positions. "It wasn't just one, it was many. Oh, God almighty, I've never seen anything so dangerous in my life." Attendees also threw firecrackers, empty liquor bottles and lighters onto the field. The game was stopped several times because of the rain of foreign objects.

Dozens of hand-painted banners with such slogans as "Disco Sucks" were hung from the ballpark's seating decks. Dahl set off the explosives, destroying the records and tearing a large hole in the outfield grass. […] the first of 5,000 to 7,000 attendees rushed onto the field […]. The batting cage was destroyed and, the bases were pulled up and stolen. Among those taking to the field was 21-year-old aspiring actor Michael Clarke Duncan […]. Duncan slid into third base, had a silver belt buckle stolen and went home with a bat from the dugout. Some attendees danced in circles around the burning vinyl shards.

Chicago police in full riot gear arrived (9:08pm) to the applause of the baseball fans remaining in the stands. Those on the field hastily dispersed upon seeing the police. Tigers manager Sparky Anderson refused to allow his players to take the field […] due to safety concerns. Anderson […] demanded that the game be forfeited to the Tigers. He argued that, under baseball's rules, a game can only be postponed due to an Act of God, and that, as the home team, the White Sox were responsible for field conditions.
"Many ordinary meds cause depression…"
For years, I've been writing about the medical system's self-feeding mechanism…

Give a patient a drug to treat his symptoms; the drug causes new symptoms, which are diagnosed as a new illness; and then new drugs are given, and those drugs cause still more symptoms, which in turn are diagnosed as a new condition…on and on it goes. Drugged patients suffer tragically and needlessly, and cash piles up in Big Pharma's coffers.

At one time, this circle of devastation might have been called an accident. But now, all the experts know the truth. Therefore, this is rightly labeled a MARKETING STRATEGY, and, at the highest levels, a covert op to disable the population.

Here is a new revelation:

Suppose your doctor told you this: "I'm prescribing an antidepressant because the other drugs you've been taking have a side effect—they cause depression."

You might say, "Wow, where is my compensation for suffering depression?"

The answer, of course, is: Nowhere.

Yahoo News (6/12) has the story: "One third of Americans are taking prescription and over-the-counter drugs, such as birth control pills, antacids and common heart medications, that may raise the risk of depression, researchers warned on Tuesday."

"Since the drugs are so common, people may be unaware of their potential depressive effects, said the report in the Journal of the American Medical Association (JAMA)."

"'Many may be surprised to learn that their medications, despite having nothing to do with mood or anxiety or any other condition normally associated with depression, can increase their risk of experiencing depressive symptoms, and may lead to a depression diagnosis,' said lead author Dima Qato, assistant professor of pharmacy systems, outcomes and policy at the University of Illinois at Chicago."

Here is the kicker: "The report was released one week after US health authorities said suicides have risen 30 percent in the past two decades, with about half of suicides among people who were not known to suffer from mental illness."

"Anti-depressants are the only drug class that carries an explicit warning — called a black box warning — of suicide risk."
[I am well versed in the terrible effects of birth control pills. I was on them for seven years and, despite being told that my "ovaries would be protected for seven years after stopping the medication", my endocrine system suffered for longer than that. Depression and weight problems troubled me for decades. Conveniently, doctors don't mention the birth control/depression connection. Any "depressive symptoms" that occur are labeled as "psychological problems" or some other mental illness diagnosis. Their answer? More drugs. Yeah. Thanks a lot. Thirty years and three psychiatrists later, I cleaned up my system. Some of the damage to my body is permanent.
~Victoria]
This video has been passed along by Chris Thomas. He doesn't promote or endorse this video at all but, some information contained within it regarding the children and expanding DNA is worth noting.


I purposely changed the title to this post to read differently from the original post from Gregg Prescott at In5D. We aren't mutating and, technically, we aren't evolving even though I used that term in the title. We are, actually, returning to what we once were…true humans. We, originally, had 13 strands of DNA and our total soul within our bodies (see The Chris Thomas Files link, above, to find out real human history).
This is an astounding article, nonetheless, as an article on DNA strands actually showed up in the main stream media (Science on NBC News) back in January of 2013. The article links back to photos of four-strand DNA structures on Live Science. The researchers have labeled them as G-quadruplexes.
Quote from Dr. Berrenda Fox from the In5D article:
Some adults that I have tested actually do have another DNA helix forming. Some are even getting their third. These people are going through a lot of major shifts in their consciousness and physical bodies, because it is all one. In my opinion, the Earth and everyone here is raising its vibration. Many of the children born recently have bodies that are magnetically lighter.
I peruse many news sites, looking for humanity. The television in my home has become a source of unbelievable exasperation. It is on, constantly (not by my hand) and I cut it a wide path. If I stop for one moment to look at it or take in any of its insanity, I wind up locked in a battle of wits with an inanimate object, screaming at it as if my reactions to it will have any effect. But, I digress.
Anyway, I surf the Internet, reading, searching…looking for humanity. If you dig deep enough through the pages and pages of fluff and flash that Google and Bing like to sling in your face, you can usually come up with some heart warming stories or an article or two that brings tears to your eyes from laughter.
Then, there are times when Matt the Drudge boy posts a link to something that leaves you speechless. And, here we have it. From The Independent in the UK: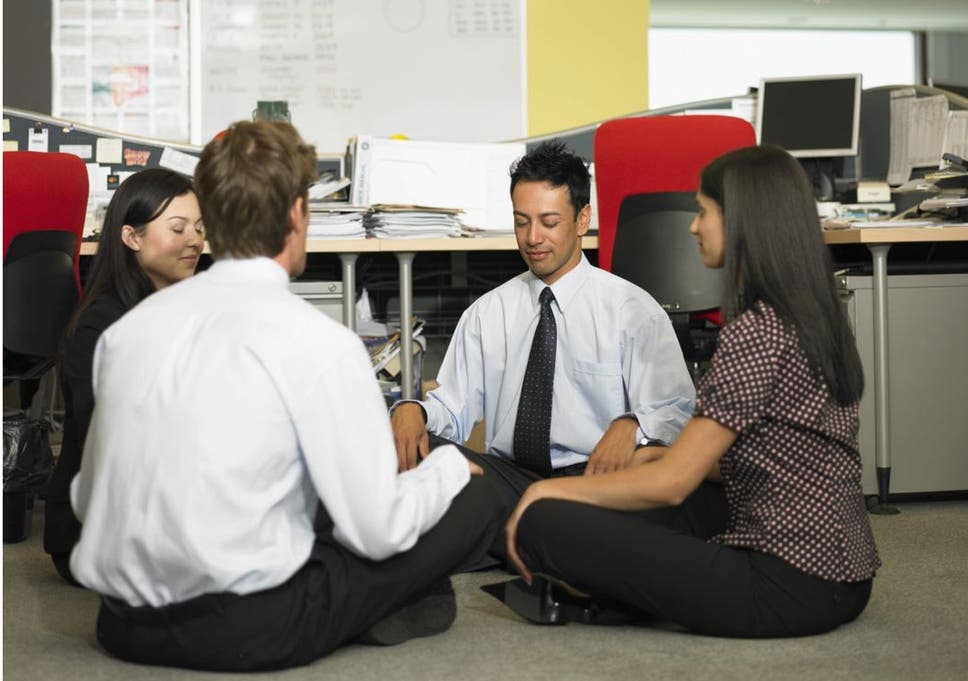 Zen And The Art Of Fund Management
Bankers are apparently turning to transcendental meditation to alleviate the otherwise intolerable stress of their work. Poor lambs. Michael Lewis, the famed chronicler of Wall Street excess, suggests some more, shall we say, appropriate ways for masters of the universe to unwind.
Apparently, the Banksters and their ilk have turned to "transcendental meditation" to help them deal with their daily stress. I'm partially amused and partially horrified. The first thing that strikes me is their use of the term "transcendental." It's an adjective meaning surpassing, superior, beyond ordinary, extravagant…
This article was written by a Michael Lewis and it is very tongue-in-cheek, as I would expect from the Brits (I guess he is a Brit; I haven't a clue who he is, other than what is listed in the article). I can imagine his eyes rolling as he typed. Certainly, mine have. His humor is spot on.
Anyway, these Wall Street idiots are now meditating. They aren't meditating to strengthen their immune systems or to understand the Universe or to send positive energy to Mother Earth or to try and make the world better. No. These whiny bastards are meditating to try and get an edge over each other and, presumably, to lower the stress levels that inevitably come about when you screw people (unless you are a psychopath and, then, you aren't stressed nor do you need to meditate to alleviate that which you don't suffer from).
Oh, and they aren't just meditating. They are practicing transcendental meditation…meditation that is somehow better than the average person's meditation. The level of absurdity that these people function at boggles a normally functioning mind. They have this incredible ability to take something pure and beautiful and, completely twist it out of shape…in this specific case, the use and the meaning of meditation. I'm reminded of the scene in Robin Hood: Prince of Thieves where Robin gets away from the Sheriff of Nottingham by cutting the rope to the light fixture…
Sheriff: Locksley! I'm going to cut your heart out with a spoon!
Robin: Then, it begins.
Guy of Gisborne: Why a spoon, cousin? Why not an axe?
Sheriff: Because it's dull, you twit! It'll hurt more.
Deranged people will do that…twist intent. Now, Marines, SEALs and Seabees will adapt, improvise and overcome. They would use a spoon for a weapon if necessary. But, that's training and that's for another post.
There is one thing that I hope Wall Streeters discover during their "transcendentalism"…their souls. Hmmm…not likely.
Here in America, this was reported nowhere in the in-your-face, 24-hour television news cycle. I stumbled across this on one of my alternative news sites. ABC News was the only agency to pick it up but, its glossy little article was only on its website and the tone of story was something along the lines of "…oh, gee, isn't this cute…"
I encourage anyone reading this to dig. I don't believe in coincidences, anymore. After MH370, I hope the Europeans crawl all over this…because it stinks.
Reuters: Jets Vanishing From Europe Radar Linked To War Games
It did not identify the military force, which Austrian media said was the NATO western military alliance. NATO had no immediate comment.
The Telegraph: 13 Planes Vanish From Radars Over Europe
An air-safety investigation has been launched after 13 planes flying over Europe disappeared from radar screens in two "unprecedented" blackouts, leading to reports stating air traffic control systems had been hacked.
The Guardian: Military Blamed After Planes Vanish From Europe Air-Traffic Control Screens
"The disappearance of objects on radar screens was connected with a planned military exercise which took place in various parts of Europe … whose goal was the interruption of radio communication frequencies," the Slovak air traffic services said.
Mail Online: Flights Briefly Vanish From Austrian Air Traffic
…a report in the Kurier newspaper said as well as in Vienna in Austria, flight controllers in Munich and Karlsruhe in Germany, and in Prague, the Czech Republic, and Bratislava in Slovakia also reported related problems.
Russian Times: 'Unprecedented': 13 Aircraft Mysteriously Disappear From Radars In Heart Of Europe
A total of 13 aircraft suddenly vanished off radars for about 25 minutes on two occasions over Austria and neighboring countries, Austria's flight safety monitor said, calling for an EU probe into the "unprecedented" incidents.
I wish I was a writer by trade with all of the neat "writer accoutrements", i.e. wordsmithing and brutal, biting wit. I just don't have it.
Fortunately, I can point to those who do and grab examples. Melissa nails it!
If I was part of an alien race watching this sick debacle from the safe distance of outer space, it'd be like a reality TV show of a perpetual train wreck that I'd be too frozen in horror to look away from even as it melted my eyeballs out of the sockets.
Read Melissa Melton's (now Dykes) complete Activist Post article. Laugh or cry…whichever comes first. ~Vic
Update: The damn meters made it to my town. Luckily, I was home when the person showed up to install them. I had already petitioned Duke Energy to delay installation (they were still figuring out a deferment plan and were using South Carolina as an example to follow) and I made sure the person knew that. They were aware. I pushed forward for a medical exemption…and got it. When the second person showed up three months later, they stopped and showed me that it was a non-smart meter. I'm suspicious that Duke Energy is lying but, so far, no health issues, no jacked-up power bills and, thank goodness, no burnt down house.
Smart meters are bad news. Seriously. These things should be outlawed. Not only have there been reports of skyrocketing bills and privacy invasion but, the radiation that these things give off can ravage your health. If you refuse and say no to the installation of one, you are charged a one time hefty fee and a monthly charge. Nice, huh?
This technology has destroyed jobs because they don't need to be read by a human. They just transmit their data and boom, the power company knows how much power you are using. Apparently, they can also tell which appliance(s) you are using and there is the potential to, say, shut off your appliance(s) or cut your overall power when they determine that you are using too much. They might have the ability to know when you are home and when you are not. Talk about Big Brother.
Stop Smart Meters is a terrific website with lots of information. It is a gateway to all things "Smart Meter" and "EMF". Check it out.
YouTube videos:
Dr. David O. Carpenter, below, Dean of the School of Public Health at the University of Albany, former head of the New York State Dept. of Public Health and is a graduate of Harvard Medical School warns of the health dangers:

 
This video shows how aluminum foil can block the radiation:

 
Aluminum mesh does the same:

 
You can buy a Smart Meter Guard but, he's charging $100:

 
A Glendale, CA, woman was persistent and got her analog meter put back on. I don't know if the city is charging her a fee for having that done but, her health was a definite issue:

***Mystery Solved***
This Egyptian statue moves! Watch the time-lapse video:
An ancient Egyptian statue appears to have started moving on its own, much to the amazement of scientists and museum curators.

The statue of Neb-Senu, believed to date to 1800 B.C., is housed in the Manchester Museum in England — at least for now. But if the statue keeps moving, there's no telling where it will end up.

"I noticed one day that it had turned around," museum curator Campbell Price told the Manchester Evening News. "I thought it was strange because it is in a case and I am the only one who has a key."

"I put it back, but then the next day, it had moved again," Price said. "We set up a time-lapse video and, although the naked eye can't see it, you can clearly see it rotate."

The 10-inch (25 centimeters) statue was acquired by the museum in 1933, according to the New York Daily News. The video clearly shows the artifact slowly turning counterclockwise during the day, but remaining stationary at night.

This daytime movement led British physicist Brian Cox to believe the statue's movement is due to the vibration created by museum visitors' footsteps. "Brian thinks it's 'differential friction,' where two surfaces — the stone of the statuette and glass shelf it is on — cause a subtle vibration, which is making the statuette turn," Price said.

"But it has been on those surfaces since we have had it and it has never moved before," Price said. "And why would it go around in a perfect circle?"
Well, isn't this curious!
Read the complete article from Live Science.