News
I just found out about the passing of actor Sean Connery. There are certain actors I have a thing for and he is one of them. Our birthdays are five days apart and we both have Scottish (and Irish) ancestry. He enlisted in the Royal Navy at the age of 16, was assigned to the HMS Formidable as an Able Seaman and was medically discharged at 19 for ulcers.
One of his early endeavors was as an artist's model. He was into bodybuilding and was in a Mr. Universe contest, though the actual year is disputed. He was a footballer, playing for Bonnyrigg Rose and was once offered a contract to play professionally:
"[I] realised that a top-class footballer could be over the hill by the age of 30 and I was already 23. I decided to become an actor and it turned out to be one of my more intelligent moves."
He was a member of the Scottish National Party and campaigned for Scottish Independence, financially supporting the party until the UK passed legislation to prohibit overseas funding. One of his two tattoos was "Scotland Forever."
He managed to make it all the way to 90 but, according to his son Jason, he had been unwell for some time. He passed peacefully in his sleep at his home in the Bahamas. I think it altogether fitting and proper that Sir Sean left on Halloween during a full Blue Moon. Godspeed. ~Vic
Career Highlights:
His acting debut (uncredited) was in the UK film Lilacs in the Spring (titled Let's Make Up in the US) in 1954, a British musical starring Errol Flynn. On UK TV, he played MacBeth, Alexander the Great and Count Vronsky. His first appearance on US TV was on The Jack Benny Program in 1957. His first credited film roll in the US was a UK/US collaboration in the movie Action of the Tiger, also in 1957. He was the first James Bond (and some say the only one), he played a savage in the distant future, became Robin Hood, was a Marshal in outer space, was King Agamemnon, was a sword-wielding immortal, did a turn as a Franciscan friar, was an Untouchable, a Provost Marshall in San Francisco, was the father of Indiana Jones, a Russian submarine Captain, appeared as King Richard, became a doctor, was a detective, a professor, played King Arthur, played an ex-con & an art thief, was a reclusive author and, was the voice of The Last Dragon. He was only in one Western in 1968. His last time on the big screen was in 2003 playing Allan Quatermain in The League of Extraordinary Gentlemen and his last time on TV was playing character John Muir in an episode of the documentary Freedom: A History of US, also in 2003. He did voice work up to 2012.
Awards:
♥ 1987 Academy Award (Best Supporting Actor/The Untouchables)
♥ 1987 BAFTA (Best Actor/The Name of the Rose)
♥ 1998 BAFTA Fellowship
♥ 1972 Golden Globe (Henrietta Award/World Film Favorite-Male)
♥ 1987 Golden Globe (Best Supporting Actor/The Untouchables)
♥ 1995 Golden Globe (Cecil B. DeMille Award)
Nominations:
♦ 1987 BAFTA (Best Supporting Actor/The Untouchables)
♦ 1989 BAFTA (Best Supporting Actor/Indiana Jones and the Last Crusade)
♦ 1990 BAFTA (Best Actor/The Hunt for Red October)
♦ 1965 Golden Globe (Henrietta Award/World Film Favorite-Male)
♦ 1968 Golden Globe (Henrietta Award/World Film Favorite-Male)
♦ 1989 Golden Globe (Best Supporting Actor/Indiana Jones and the Last Crusade)
www.seanconnery.com (Web Archive)
Additional Reading & Sources:
BBC News
Belly Buzz (Web Archive of Connery's Military Service)
List of Work (IMDb)
List of Work (Wikipedia)
Muscle Memory (As Tom Connery)
Scottish Junior Football Association (Web Archive)
Scottish Roots
Talk-Talk UK (Archive Today Copy of Connery's Biography)
"Alligator sucking on helium wins parody Ig Nobel Prize"
Scientists are answering a question no one is asking. What would it sound like if an alligator sucked up helium? When a team of international researchers wanted to find out whether a gator's vocalizations relate to its body size, they devised an experiment that would earn them the 2020 Ig Nobel (a wordplay on "Nobel" and "ignoble") Prize for acoustics. Researchers captured footage of the snorting alligator in a helium-filled tank. In perhaps one of the biggest letdowns in the history of scientific study, it sounded nothing like a cartoon chipmunk. Now in its 30th year, the annual Ig Nobel Prize awards ceremony, usually presented at Harvard University's Sanders Theatre, was conducted remotely due to pandemic restrictions.

Among this year's other elite competitors, a study which demonstrated that meticulously groomed eyebrows are a reliable indicator of grandiose narcissism took home the prize in psychology. The prize in economics went to an international team of creeps (presumably) who wanted to know whether the rate of French kissing correlated with national income inequality. Based on data from 13 countries across six continents, they found that where kissing was more frequent, income inequality was also more likely to occur. Go figure. American Richard Vetter took home the prize in entomology for his brave study on spiders (which aren't technically insects) that revealed most of his peers are, allegedly, arachnophobic. And, the award for materials science went deservedly (because it's gross) to a collaboration between the US and the UK to study whether frozen human feces could be made into usable knives. Spoiler alert: It certainly cannot.

But, who could forget the most Ig Nobel moment in recent history? The medical education prize went to a roundup of sometimes ill-advised world leaders for showing that "politicians can have a more immediate effect on life and death than scientists and doctors can" during the global coronavirus pandemic.

Hannah Sparks
New York Post
September 18, 2020
Update:
The artifacts sold for an astounding $81,250 on September 12, 2020.
"[The] lock of hair and telegram, which provides details of Lincoln's assassination in 1865, are expected to fetch up to $75,000."
A lock of Abraham Lincoln's hair wrapped in a telegram stained with the 16th president's blood is up for auction online. [From RR Auction, based in Boston], [the two} inches of Lincoln's hair was removed during his postmortem examination after the president was fatally shot by John Wilkes Booth.

The hair ended up in the custody of Dr. Lyman Beecher Todd, a cousin of Lincoln's widow, Mary Todd Lincoln. The doctor was present at the postmortem examination and is believed to have wrapped the lock of hair in the telegram which had been sent to him the previous day by his assistant, George Kinnear. The telegram is stained with what is believed to be the slain president's blood.

Bidding for the two items closes Sept. 12.

Ben Hooper
UPI
August 28, 2020
The hair is mounted to an official War Department manuscript telegram sent to Dr. Todd by George H. Kinnear, his assistant in the Post Office at Lexington, Kentucky, received in Washington at 11:00pm on April 14, 1865 […]. [A] typed caption prepared by Dr. Todd's son reads, in part: "The above telegram […] arrived in Washington a few minutes after Abraham Lincoln was shot.

Image Credit: Kentucky Kindred Genealogy

Next day, at the postmortem, when a lock of hair, clipped from near the President's left temple, was given to Dr. Todd. [Finding] no other paper in his pocket […] he wrapped the lock, stained with blood or brain fluid, in this telegram and hastily wrote on it in pencil […] 'Hair of A. Lincoln.'"

Dr. Lyman Beecher Todd's own account of the autopsy, now preserved in an 1895 manuscript held in the Ida Tarbell collection of Lincoln papers at Allegheny College in Meadville, PA, differs slightly from his son's, noting that he clipped the lock himself: "When all was over, General Hardin entered and handed me a pair of scissors, requesting me to cut a few locks of hair for Mrs. Lincoln. I carefully cut and delivered them to General Hardin and, then, secured one for myself which I have preserved as a sacred relic."

Description From The Original Listing
"A report warns that fleets of new communication satellites in low-Earth orbit will spoil some astronomical observations, even if all known mitigation strategies are taken."
Astronomers and the operators of new, thousands-strong […] low-orbiting satellites will have to work together to prevent them from having a devastating impact on ground-based observations of planets, stars and other celestial objects, says a [recent] report […]. Even then, there is no escaping some harm from the fleets of commercial orbiters.

"All optical and infrared observatories will be affected to some degree," [stated] astronomer Anthony Tyson of the University of California, Davis, […] at a briefing on the report.

"No combination of mitigation will eliminate their impact," added astronomer Connie Walker of the U.S. National Optical-Infrared Astronomy Research Laboratory.

The satellites, designed to provide internet access in remote areas, now number in the hundreds. [Following] the launch of the first batch by SpaceX in May 2019, astronomers were alarmed by how bright they appear in the sky. If all the planned [launches] go ahead, the number of satellites will grow beyond 100,000. Since last year, there have been a number of independent studies of [satellites'] possible impact. [The] workshop's report is the first time the satellite companies, and those who would be affected (astronomers to the agencies that fund them and their telescopes), have pooled their results and worked out a strategy for the future.

Photo Credit: NASA on Unsplash

The satellite trails are very bright, and out of focus slightly, so they're wide and cover several pixels on images taken with a test version of the (soon to open Vera C.) Rubin Observatory's camera, notes Tyson. [Telescopes] that need to work during twilight will also run into problems. Because the satellites are in low orbits, they will often be seen close to the horizon and will be most visible when they are still in sunlight but, the observer is not. If, however, satellite operators choose orbits above 600 kilometers, the situation gets worse because, then, their spacecraft are visible for more of the night, and in [the] summer, all night long. Astronomers should also develop software tools to remove satellite trails from images and the companies should make accurate orbital data available for their orbiters so telescopes can try to avoid them.

The only measure the report could offer to totally eliminate the damage to astronomy was to launch fewer or no low-orbiting satellites…likely not an option given the financial investments the companies are making in the [satellites] and the lucrative market they foresee.

Tyson and his colleagues have been working with SpaceX engineers to modify their satellites to reduce their brightness. His team has also modeled trying to steer the Rubin Observatory telescope to avoid passing satellites but, Tyson says there are simply too many. Astronomers are already actively pursuing image processing solutions but, he says "the jury's out" on how much that can help.

Daniel Clery
Science Magazine
August 25, 2020
Addtional Reading:
Report Offers Roadmap (American Astronomical Society)
SATCON Report (NOIRLab)
Satellites Could Spoil View of Giant Sky Telescope (Science Magazine February 27, 2020)
A dog from Olathe, that went missing, showed up at her old home about 60 miles away […].

"Where did the dog come from?" said [Colton Michael's wife].

The 4-year-old Labrador, named Cleo, feels right at home on the front porch. The only thing is, it's not her front porch, anymore and hasn't been for nearly two years. As it turns out, Cleo's owners had posted on Facebook a week earlier about the missing dog. They couldn't believe it when Michael called and said Cleo had walked home. "It's the most bizarre story. Really, she's everything to us and to my mother," said Drew, Cleo's owner. It is 57 miles door-to-door from Olathe to Lawson and neither family knows exactly how Cleo made the trip. "That's a hike for anybody," Michael said. "Now that we know who she belongs to, if she pops up again, we know who to call."

Both said they may never know anything about her journey.

Alan Shope
KMBC-TV
July 16, 2020
A dog named Cleo, who disappeared from her home in Kansas earlier this month, turned up a few days later at her old home in Missouri […]. Colton Michael told television station KMBC that the 4-year-old Labrador [R]etriever-[Border Collie] mix showed up on the front porch of his family's home in Lawson […]. "At first, she wouldn't let anyone get near her," said Michael, who has lived in the home for nearly two years. "She finds her way home and there's some strangers living in it. That would be scary for anybody," he said. Eventually, he was able to gain Cleo's trust and to get her checked for a microchip, which showed that she belonged to the former owners of his house.

AP News
July 18, 2020
It's a tale as old as time for any early '90s child. An adventurous golden retriever worries that they will never see their home again, embarking on a treacherous wilderness journey to find their way back. Believe It or Not!, the plot of Homeward Bound: The Incredible Journey just turned from fiction to fact. [Both] parties are at a loss trying to explain Cleo's long journey. [She] would have had to cross a river to make it back…just like in the movie!
A 25-year-old man clad in "Joker" makeup "menacingly waved" a pocketknife at several teenagers as he drove past them Tuesday in Haddon Township, authorities said. Assoumou Diby was stopped a short time [after] cruising past the group on the 400 block of West Crystal Lake Avenue on Tuesday, the Camden County Prosecutor's Office and Haddon Township police said in a statement Wednesday.

It's blurry but, here's a visual…a man in joker makeup arrested by Haddon Twp, NJ, police after allegedly waving a pocketknife at children. The arrest followed days of sightings, scares and calls to police, who say, until last night, the behavior wasn't criminal. @FOX29philly

-jennifer joyce (@JenniJoyceTV) June 24, 2020

Photo Credit: Nicholas Matyas via Jennifer Joyce

Diby, of Haddon Township, was charged with unlawful possession of a weapon following his arrest. Earlier in the week, police said they received multiple reports from people who saw a man in Joker makeup walking around town, noting it's not a crime [to] simply do that.

Diby is due to make a first appearance in municipal court July 16.

Jeff Goldman
nj.com True Jersey
June 25, 2020
This isn't the first time this has happened:
Man Dressed as the Joker Arrested in Winchester, VA (The Washington Post, March 25, 2017)
Life imitates art and the bail bondsman gets rich. ~Vic
I picked this up from UPI. Poor baby. I'm so glad they rescued him. ~ Vic
"The bird was trapped in the bumper and injured. The officers rescued it and gave it to wildlife rehabilitation experts."
Two off-duty Nassau County police officers saved a hawk that was trapped in the front bumper of a truck in Freeport early Wednesday morning. According to police, Marine Bureau officers Schwaner and Leek were on their way to work, together, around 6:20am, when they drove by a black Dodge Ram pickup truck, parked near the intersection of Merrick Road and Buffalo Avenue, that had a bird in its front bumper. The officers stopped to investigate and found that the bird was a red-tailed hawk and, that it was still alive.

The officers were able to remove the bird from the bumper and brought it to the Nassau County Police Marine Bureau base in Bay Park where they contacted the Volunteers for Wildlife in Locust Valley. The volunteers came and took the bird from the police back to their facility where it is being treated for its injuries.

Alex Costello
Patch Website
June 17, 2020
Nassau County PD Tweets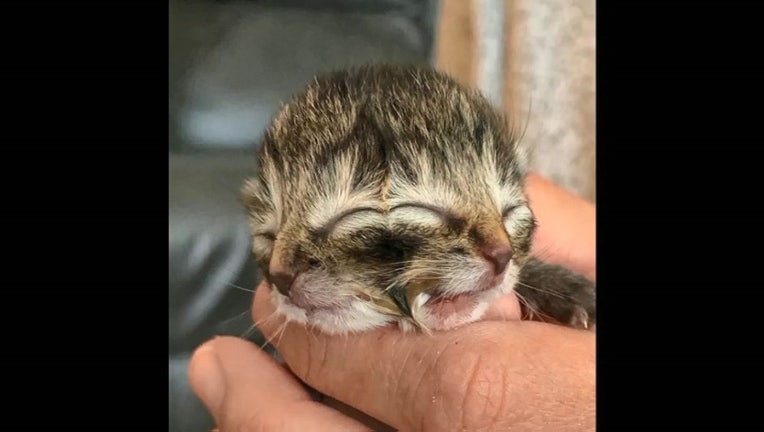 "[It can] meow out of one mouth and eat out of the other."
Meet Biscuits & Gravy: The Two-Faced Oregon Kitten

When Kyla King got up Wednesday morning to check on her pregnant cat, she knew there was a good chance she'd find a litter of newborn kittens. She walked outside to the special crate she had put the expectant mother into overnight and noticed four tiny kittens. But, then she noticed two more hiding behind their mom. So, Kyla picked one up and set it down with the rest of the litter. She picked up the last kitten and found herself face-to-face with two tiny noses, four eyes tightly shut and two mewing mouths.

Kyla said she sent a picture to her husband, BJ King, with a text that read:
"We have 6-1/3 kitty cats now!"

Kyla reached out to their vet to learn more about the kitten's condition, how to care for it and its odds of survival. She learned there wasn't much to be done medically for the tiny creature. All she could do was make it comfortable and help it eat. "It doesn't really know how to nurse properly because it has two mouths so, I've been trying to feed it," Kyla said. "And, I mean, I'm gonna do the best I can but, these animals don't usually live too long."
Cats with two faces are known as Janus cats, after the Roman god Janus, often depicted with two faces in mythology. They suffer from a rare congenital defect called diprosopus, or cranial duplication. Most Janus cats don't live longer than a day but, one defied the odds. His name was Frank and Louie and he passed away in 2014 at the age of 15. The Guinness Book of World Records named him the world's longest surviving Janus cat.

Cambrie Caldwell
KOIN TV CBS
Portland, OR
May 21, 2020
Sadly, Biscuits passed away last night. ~Vic
In looking thru odd stories, this caught my attention. From Oddity Central:
A Creepy Art Installation Freaking People Out on Google Maps

By Spooky on May 15th, 2020
An eerie art installation located in a barren field in the Finnish countryside recently went viral after someone accidentally stumbled upon it while searching on Google Maps. With quarantine and isolation measures still in place in many countries around the world, people are spending a lot of time online looking for cool places to visit once they can travel again. Many are using free tools, like Google Maps, and end [up] going deeper down the rabbit hole than they originally anticipated. That's probably how some people recently discovered The Silent People, […] creepy-looking [figures] that left them scratching their heads about why anyone would fill a field with hundreds of scarecrows and dress them as real people.

Seen from afar, The Silent People [site] looks like a perfectly still army of people all facing the same way. It's only when you take a closer look that you realize it's made up of wooden frames covered in human clothes and heads made of [peat], which does a surprisingly good job of emulating human hair. Even knowing that it's an art installation, you still feel uneasy looking at the almost one thousand still [bodies] but, knowing absolutely nothing about it and [suddenly] finding it on Google Maps can really freak a person out.
From Amusing Planet:
Hiljainen Kansa: The Silent People of Suomussalmi, Finland

By Kaushik Patowary on March 28, 2015
Motorists driving along Highway 5, about 30 km north of the small town of Suomussalmi, in north-eastern Finland, are greeted by a peculiar sight. A crowd of almost a thousand figures stand silently on a field near the road. In the morning with light behind them, this motionless army appears morose, even menacing. But, when a light breeze picks up their colorful dresses and blows them around their still bodies, they appear to have sprung into life.

This army of scarecrow-like figures called "The Silent People" or "Hiljainen Kansa" in Finnish, were the creation of local artist Reijo Kela. They were first displayed in 1988 in a field in Lassila, a neighbourhood of Helsinki. Later in 1994, these were on display in the Market Place of Helsinki's Senate Square, then on the banks of the river Jalonuoma, Ämmänsaari and finally moved to this location in 1994 itself.
Additional Reading:
The Silent People (Atlas Obscura)
An Iowa man, who received a postcard from his sister, said he was surprised to note the card had been mailed in 1987. Paul Willis, a hog farmer in Thornton, said a postcard appeared in his mailbox, recently, from his sister, Annie Lovell […]. [H]e soon noticed the card bore a picture of Lovell on a Grand Canyon hike in 1987 and a San Francisco postmark from December of that same year.

Willis said the postcard bore a second postmark from April 29 of this year in Des Moines so, he called the post office to see if they had any explanation for the postcard's tardiness. [An] employee said the postcard may have been discovered while furniture and machines were being moved for cleaning. "She said, 'Well, the post offices are all going through deep cleaning because of COVID-19…'" Willis [recounted to] the Santa Rosa Press-Democrat.

An Illinois woman experienced a similar incident in July 2019, when a postcard showed up at her home that had been mailed 26 years earlier. Kim Draper said the card was addressed to the previous residents of her Springfield home and, [it] recounted the residents' father's travels in Hong Kong.

Ben Hooper
United Press International
May 7, 2020
No Video Clip
Short Piece on Kim Draper

Yep. New heading. ~Vic
A man wearing the US Navy uniform went to the oceanfront in Emerald Isle, North Carolina, on Thursday, in an apparent protest against the town's restrictions amid the coronavirus pandemic. The man, who was identified by a witness as a retired US Navy [Master Chief], was seen photographed standing in front of a sign that read "LAND OF THE FREE." Mike Conner, a longtime resident of Emerald Isle, and a surfer, told Insider the retired sailor stood in the waters for about 10 minutes before he was approached by law enforcement officers. Conner said the man was asked to remove himself from the area but, refused the request. "The sailor eventually left the water on his own accord, without incident", Conner added.

Hours after the incident, the town announced it would lift the ban on access on Saturday. Surfers, and other residents, previously expressed their disapproval by staging protests throughout the area and were "fired up by the closures", Conner said. "We're very happy that Emerald Isle allowed access, not just to us swimmers but, to everybody that uses it as a medium for their exercise," Connor said. "We don't want our rights stomped all over."

The man in the uniform and the Emerald Isle Police Department did not respond to a request for comment.

David Choi
Business Insider
April 17, 2020
Additional Articles:
North Carolina Beach Reopens After Navy Serviceman's Ocean Protest (National File Website)
Navy Master Chief Stands His Ground (BizPac Review)
Retired Chief Rife

I haven't done one of these since 2013. I read a lot and sometimes I come across some strange things. This is an article from United Press International:
Wet Wipes Clog All Four Pumps At Florida Wastewater Facility

April 15, 2020 (UPI) Utility officials in a Florida county are reminding residents not to flush wet wipes down the toilet after all four of the wastewater facility's pumps clogged at the same time.

The Palm Beach County Water Utilities Department said in a Facebook post that all four pumps at the organization's wastewater pumping facility in Boca Raton ended up clogged at the same time "for the first time ever." The post blamed the clogs on increased use of wet wipes.

"It took a team of three utility mechanics to dissemble and reassemble the pumps in order to remove the compacted wipes," the post said. The department said residents who find themselves "low on toilet paper" amid shortages from the COVID-19 pandemic should remember that all wet wipes, including those labeled "flushable," should be thrown in the trash and not disposed of in the toilet.
Wait a minute. Are these folks insinuating that "residents who find themselves low on toilet paper" are using Clorox and/or Lysol wet wipes in lieu of TP? Or, are we talking baby wipes here? The article isn't all that clear. Either way…just…DAMN. ~Vic