News
A 25-year-old man clad in "Joker" makeup "menacingly waved" a pocketknife at several teenagers as he drove past them Tuesday in Haddon Township, authorities said. Assoumou Diby was stopped a short time [after] cruising past the group on the 400 block of West Crystal Lake Avenue on Tuesday, the Camden County Prosecutor's Office and Haddon Township police said in a statement Wednesday.

It's blurry but, here's a visual…a man in joker makeup arrested by Haddon Twp, NJ, police after allegedly waving a pocketknife at children. The arrest followed days of sightings, scares and calls to police, who say, until last night, the behavior wasn't criminal. @FOX29philly

-jennifer joyce (@JenniJoyceTV) June 24, 2020

Photo Credit: Nicholas Matyas via Jennifer Joyce

Diby, of Haddon Township, was charged with unlawful possession of a weapon following his arrest. Earlier in the week, police said they received multiple reports from people who saw a man in Joker makeup walking around town, noting it's not a crime [to] simply do that.

Diby is due to make a first appearance in municipal court July 16.

Jeff Goldman
nj.com True Jersey
June 25, 2020
This isn't the first time this has happened:
Man Dressed as the Joker Arrested in Winchester, VA (The Washington Post, March 25, 2017)
Life imitates art and the bail bondsman gets rich. ~Vic
I picked this up from UPI. Poor baby. I'm so glad they rescued him. ~ Vic
"The bird was trapped in the bumper and injured. The officers rescued it and gave it to wildlife rehabilitation experts."
Two off-duty Nassau County police officers saved a hawk that was trapped in the front bumper of a truck in Freeport early Wednesday morning. According to police, Marine Bureau officers Schwaner and Leek were on their way to work, together, around 6:20am, when they drove by a black Dodge Ram pickup truck, parked near the intersection of Merrick Road and Buffalo Avenue, that had a bird in its front bumper. The officers stopped to investigate and found that the bird was a red-tailed hawk and, that it was still alive.

The officers were able to remove the bird from the bumper and brought it to the Nassau County Police Marine Bureau base in Bay Park where they contacted the Volunteers for Wildlife in Locust Valley. The volunteers came and took the bird from the police back to their facility where it is being treated for its injuries.

Alex Costello
Patch Website
June 17, 2020
Nassau County PD Tweets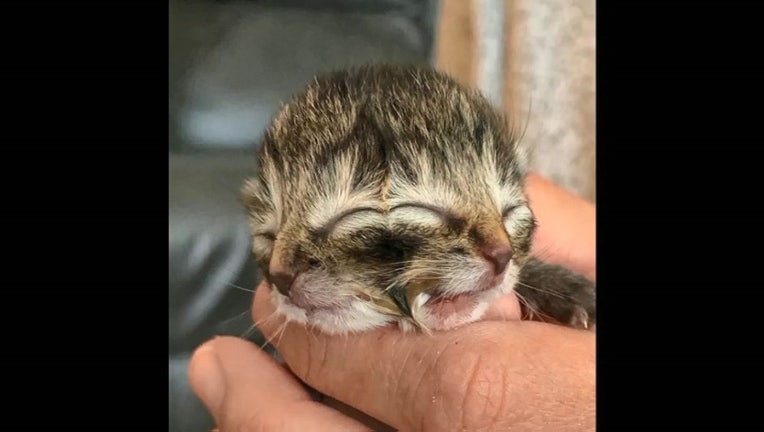 "[It can] meow out of one mouth and eat out of the other."
Meet Biscuits & Gravy: The Two-Faced Oregon Kitten

When Kyla King got up Wednesday morning to check on her pregnant cat, she knew there was a good chance she'd find a litter of newborn kittens. She walked outside to the special crate she had put the expectant mother into overnight and noticed four tiny kittens. But, then she noticed two more hiding behind their mom. So, Kyla picked one up and set it down with the rest of the litter. She picked up the last kitten and found herself face-to-face with two tiny noses, four eyes tightly shut and two mewing mouths.

Kyla said she sent a picture to her husband, BJ King, with a text that read:
"We have 6-1/3 kitty cats now!"

Kyla reached out to their vet to learn more about the kitten's condition, how to care for it and its odds of survival. She learned there wasn't much to be done medically for the tiny creature. All she could do was make it comfortable and help it eat. "It doesn't really know how to nurse properly because it has two mouths so, I've been trying to feed it," Kyla said. "And, I mean, I'm gonna do the best I can but, these animals don't usually live too long."
Cats with two faces are known as Janus cats, after the Roman god Janus, often depicted with two faces in mythology. They suffer from a rare congenital defect called diprosopus, or cranial duplication. Most Janus cats don't live longer than a day but, one defied the odds. His name was Frank and Louie and he passed away in 2014 at the age of 15. The Guinness Book of World Records named him the world's longest surviving Janus cat.

Cambrie Caldwell
KOIN TV CBS
Portland, OR
May 21, 2020
Sadly, Biscuits passed away last night. ~Vic
In looking thru odd stories, this caught my attention. From Oddity Central:
A Creepy Art Installation Freaking People Out on Google Maps

By Spooky on May 15th, 2020
An eerie art installation located in a barren field in the Finnish countryside recently went viral after someone accidentally stumbled upon it while searching on Google Maps. With quarantine and isolation measures still in place in many countries around the world, people are spending a lot of time online looking for cool places to visit once they can travel again. Many are using free tools, like Google Maps, and end [up] going deeper down the rabbit hole than they originally anticipated. That's probably how some people recently discovered The Silent People, […] creepy-looking [figures] that left them scratching their heads about why anyone would fill a field with hundreds of scarecrows and dress them as real people.

Seen from afar, The Silent People [site] looks like a perfectly still army of people all facing the same way. It's only when you take a closer look that you realize it's made up of wooden frames covered in human clothes and heads made of [peat], which does a surprisingly good job of emulating human hair. Even knowing that it's an art installation, you still feel uneasy looking at the almost one thousand still [bodies] but, knowing absolutely nothing about it and [suddenly] finding it on Google Maps can really freak a person out.
From Amusing Planet:
Hiljainen Kansa: The Silent People of Suomussalmi, Finland

By Kaushik Patowary on March 28, 2015
Motorists driving along Highway 5, about 30 km north of the small town of Suomussalmi, in north-eastern Finland, are greeted by a peculiar sight. A crowd of almost a thousand figures stand silently on a field near the road. In the morning with light behind them, this motionless army appears morose, even menacing. But, when a light breeze picks up their colorful dresses and blows them around their still bodies, they appear to have sprung into life.

This army of scarecrow-like figures called "The Silent People" or "Hiljainen Kansa" in Finnish, were the creation of local artist Reijo Kela. They were first displayed in 1988 in a field in Lassila, a neighbourhood of Helsinki. Later in 1994, these were on display in the Market Place of Helsinki's Senate Square, then on the banks of the river Jalonuoma, Ämmänsaari and finally moved to this location in 1994 itself.
Additional Reading:
The Silent People (Atlas Obscura)
An Iowa man, who received a postcard from his sister, said he was surprised to note the card had been mailed in 1987. Paul Willis, a hog farmer in Thornton, said a postcard appeared in his mailbox, recently, from his sister, Annie Lovell […]. [H]e soon noticed the card bore a picture of Lovell on a Grand Canyon hike in 1987 and a San Francisco postmark from December of that same year.

Willis said the postcard bore a second postmark from April 29 of this year in Des Moines so, he called the post office to see if they had any explanation for the postcard's tardiness. [An] employee said the postcard may have been discovered while furniture and machines were being moved for cleaning. "She said, 'Well, the post offices are all going through deep cleaning because of COVID-19…'" Willis [recounted to] the Santa Rosa Press-Democrat.

An Illinois woman experienced a similar incident in July 2019, when a postcard showed up at her home that had been mailed 26 years earlier. Kim Draper said the card was addressed to the previous residents of her Springfield home and, [it] recounted the residents' father's travels in Hong Kong.

Ben Hooper
United Press International
May 7, 2020
No Video Clip
Short Piece on Kim Draper

Yep. New heading. ~Vic
A man wearing the US Navy uniform went to the oceanfront in Emerald Isle, North Carolina, on Thursday, in an apparent protest against the town's restrictions amid the coronavirus pandemic. The man, who was identified by a witness as a retired US Navy [Master Chief], was seen photographed standing in front of a sign that read "LAND OF THE FREE." Mike Conner, a longtime resident of Emerald Isle, and a surfer, told Insider the retired sailor stood in the waters for about 10 minutes before he was approached by law enforcement officers. Conner said the man was asked to remove himself from the area but, refused the request. "The sailor eventually left the water on his own accord, without incident", Conner added.

Hours after the incident, the town announced it would lift the ban on access on Saturday. Surfers, and other residents, previously expressed their disapproval by staging protests throughout the area and were "fired up by the closures", Conner said. "We're very happy that Emerald Isle allowed access, not just to us swimmers but, to everybody that uses it as a medium for their exercise," Connor said. "We don't want our rights stomped all over."

The man in the uniform and the Emerald Isle Police Department did not respond to a request for comment.

David Choi
Business Insider
April 17, 2020
Additional Articles:
North Carolina Beach Reopens After Navy Serviceman's Ocean Protest (National File Website)
Navy Master Chief Stands His Ground (BizPac Review)
Retired Chief Rife

I haven't done one of these since 2013. I read a lot and sometimes I come across some strange things. This is an article from United Press International:
Wet Wipes Clog All Four Pumps At Florida Wastewater Facility

April 15, 2020 (UPI) Utility officials in a Florida county are reminding residents not to flush wet wipes down the toilet after all four of the wastewater facility's pumps clogged at the same time.

The Palm Beach County Water Utilities Department said in a Facebook post that all four pumps at the organization's wastewater pumping facility in Boca Raton ended up clogged at the same time "for the first time ever." The post blamed the clogs on increased use of wet wipes.

"It took a team of three utility mechanics to dissemble and reassemble the pumps in order to remove the compacted wipes," the post said. The department said residents who find themselves "low on toilet paper" amid shortages from the COVID-19 pandemic should remember that all wet wipes, including those labeled "flushable," should be thrown in the trash and not disposed of in the toilet.
Wait a minute. Are these folks insinuating that "residents who find themselves low on toilet paper" are using Clorox and/or Lysol wet wipes in lieu of TP? Or, are we talking baby wipes here? The article isn't all that clear. Either way…just…DAMN. ~Vic
This video has been passed along by Chris Thomas. He doesn't promote or endorse this video at all but, some information contained within it regarding the children and expanding DNA is worth noting.


I purposely changed the title to this post to read differently from the original post from Gregg Prescott at In5D. We aren't mutating and, technically, we aren't evolving even though I used that term in the title. We are, actually, returning to what we once were…true humans. We, originally, had 13 strands of DNA and our total soul within our bodies (see The Chris Thomas Files link, above, to find out real human history).
This is an astounding article, nonetheless, as an article on DNA strands actually showed up in the main stream media (Science on NBC News) back in January of 2013. The article links back to photos of four-strand DNA structures on Live Science. The researchers have labeled them as G-quadruplexes.
Quote from Dr. Berrenda Fox from the In5D article:
Some adults that I have tested actually do have another DNA helix forming. Some are even getting their third. These people are going through a lot of major shifts in their consciousness and physical bodies, because it is all one. In my opinion, the Earth and everyone here is raising its vibration. Many of the children born recently have bodies that are magnetically lighter.
I wish I was a writer by trade with all of the neat "writer accoutrements", i.e. wordsmithing and brutal, biting wit. I just don't have it.
Fortunately, I can point to those who do and grab examples. Melissa nails it!
If I was part of an alien race watching this sick debacle from the safe distance of outer space, it'd be like a reality TV show of a perpetual train wreck that I'd be too frozen in horror to look away from even as it melted my eyeballs out of the sockets.
Read Melissa Melton's (now Dykes) complete Activist Post article. Laugh or cry…whichever comes first. ~Vic
***Mystery Solved***
This Egyptian statue moves! Watch the time-lapse video:
An ancient Egyptian statue appears to have started moving on its own, much to the amazement of scientists and museum curators.

The statue of Neb-Senu, believed to date to 1800 B.C., is housed in the Manchester Museum in England — at least for now. But if the statue keeps moving, there's no telling where it will end up.

"I noticed one day that it had turned around," museum curator Campbell Price told the Manchester Evening News. "I thought it was strange because it is in a case and I am the only one who has a key."

"I put it back, but then the next day, it had moved again," Price said. "We set up a time-lapse video and, although the naked eye can't see it, you can clearly see it rotate."

The 10-inch (25 centimeters) statue was acquired by the museum in 1933, according to the New York Daily News. The video clearly shows the artifact slowly turning counterclockwise during the day, but remaining stationary at night.

This daytime movement led British physicist Brian Cox to believe the statue's movement is due to the vibration created by museum visitors' footsteps. "Brian thinks it's 'differential friction,' where two surfaces — the stone of the statuette and glass shelf it is on — cause a subtle vibration, which is making the statuette turn," Price said.

"But it has been on those surfaces since we have had it and it has never moved before," Price said. "And why would it go around in a perfect circle?"
Well, isn't this curious!
Read the complete article from Live Science.