youtube
Hanspostcard has a movie draft challenge. This is my Round Seven pick.
Category: Crime/Film Noir
Film: Cop Land
Written and directed by James Mangold, it was executive produced by the Weinstein brothers (though their names have been removed from the Wikipedia article). Released August 6, 1997 in New York (premiere) and nationwide on August 15, it was an incredible ensemble cast of Sly Stallone, Harvey Keitel, Ray Liotta, Robert De Niro, Robert Patrick, Peter Berg, Janeane Garafalo, Edie Falco, Michael Rapoport, Annabella Sciorra, John Spencer, Cathy Moriarty, Noah Emmerich, Frank Vincent, Malik Yoba, Arthur Nascarella and, cameos of Deborah Harry & Geraldo Rivera.
Sylvester Stallone put on 40 pounds to play Nowheresville, N.J., sheriff Freddy Heflin in Cop Land […]. His town is run by Ray Donlan (Keitel) and the other New York cops who have settled there with their families. He wears blinders when it comes to their lawbreaking and mob dealings. Moe Tilden (De Niro), the internal-affairs officer out to get the goods on Cop Land, correctly pegs Freddy as "a man looking for something to do." Keitel's [Donlan] exudes dangerous energy. He cares for his own as long as they don't cross him […]. Robert Patrick brings sly menace to Rucker […]. Ray Liotta […], as Gary Figgis, [is] a tainted cop who sides with Freddy.

Mangold […] has a rare talent for finding the human drama in ordinary lives.

Peter Travers
Rolling Stone
August 15, 1997
Writer-director James Mangold […] wrangles an impressive cast […] and spins a compelling tale of cancerous corruption among a secretive group of New York's finest who have settled in the fictional New Jersey burg of Garrison. [Stallone] indeed looks chunky and plays the sleepy, docile Sheriff […] with sluggishness to spare in a largely commendable performance as a half-deaf small-town dreamer. [He] is not given much in the way of memorable dialogue but, he makes the character work […]. [Having] yet to replace his LP of The River with a CD, [he] carries a torch for the local Jersey girl (Sciorra) he saved from drowning…the reason for his loss of hearing in one ear…[he] once longed to be a big-city cop but, had to settle for policing them.

Freddy gradually realizes that he doesn't like how the town has turned out.

David Hunter
The Hollywood Reporter
August 11, 1997
I saw this at the theater when it came out and caught it, again, a few nights ago. I was born and raised in law enforcement and, worked in it, too (non-sworn). I've known good cops and I've known some really bad ones. I love a well written cop movie and this was an unusual one in that Stallone wasn't playing a bad ass like Rambo, Cobra, Tango, John Spartan (though I do love that movie) or Ray Quick. This character was different…subdued. His scenes with Annabella Sciorra have Springsteen playing in the background which adds depth and texture to the mood. This is clearly a period piece as all the vehicles, hair cuts and clothing styles are, effectively, early 80s. The River came out in 1980 and music from the Director's Cut, like Blue Oyster Cult's Burnin' For You came out in 1981. This also manages to cover the Crime category via IMDb and the Film Noir category, simultaneously, via Historical Dictionary of Film Noir (2010). ~Vic
Trivia Bits:
♦ There is a disclaimer at the end of the credits which states "This film is a work of fiction. It is currently illegal for New York City Police officers to live outside the state of New York."
♦ Arthur J. Nascarella was a real-life NYPD officer.
♦ Debbie Harry acted in the movie but, was edited out in the final cut. She explained on a live television special that although she was cut, she still got paid.
♦ In the scene in which Ray Liotta confronts Robert Patrick in the bar, the dart that Liotta shoves up Patrick's left nostril was made out of rubber.
♦ Tom Cruise, Tom Hanks, Gary Sinise and John Travolta were considered for Sheriff Freddy Heflin.
Stallone's Variety Interview 2019
The Making of an Urban Western

Hanspostcard has a movie draft challenge. This is my Round Six pick.
Category: Western/War
Film: El Dorado
Mississippi: "[…] My name is Alan Bourdillion Traherne."
Cole: "Lord Almighty…"
Sheriff Harrah: "Who is he?"
Cole: "Tell him your name, Mississippi."
Mississippi: [sigh] "Alan Bourdillion Traherne."
Sheriff Harrah: "Well, no wonder he carries a knife."
Mississippi: "Always make you mad, don't I?"
Cole: "Mostly."
Produced and directed by Howard Hawks, the film is a loose adaption of The Stars in Their Courses, a 1960 novel by Harry Brown. The screenplay was written by Leigh Brackett and starred John Wayne, Robert Mitchum, James Caan, Charlene Holt, Paul Fix, Arthur Hunnicutt, Michele Carey, R. G. Armstrong, Ed Asner, Christopher George and Johnny Crawford. Jim Davis (Jock Ewing) and John Mitchum have small parts. It was released December 17, 1966, in Japan, oddly and didn't make it to US theaters until June 7, 1967.
Cole Thornton (Wayne) is a gunslinger for hire and land owner Bart Jason (Asner) has offered him a job. J. P. Harrah (Mitchum) is a Sheriff and an old friend of Cole's. When Harrah informs Cole of Jason's intention to use him to push the MacDonald family off of their land for water rights, Cole refuses the job. After shooting the youngest MacDonald son, unintentionally, during a volley of gunfire, Cole is wounded by the MacDonald daughter (Carey), in return, after he brings the deceased boy back home. Cole suffers intermittent paralysis on his right side throughout the rest of the movie. With the help of a gambler (Caan) he crosses paths with and the Sheriff's deputy (Hunnicutt), Cole straightens out the drunken Sheriff, tangles with another gunslinger (George), derails Jason's takeover and just might stop his previous ways for his lady, Maudie (Holt).
Mississippi repeats parts of the Edgar Allen Poe poem (except the second stanza) during the film, aggravating Cole somewhat (Caan had trouble with the word "boldly", slurring it to sound like either "bowlie" or "bodie"). He's also terrible with a gun and couldn't hit the broadside of a barn (but, I love that hat!). Cole gets him a shotgun and later regrets it as he has scatter shot in his leg at the end of the movie.
This is my favorite John Wayne movie even though it is an ensemble cast. A close second is The Quiet Man where Wayne played another "Thornton" character. ~Vic
Trivia Bits:
♦ Archival footage of this movie was used in The Shootist as some backstory for Wayne's character J.B. Books.
♦ The artwork in the opening credits was painted by Olaf Wieghorst, the Swedish gunsmith.
♦ At the end of the movie, both Cole & Harrah are on crutches under the wrong arm.
♦ The bathtub scene was Mitchum's idea.
♦ Mitchum's brother was a bartender named Elmer. He called him by his real name by accident.
♦ Wayne and Asner did not get along.
Other Goofs (There are a lot.)
Nominations
Opening Credits

Caan on Wayne

Hanspostcard has a movie draft challenge. This is my Round Five pick.
Category: Foreign/Silent
Film: The Ninth Gate
A French/Spanish Roman Polanksi vehicle (director & producer), he co-wrote the screenplay with John Brownjohn and Enrique Urbizu. Loosely based on the 1993 book El Club Dumas, a Spanish language novel by Arturo Pérez-Reverte Gutiérrez, the Polanski/Brownjohn script removed a sub-plot, changed the two main characters' names and altered the finale. Filmed in France, Portugal and Spain, it stars Johnny Depp (Corso), Frank Langella (Balkan), Lena Olin, Barbara Jefford and, Emmanuelle Seigner (mysterious woman & Polanski's wife). Actor Allen Garfield suffered a stroke prior to filming and Polanski incorporated Garfield's paralysis as part of the character. Released August 25, 1999, in Belgium, France and Spain (premiere), and November 1999 at the Stockholm International Film Festival, it wasn't released, widely, in the US until March 10, 2000.
I would have to describe the movie like this…:
"[It] is a riddle, wrapped in a mystery, inside an enigma…"

Winston Churchill
October 1, 1939
Dean Corso is a bit of a sleazy rare book dealer from New York with questionable ethics. Boris Balkan, a wealthy collector, hires Corso to determine if a book he owns (the book to the left/above) is authentic. The author, supposedly, wrote the book with help from the Devil and only three copies of the book are known to exist after the author was burned at the stake during the Inquisition, along with his works. Corso must find the other two to complete his investigation. Balkan believes that the owner of the book would have the power to summon said Devil. As the skeptical Corso travels and searches, he is followed by a mysterious woman. He eventually becomes obsessed with his task and desires the complete truth. The movie twists and turns to it's bizarre ending. Depp is a strange cat but, he makes really interesting movies. Visually, Polanski intended for Corso to resemble Philip Marlowe. ~Vic
Additional Reading:
The Ninth Gate (Roger Ebert)
The Ninth Gate Opens (Philip Coppens Web Archive)
Hanspostcard has a movie draft challenge. This is my Round Three pick.
Category: Documentary/Sports
Film: The Other Side of the Mountain
"You know where you'll find sympathy in the dictionary, don't ya'? Between shit and suicide."
Directed by Larry Peerce, the movie is based on the 1966 novel A Long Way Up by E. G. Valens, written about national slalom ski champion (1955) and a 1956 U.S. Olympic skiing team candidate, Jill Kinmont. Produced by Edward Feldman, the screenplay adaption was written by David Seltzer. Jill is played by Marilyn Hassett and, Beau Bridges plays Olympic skiing team member (1952) and stunt pilot Dick "Mad Dog" Buek. Dabney Coleman plays Coach Dave McCoy and Bill Vint plays Buddy Werner. Belinda Montgomery plays Audra Jo or "A.J.", Jill's best friend, Nan Martin plays June Kinmont and William Bryant plays Bill Kinmont. Griffin Dunne has a small part.
The film spans Jill's slalom races to her national championship, her best friend's polio contraction, her accident while attempting to win the Alta, UT, Snow Cup, her hospital stay, her slow rehabilitation, her heartbreak from the losses of two dear men and her triumph at becoming a teacher.
Dick Buek was killed in a plane crash on November 3, 1957, two days shy of his 28th birthday (Club of 27?). Buddy Werner was killed in an avalanche in Switzerland on April 12, 1964.
Released July 25, 1975, the film was panned by critics for being too much of a tear-jerker. That may be true but, she did have a really hard time. The sequel was released February 10, 1978 and was panned even worse. I saw them in reverse order. I was only nine years old when the first movie came out so, I didn't get to see it until I was an adult. I saw Part II, first, when it was released to television. I enjoyed both films despite the bad reviews. Sometimes, bringing someone's life story to the big screen is handled poorly. Jill passed away February 9, 2012.
Additional Reading:
An Amazing Interview/Jill Kinmont Boothe (Ezine Articles)
The Mad Dog of Donner Summit (Sierra Sun)
The Death of a True Hero (Wired)
The Complete Movie

The six partitas for solo violin by Johann Paul von Westhoff are the earliest known published music for solo violin. Although Westhoff's compositions were rediscovered by scholars […] in the mid-19th century, this work was not found until the late 20th century.

The collection […] was discovered […] by musicologist Peter P. Várnai. He announced his discovery in a 1971 article […] published in Die Musikforschung, volume 24. The extant copy is dated 1696 (three hundred & twenty-five years, ago) but, it may be a reprint (partial or full) of a much earlier publication by Westhoff…the Erstes Dutzend Allemanden, Couranten, Sarabanden und Giguen Violino Solo sonder Passo Continuo. [That] collection was published in Dresden in 1682 and is considered lost. The first modern edition of the partitas appeared in 1974.

Nothing is known about how or when the partitas were composed. One other work for solo violin by Westhoff survives, a 1683 suite published in an issue of Dresden's Mercure galant. [It] is entirely possible that the composer had more solo violin works. The […] surviving partitas are historically important works […] and were most probably the inspiration for Johann Sebastian Bach's sonatas and partitas for solo violin.

The partitas all consist of four dances, arranged in the standard late Baroque order… an Allemande, the Courante, the Sarabande and the Gigue. The music is technically demanding. [It is] fully polyphonic with frequent instances of tricky double stopping.

Johann Paul von Westhoff was a German Baroque composer and violinist. One of the most important exponents of the Dresden violin school, he was among the highest ranked violinists of his day […].
Johann Paul von Westhoff 1656-1705 (On Baroque)
List of Known Works
References
If you haven't finished your holiday shopping, the North Carolina Department of Transportation is offering up a piece of Americana but, it's going to cost you a pretty penny.

When the Ringling Bros. and Barnum & Bailey Circus closed their doors, NCDOT saw an opportunity to add to its fleet. That plan was derailed before the cars could hit the rails and, now, they're being put up for public auction.

NCDOT spent just over $380,000 on [the] Ringling Brothers rail cars.

"These cars have a great and amazing history," said Jason Orthner, director of the NCDOT rail division.

However, plans to refurbish the cars were quickly put on hold when NCDOT calculated the costs. "This was more on the long-term play of really looking into our rail program and how we take it into the future," said Orthner.

Image Credit: New York Public Library
Wikimedia & Wikipedia

Funding from two federal grants totaling $157 million rendered the rehab of the Ringling Bros. cars obsolete and will soon allow the NCDOT to replace their entire fleet.

"If we hadn't been successful at winning those grants, we would've taken a really hard look at putting these in service," said Orthner. "We really want to do the best thing for the citizens of North Carolina with the limited funding that we have available."

That's why they're listing the rail-cars on the state surplus site for a minimum price that's $32,000 more than the NCDOT paid for all of the cars but, without any bids, it's unclear if anyone will actually buy them.

"Tourist railroad operations, car collectors and other enthusiasts would certainly be interested in these cars," said Orthner. "There are operations around the country that run train service for excursion purpose, or other purposes, that would be interested in equipment like this."

Currently half of the rail-cars are stored in the NCDOT rail-yard in Raleigh and the other half are stored on an abandoned line in Nash County.

Want To Own A Piece Of History?
Holden Kurwicki
WNCN/CBS17
12-21-2020
I had no idea my state's DOT had purchased Ringling Bros. train cars. ~Vic
Providing some wonderful Christmas music, a bit of humor and a flashback. I hope everyone has a lovely Christmas. ~Vic
Mary, Did You Know?


Christmas Must Be Tonight


Light of the Stable


Blue Christmas


House Lights From 2005

This is my last countdown post. I've saved my favorite gingerbread house for last. I've been inside this place and you can feel its history. Unfortunately, I didn't take any pictures when I was there. Before the world went insane, Ayr Mount would host Scottish Festivals. ~Vic
If you'd like to vote:
Homes for the Holidays 2020
Additional Information:
Ayr Mount (Classical American Homes Preservation Trust)
Ayr Mount Celebrates 200th Birthday (The News of Orange)
Cèilidh Scottish Festival (Visit Hillsborough NC)
Welcome to the Winter Solstice. ~Vic
From Why Christmas:
The evergreen Fir Tree has traditionally been used to celebrate winter festivals (Pagan and Christian) for thousands of years. Pagans used branches of it to decorate their homes during the winter solstice, as it made them think of the spring to come. The Romans used Fir Trees to decorate their temples at the festival of Saturnalia. Christians use it as a sign of everlasting life with God.
Movie releases were slim pickings. Fifty years ago, today, the Latvian film Klāvs Mārtiņa dēls or Klavs – The Son of Martins was released. Written by Janis Lusis and directed by Oļģerts Dunkers, it starred Juris Kaminiskis, Lidija Freimane and Liga Liepina.
After [his] military service, Klavs, [the] son of Martins Viksna, is returning to his native village [of kolkhoz]. After [the] war, his father, the collective farm chairman […], was killed by guerrillas. Even after many years, the remote village of the Latvian countryside is still under agitation from those old days events. Klavs meets and falls in love with Bille [but], Bille is [the] daughter of Ance, his father's first love. Klavs starts work in [the] collective farm but, after a conflict, however, decides to leave the village. After the death of his mother, Klavs [returns] and [remains in the village]. [This] is his real home.
Filmas (Latvian Movie Site Translation):
Klāvs, the son of Mārtiņš Vīksna, the first chairman of the kolkhoz, comes out of the service and starts working in his native kolkhoz but, does not understand his colleagues, so he goes to the city. The chairman of the collective farm agrees that he will eat his hat if Klav does not return. Klava's mother Ilze dies in the hay meadow and the chairman offers the boy to come in her place as a foreman. Bille is waiting for Klava in Ilze's house, whose mother, milkman Ance, once loved Klava's father.
Additional Reading::
Klāvs – Mārtiņš's son (Google Translate)
Latvian Films (Wikipedia)
We are fifteen days out from the Winter Solstice, the shortest day of the year. It's already cold and dark before the six o'clock news comes on. For some warmth, here are some shots from a beach trip I took back in 2011. ~Vic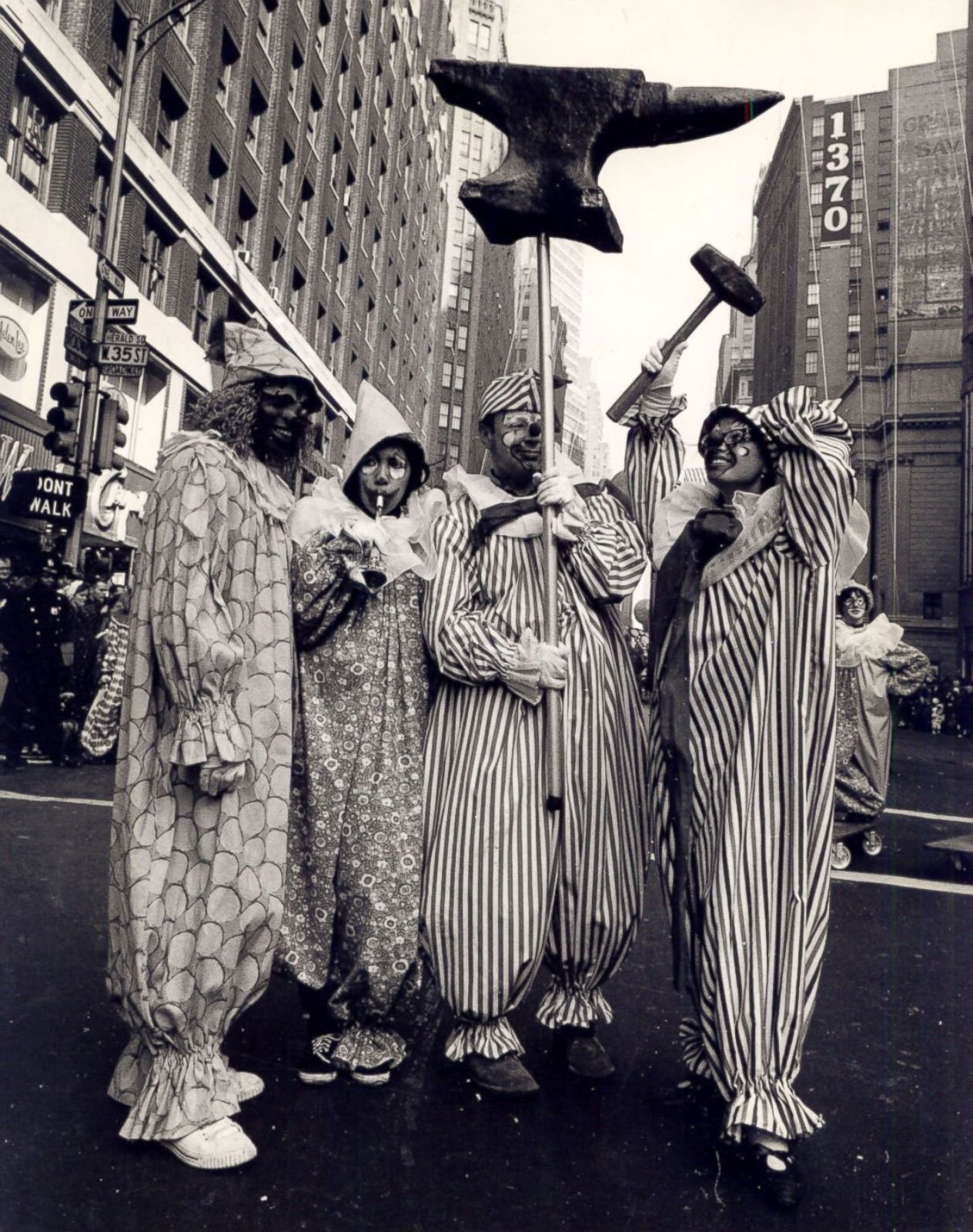 Ninety-six years ago, today, the very first Macy's Thanksgiving Day Parade was held.
From History Channel:
As the United States prospered during the Roaring Twenties, so did New York City's iconic department store, Macy's. After going public in 1922, R. H. Macy & Co. started to acquire competitors and open regional locations. Macy's flagship store in Manhattan's Herald Square did such a brisk business that it expanded in 1924 to cover an entire city block, stretching from Broadway to Seventh Avenue along 34th Street.

To showcase the opening of the "World's Largest Store" and its one million square feet of retail space at the start of the busy holiday shopping season, Macy's decided to throw New York a parade on Thanksgiving morning. In spite of its timing, the parade was not actually about Thanksgiving at all but the next major holiday on the calendar…Christmas. Macy's hoped its "Christmas Parade" would whet the appetites of consumers for a holiday shopping feast.

[Previously], the only Thanksgiving parade that had previously passed through the city's streets was its peculiar, and to many annoying, tradition of children painting their faces and donning tattered clothes to masquerade as "ragamuffins" who asked "Anything for Thanksgiving?" as they begged door-to-door for pennies, apples and pieces of candy.

At [9:00am EST], on the sunlit morning of November 27, 1924, Macy's gave the children of New York a particularly special Thanksgiving treat as a police escort led the start of the parade from the intersection of 145th Street and Convent Avenue. Macy's had promised parade-goers "a marathon of mirth" in its full-page newspaper advertisements. While the parade route may not have extended over 26 miles, its 6-mile length certainly made for a long hike for those marching from Harlem to Herald Square.

Although the parade garnered only two sentences the following day in the New York Herald, […] it proved such a smash that Macy's announced in a newspaper advertisement the following morning that it would stage the parade, again, the following Thanksgiving. "We did not dare dream its success would be so great."
Macy's History (NYC Tourist)
Three hundred, forty years ago, Danish-German Baroque composer and organist Dieterich Buxtehude composed Membra Jesu Nostri. Considered to be one of the most influential composers in Germany, his style is reflected in the works of Johann Sebastian Bach, one of his students. [More] than 100 compositions of his survive […].
Membra Jesu Nostri [or The limbs of our Jesus], BuxWV 75, is a cycle of seven cantatas composed by Dieterich Buxtehude in 1680 and dedicated to Gustaf Düben. The full Latin title Membra Jesu Nostri Patientis Sanctissima translates to "The most holy limbs of our suffering Jesus". This work is known as the first Lutheran oratorio. The main text are stanzas from the Medieval hymn Salve Mundi Salutare, also known as the Rhythmica Oratio, a poem formerly ascribed to Bernard of Clairvaux but, now thought more likely to have been written by Medieval poet Arnulf of Leuven […]. It is divided into seven parts, each addressed to a different part of Christ's crucified body: feet, knees, hands, sides, breast, heart and face. In each part, biblical words referring to the limbs frame verses of the poem.
Sources:
Duke Vespers Ensemble (MSR Classics)
Salve Mundi Salutare (New Advent)
Buxtehude Composition List (Wikipedia)
Dieterich Buxtehude (Wikipedia)
Membra Jesu Nostri (Wikipedia)
The International Dieterich Buxtehude Society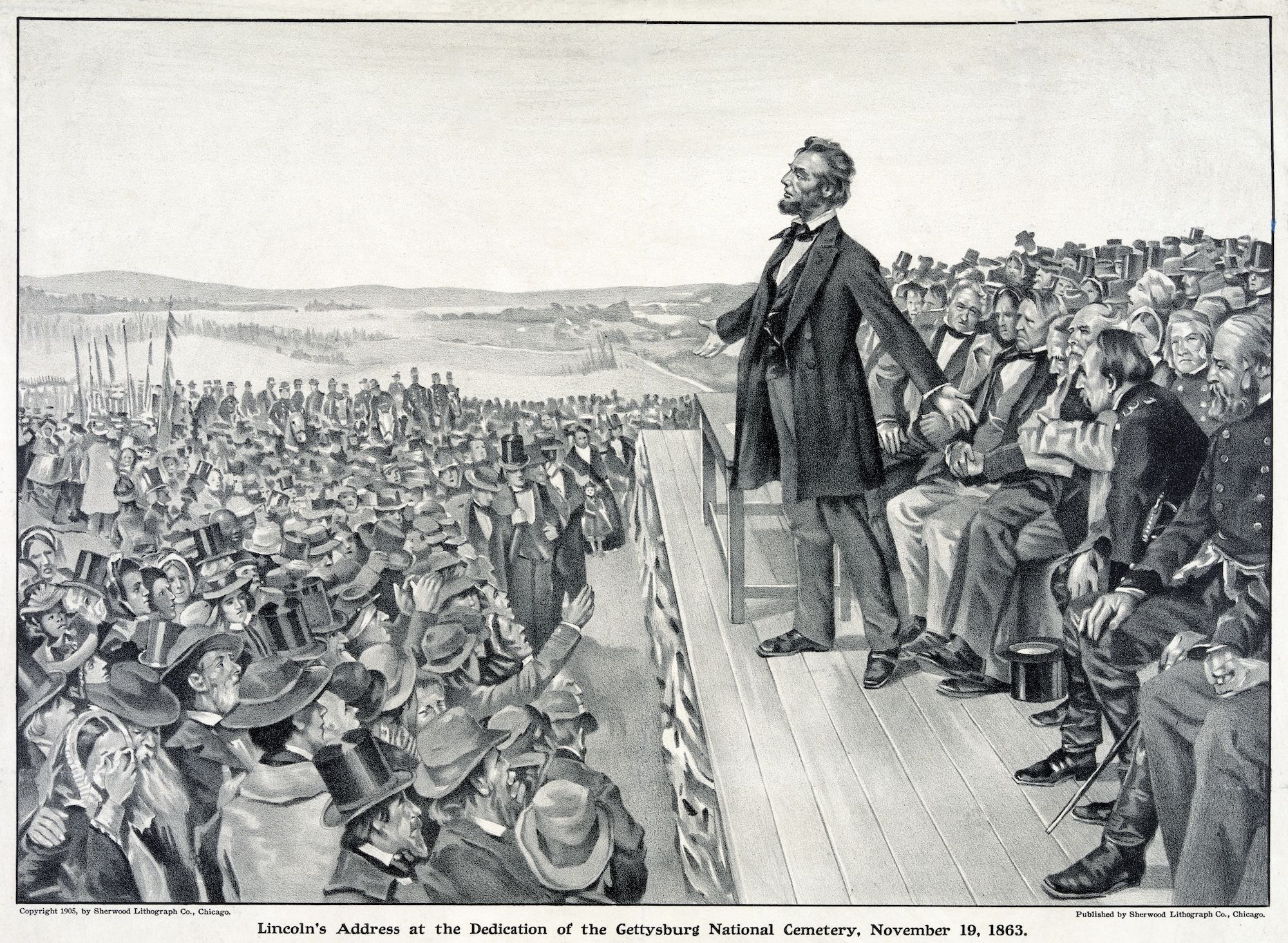 One hundred, fifty-seven years ago, today, President Abraham Lincoln gave his famous speech at the dedication of the Soldier's National Cemetery in Gettysburg. The Battle of Gettysburg had just been 4 1/2 months prior. Lincoln was in the early stages of a mild case of small pox.
Four score and seven years ago our fathers brought forth on this continent, a new nation, conceived in Liberty, and dedicated to the proposition that all men are created equal.

Now we are engaged in a great civil war, testing whether that nation, or any nation so conceived and so dedicated, can long endure. We are met on a great battle-field of that war. We have come to dedicate a portion of that field, as a final resting place for those who here gave their lives that that nation might live. It is altogether fitting and proper that we should do this.

But, in a larger sense, we can not dedicate — we can not consecrate — we can not hallow — this ground. The brave men, living and dead, who struggled here, have consecrated it, far above our poor power to add or detract. The world will little note, nor long remember what we say here, but it can never forget what they did here. It is for us the living, rather, to be dedicated here to the unfinished work which they who fought here have thus far so nobly advanced. It is rather for us to be here dedicated to the great task remaining before us — that from these honored dead we take increased devotion to that cause for which they gave the last full measure of devotion — that we here highly resolve that these dead shall not have died in vain—that this nation, under God, shall have a new birth of freedom — and that government of the people, by the people, for the people, shall not perish from the earth.
Additional Reading:
Speeches & Writings (Abraham Lincoln Online)
Britannica
History Channel
National Geographic
National Park Service