youtube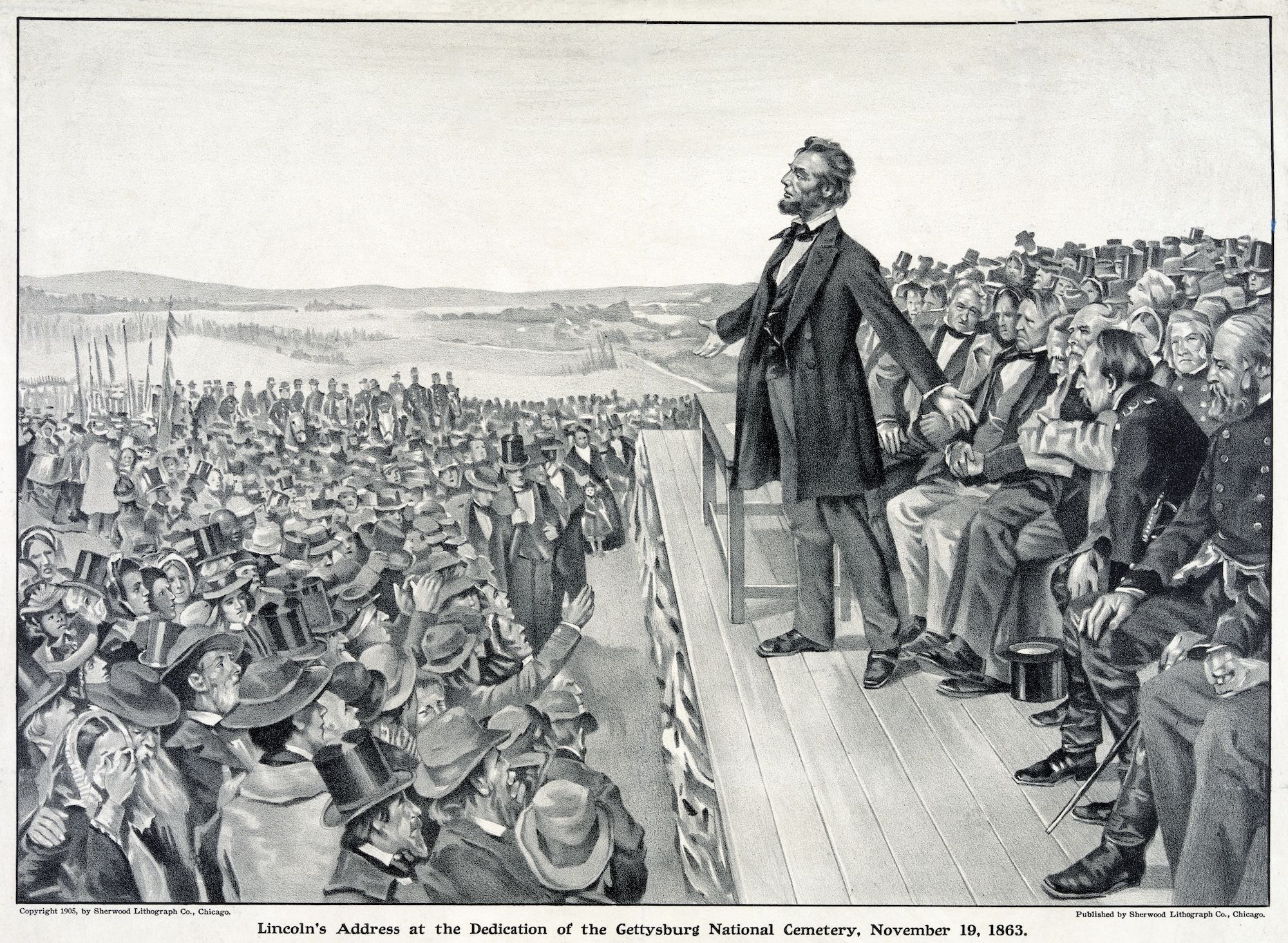 One hundred, fifty-seven years ago, today, President Abraham Lincoln gave his famous speech at the dedication of the Soldier's National Cemetery in Gettysburg. The Battle of Gettysburg had just been 4 1/2 months prior. Lincoln was in the early stages of a mild case of small pox.
Four score and seven years ago our fathers brought forth on this continent, a new nation, conceived in Liberty, and dedicated to the proposition that all men are created equal.

Now we are engaged in a great civil war, testing whether that nation, or any nation so conceived and so dedicated, can long endure. We are met on a great battle-field of that war. We have come to dedicate a portion of that field, as a final resting place for those who here gave their lives that that nation might live. It is altogether fitting and proper that we should do this.

But, in a larger sense, we can not dedicate — we can not consecrate — we can not hallow — this ground. The brave men, living and dead, who struggled here, have consecrated it, far above our poor power to add or detract. The world will little note, nor long remember what we say here, but it can never forget what they did here. It is for us the living, rather, to be dedicated here to the unfinished work which they who fought here have thus far so nobly advanced. It is rather for us to be here dedicated to the great task remaining before us — that from these honored dead we take increased devotion to that cause for which they gave the last full measure of devotion — that we here highly resolve that these dead shall not have died in vain—that this nation, under God, shall have a new birth of freedom — and that government of the people, by the people, for the people, shall not perish from the earth.
Additional Reading:
Speeches & Writings (Abraham Lincoln Online)
Britannica
History Channel
National Geographic
National Park Service
"Oh, it's Friday night. Let's run tonight, 'til the morning light…"
Returning to my Samsung playlist, this Saturday's submission is Keep On Runnin' by American rock band Journey, formed in San Francisco in 1973 out of former members of Santana and Frumious Bandersnatch. The fourth track from the album Escape (released in July 1981), it was co-written by Jonathan Cain, Steve Perry and Neal Schon and, was never released as a single, though the album, itself, reached #1 on the Billboard 200 on September 12, 1981. The song does show up in the Journey video game from Bally Midway, that came out in March of 1983, with this tagline (one of three):
"The hottest band in the country is about to take over the planet!"
The album got its own Atari 2600 video game in 1982. This album, and Frontiers after it, is a musical tapestry to my high school years.
I got to see the band in concert, twice, in Texas and was lucky enough to get to meet them. This is the tour where Journey dropped Steve Augeri and picked up Jeff Scott Soto for a year. Neither could match Perry but, Augeri was close.
I'm on the far left next to Jonathan Cain. My buddy Monica is in between Cain & Neal Schon. My buddy Amy is in between Deen Castronovo & Ross Valory.
It's a shame the members are embroiled in a lawsuit. ~Vic
Switching things up a bit…~Vic
Five years ago, today, the #1 song on the Billboard Hot 100, R&B/Hip-Hop and Canadian Hot 100 charts was The Hills by Canadian singer The Weeknd (Abel Makkonen Tesfaye). Released May 27, it was the 5th track from the album Beauty Behind the Madness and the second single released.
"When a song takes its hook from a horror film, Wes Craven's 1977 cult classic The Hills Have Eyes, you know there's bound to be trouble.

Brian Mansfield
USA Today
June 2, 2015
♦ Certified Diamond (RIAA 2019)
♦ The song was featured in an Yves Saint Laurent Black Opium commercial featuring Zoe Kravitz.
♦ The song was used in the TV show Life in Pieces, Season One, Episode 21.
One-hundred, fourteen years ago, today, Devil's Tower or, Bear Lodge Butte, was established as the first US National Monument by President Theodore Roosevelt. Composed of igneous rock, and possibly laccolithic, it is located in the Bear Lodge Mountains of the Black Hills, near Hulett and Sundance, in Crook County, Wyoming. It is also known as Matȟó Thípila by the Lakota and Daxpitcheeaasáao by the Crow (try to pronounce those). It got it's religious moniker in 1875 when an interpreter for Colonel Richard Dodge, leading an expedition, misunderstood a native name and thought it meant Bad God's Tower.
Additional Reading:
Close Encounters of the Third Kind 1977 (AMC's Filmsite)
The Dakota Peoples (Google Books)
Satellites in the High Country (Google Books)
Devil's Tower: First 50 Years (National Park Service PDF)
Proposed Name Change (Rapid City Journal June 22, 2015)
Native American Story & Culture (Wikipedia)
Other Native Names (Wikipedia)
Tower Ladder (Wikipedia)
"Alligator sucking on helium wins parody Ig Nobel Prize"
Scientists are answering a question no one is asking. What would it sound like if an alligator sucked up helium? When a team of international researchers wanted to find out whether a gator's vocalizations relate to its body size, they devised an experiment that would earn them the 2020 Ig Nobel (a wordplay on "Nobel" and "ignoble") Prize for acoustics. Researchers captured footage of the snorting alligator in a helium-filled tank. In perhaps one of the biggest letdowns in the history of scientific study, it sounded nothing like a cartoon chipmunk. Now in its 30th year, the annual Ig Nobel Prize awards ceremony, usually presented at Harvard University's Sanders Theatre, was conducted remotely due to pandemic restrictions.

Among this year's other elite competitors, a study which demonstrated that meticulously groomed eyebrows are a reliable indicator of grandiose narcissism took home the prize in psychology. The prize in economics went to an international team of creeps (presumably) who wanted to know whether the rate of French kissing correlated with national income inequality. Based on data from 13 countries across six continents, they found that where kissing was more frequent, income inequality was also more likely to occur. Go figure. American Richard Vetter took home the prize in entomology for his brave study on spiders (which aren't technically insects) that revealed most of his peers are, allegedly, arachnophobic. And, the award for materials science went deservedly (because it's gross) to a collaboration between the US and the UK to study whether frozen human feces could be made into usable knives. Spoiler alert: It certainly cannot.

But, who could forget the most Ig Nobel moment in recent history? The medical education prize went to a roundup of sometimes ill-advised world leaders for showing that "politicians can have a more immediate effect on life and death than scientists and doctors can" during the global coronavirus pandemic.

Hannah Sparks
New York Post
September 18, 2020
As a companion piece to the Fort Sumner post, my ex-Marine and I headed north, still on our way to Liar's Lodge. We headed into snow and landed in Walsenburg, Colorado, in Huerfano County, a town smaller than the one I am living in and, as of 2019, continues to hemorrhage people from a peak of 5,855 in 1940. We arrived after dark and stopped to eat. There's not much there, back then or now. ~Vic
Additional Reading:
Returning to the Place I'd Never Been (Acts & Tracks/radioronin.wordpress.com)
City of Walsenburg (colorado.gov)
Walsenburg (colorado.com)
Walsenburg (Uncover Colorado)
Sixty-five years ago, today, the war film To Hell and Back was released, originally in San Antonio. Directed by Jesse Hibbs and based on the book of the same name, it starred Audie Murphy, Marshall Thompson, Charles Drake, Jack Kelly, Gregg Palmer, Paul Picerni, David Janssen, Denver Pyle, Brett Halsey (Admiral's great-nephew) and Gordon Gebert as a young Audie.
Biopic of the wartime exploits of Audie Murphy (played by himself), the most decorated US soldier in World War II. Starting with his boyhood in Texas, where he became the head of his family at a young age, the story follows his enrollment in [the] Army where he was assigned to the 3rd Division. He fought in North Africa, Sicily and Italy, before landing in southern France and, eventually, fighting in Germany. A Medal of Honor recipient, he also received battle honors from the French and Belgian government.
The highly variable Audie Murphy delivers his best screen performance as "himself" in Universal's To Hell and Back. Based on the star's autobiography, this is the story of how Murphy became America's most-decorated soldier during WW II. After dwelling a bit on Murphy's hard-scrabble Texas upbringing, the story moves ahead to 1942, when, as a teenager, Audie joined the army. Within a year, he was a member of the 7th Army, serving in North Africa, Italy, France and, ultimately, Germany and Austria. One by one, the members of Murphy's Company B are killed in the war, until only three men from the original company are left. [The] others appear at the finale as ghostly images […]. The bulk of the film is given over to Murphy's conspicuous acts of combat bravery and his killing of 240 enemy soldiers. Highlighted by excellent battle sequences, To Hell and Back is a serviceable tribute to a most complex individual.
Trivia Bits:
♦ Filmed at Fort Lewis, WA, Yakima River, WA, Oak Creek Wildlife Area, WA and Universal Studios.
♦ Audie Murphy originally declined the opportunity to portray himself in the movie, not wanting people to think that he was attempting to cash in on his role as a war hero. Murphy initially suggested his friend Tony Curtis to play him.
♦ Audie Murphy's war buddy Onclo Airheart was slated to play himself, but he declined due to the fact that the movie was to be shot during planting season.
♦ [Author] David Morell [sic] cites Audie Murphy as the inspiration for the character of John Rambo.
♦ In the movie, […] Murphy does his one-man standoff on top of a medium M-4 Sherman tank. [In] real life it happened on top of an M10 Wolverine tank destroyer.
♦ Audie Murphy's feats of heroism and his much decorated status have been compared to those of his counterpart during World War I, Sgt. Alvin C. York […].
Murphy […] wrote poetry and songs, and, himself a sufferer, was among the first advocates for Post-Traumatic Stress Disorder. He died on May 28, 1971, when the private airplane in which he was riding crashed.
Additional Reading:
To Hell and Back (American Film Institute)
To Hell and Back (Turner Classic Movies)
Alvin York (Wikipedia)
Audie Murphy (Wikipedia)
I lived in Texas for nearly a decade. My ex-Marine and I did some traveling through the west when we had opportunities. I've been digging around in some old stuff and found some photos from a visit to the Old Fort Sumner Museum in New Mexico in December of 2008. We were on our way to Liar's Lodge. The museum closed in 2017. ~Vic
Late Add:

Additional Reading:
BTKOG (Billy the Kid Outlaw Gang Site)
Whiskey and the Devil: Taiban, New Mexico (City of Dust Blogspot January 10, 2012)
Billy the Kid's Two Graves (Roadside America August 15, 2020)
Caught With His Pants Down: Billy the Kid vs Pat Garrett (True West Magazine August 1, 2010)
Brushy Bill Roberts (Wikipedia)
Technically, today is also a bust for Flick Friday, just like my July 24 post. There were no movie releases, today, in 1950, either, so I will grab the August 6 release. Seventy years ago, yesterday, the western film Vigilante Hideout was released. Directed by Fred C. Bannon and written by Richard Wormser, it starred Allan Lane, Black Jack (Allan Lane's horse), Eddie Waller, Roy Barcroft and Virginia Herrick.
Rocky (Lane), a Range Detective, arrives to help Nugget (Waller) with rustlers. When he learns Nugget owns only three cows, he stays on, anyway and, soon, becomes involved in Benson's attempt to blow open the bank's safe. When Rocky upsets his plans, Benson (Don Haggerty), supposedly, gets rid of him by having him declared an outlaw, wanted dead or alive. Then, Benson takes a load of explosives into an old mine located directly under the bank vault.
Double-barreled justice catches up with a cold-blooded killer when "Rocky" takes up the chase! Cattle detective, Rocky Lane, arrives in town to investigate cattle disappearances only to realize just three cows, owned by eccentric inventor Nugget Clark, are involved. However, the disappearances lead to a deeper mystery involving dynamite explosions, rampaging cowboys and a water shortage.
Lane and his trusty black stallion are on hand to help old-timer Waller find water for a town which is threatening to fold up due to drought. Some crooked townsfolk don't want the water to be found because they want to collect on the $25,000 being stashed away for an aqueduct. Lane's job is to make sure these people don't pose too much of a problem, while Waller goes about finding the water. The characterization of Waller as a crazed inventor of gadgets is an added attraction to this oater with a realistic bent.
Full Synopsis (Turner Classic Movies)
Additional Reading:
American Film Institute
The Complete Movie

"The only comfort is the moving of the river…"
Saturday night's playlist submission is Ice by Sarah McLachlan. The 8th track from her album Fumbling Towards Ecstasy, it was never released as a single so, there is no chart information. Sarah was already a star in her native Canada but, this album was her breakthrough in the US, exploding on the scene when her first track, Possession was released. Born in Halifax, Nova Scotia in 1968, she was playing music, early, starting with a ukulele at age four. In high school, she was the singer for the short-lived band The October Game and, after finishing a year in college, signed a recording contract with Nettwerk without having written a single song.
This is another album/CD I have worn out. I can remember when Possession showed up on the radio and I first heard it. I was driving home from work and immediately went looking for her album. Her music has been used in many television shows and I remember her being on Charmed. Notable movies using her songs are City of Angels, Message in a Bottle, The Brave One and Four Christmases.
Sarah McLachlan (Official Website)
Sarah McLachlan Online (Fan Site)
"She may be one good reason to leave but, I'm a hundred reasons to stay…"
This Sunday's playlist submission is Hands Tied by American pop rock band Scandal, formed in 1981 in New York City by guitarist Zack Smith…and not to be confused with the Japanese band or the Australian band. Written by Holly Knight and Mike Chapman, it was the third track from the album Warrior (featuring Patty Smyth). I can't find a release date but, it entered the Billboard Hot 100 on October 20, 1984, and peaked at #41 on December 1st. It also peaked at #21 on the Billboard Mainstream Rock Tracks on the same day.
This album was the very first CD I ever owned. It was a gift and, up until that point, I only had vinyl, 45s and cassettes. I wore this one out, too. The band called it quits in 1985 but, reformed in 2004 and are still active. The song Love's Got A Line On You from their debut EP Scandal was on the soundtrack to the 1983 movie Easy Money and Smyth was a solo artist on soundtracks for Caddyshack II & Armageddon. Other songs have appeared in additional movies and TV.
Patty Smyth & Scandal (Official Site)
Well (scratching head), Flick Friday is a complete bust. There are no movie releases for today from 1950. Instead, I will highlight National Tequila Day. No, I'm not kidding. As a side note to the below, the listed Mamasita or Mamacita appears to be a Rum drink, not Tequila. But, who am I to argue. Drink up! ~Vic
One tequila, two tequila, three tequila, floor!
On July 24th, commemorate National Tequila Day with a little lime and salt. Mix up a Margarita, Paloma or a Mamasita to celebrate the day! People have been making Tequila for centuries and it was once known as mezcal wine. In fact, Tequila is mezcal but, mezcal isn't Tequila. That's because Tequila is distilled from a specific type of agave plant. Also, the law protects its production. Take a sip and we'll travel into Tequila's history.
History
It all started around the 16th century. Cortez [sic] arrived on the North American continent with his Spanish conquistadors. They didn't care much for the fermented mezcal wine served to them. However, the Spanish introduced copper stills to the population. Enter the distilling process.

Image Credit: Win Calendar

Now, our story takes us to Tequila, Jalisco, Mexico. Located in a valley west of Guadalajara in Jalisco, Mexico, the town made a name for themselves by distilling Blue Agave. Even though a variety of succulents in Mexico produce mezcal, only one delivers the nectar to distill Tequila. Blue Agave grows in the highland region. Indeed, the unique growing conditions contribute to a larger size and sweeter tasting agave. In contrast, agave grown in the lowland regions taste and smell more herbal. In Mexico, the law protects the production of Tequila. The rule states Tequila is only Tequila if it is made within Jalisco. Additionally, the law limits production to regions in the states of Guanajuato, Michoacan, Nayarit and Tamaulipas. However, the same ingredients distilled anywhere else cannot be labeled Tequila.

Interestingly, many names in the Tequila business, today, were the very first commercial producers of Tequila. For example, José Antonio Cuervo held the first license for making the favored beverage. He kept a well-known company, too. Two other names include Don Cenobio Sauza and Félix López, whose businesses continue in some form today. Equally enjoyed in cocktails such as the margarita or Tequila Sunrise, connoisseurs savor a good Tequila like a good whiskey. As a result, savvy drinkers experience the smooth renaissance of Tequila. Surprisingly, it's not the firewater they remember from their youth.
National Day Calendar is researching the origins of this beverage holiday.
Late Add. I don't know why I didn't think of this, earlier.

Three hundred, fourteen years ago, today…
The Treaty of Union is the name usually, now, given to the agreement which led to the creation of the new state of Great Britain [.] [It stated] that England, which already included Wales, and Scotland were to be "United into one Kingdom by the name of Great Britain[.]" At the time it, was more often referred to as the Articles of Union. The details of the treaty were agreed on [July 22], 1706 and separate Acts of Union were then passed by the parliaments of England and Scotland to put the agreed articles into effect. The political union took effect on [May 1], 1707.

Queen Elizabeth I of England and Ireland, last monarch of the Tudor dynasty, died without issue on [March 24], 1603 and the throne fell at once […] to her first cousin twice removed, James VI of Scotland, a member of House of Stuart and the only son of Mary, Queen of Scots. By the Union of the Crowns in 1603, he assumed the throne of the Kingdom of England and the Kingdom of Ireland as King James I. This personal union lessened the constant English fears of Scottish cooperation with France in a feared French invasion of England. After [the] union, the new monarch, James I and VI, sought to unite the Kingdom of Scotland and the Kingdom of England into a state which he referred to as "Great Britain". Nevertheless, Acts of Parliament attempting to unite the two countries failed in 1606, 1667 and 1689.
The Negotiations
The Articles
The Commissioners
Scots History Online
Union with England (UK Legislation)
Union with Scotland (UK Legislation)
Scottish Referendums (BBC)
Mob Unrest and Disorder (Web Archive/Parliament UK)