wikimedia
The Gunpowder Plot of 1605, […] often called the Gunpowder Treason Plot or the Jesuit Treason [in earlier centuries], was a failed assassination attempt against King James I by a group of provincial English Catholics led by Robert Catesby.

The plan was to blow up the House of Lords during the State Opening of Parliament on [November] 5, 1605, as the prelude to a popular revolt in the Midlands, during which James's nine-year-old daughter, Elizabeth, was to be installed as the Catholic head of state. Catesby may have embarked on the scheme after hopes of securing greater religious tolerance under King James had faded, leaving many English Catholics disappointed. His fellow plotters were John and Christopher Wright, Robert and Thomas Wintour, Thomas Percy, Guy Fawkes, Robert Keyes, Thomas Bates, John Grant, Ambrose Rookwood, Sir Everard Digby and Francis Tresham. Fawkes, who had 10 years of military experience fighting in the Spanish Netherlands in the failed suppression of the Dutch Revolt, was given charge of the explosives.

The plot was revealed to the authorities in an anonymous letter sent to William Parker, 4th Baron Monteagle, on [October] 26, 1605. During a search of the House of Lords in the evening on [November] 4, 1605, Fawkes was discovered guarding 36 barrels of gunpowder, enough to reduce the House of Lords to rubble, and [was] arrested. Most of the conspirators fled from London as they learned of the plot's discovery, trying to enlist support along the way. Several made a stand against the pursuing Sheriff of Worcester and his men at Holbeche House […]. [In] the ensuing battle, Catesby was one of those shot and killed. At their trial on [January] 27 1606, four hundred, fifteen years ago, today, eight of the survivors, including Fawkes, were convicted and sentenced to be hanged, drawn and quartered.

The thwarting of the Gunpowder Plot was commemorated for many years afterwards by special sermons and other public events such as the ringing of church bells, which evolved into the British variant of Bonfire Night of today.

Wikipedia Summary
The six partitas for solo violin by Johann Paul von Westhoff are the earliest known published music for solo violin. Although Westhoff's compositions were rediscovered by scholars […] in the mid-19th century, this work was not found until the late 20th century.

The collection […] was discovered […] by musicologist Peter P. Várnai. He announced his discovery in a 1971 article […] published in Die Musikforschung, volume 24. The extant copy is dated 1696 (three hundred & twenty-five years, ago) but, it may be a reprint (partial or full) of a much earlier publication by Westhoff…the Erstes Dutzend Allemanden, Couranten, Sarabanden und Giguen Violino Solo sonder Passo Continuo. [That] collection was published in Dresden in 1682 and is considered lost. The first modern edition of the partitas appeared in 1974.

Nothing is known about how or when the partitas were composed. One other work for solo violin by Westhoff survives, a 1683 suite published in an issue of Dresden's Mercure galant. [It] is entirely possible that the composer had more solo violin works. The […] surviving partitas are historically important works […] and were most probably the inspiration for Johann Sebastian Bach's sonatas and partitas for solo violin.

The partitas all consist of four dances, arranged in the standard late Baroque order… an Allemande, the Courante, the Sarabande and the Gigue. The music is technically demanding. [It is] fully polyphonic with frequent instances of tricky double stopping.

Johann Paul von Westhoff was a German Baroque composer and violinist. One of the most important exponents of the Dresden violin school, he was among the highest ranked violinists of his day […].
Johann Paul von Westhoff 1656-1705 (On Baroque)
List of Known Works
References
If you haven't finished your holiday shopping, the North Carolina Department of Transportation is offering up a piece of Americana but, it's going to cost you a pretty penny.

When the Ringling Bros. and Barnum & Bailey Circus closed their doors, NCDOT saw an opportunity to add to its fleet. That plan was derailed before the cars could hit the rails and, now, they're being put up for public auction.

NCDOT spent just over $380,000 on [the] Ringling Brothers rail cars.

"These cars have a great and amazing history," said Jason Orthner, director of the NCDOT rail division.

However, plans to refurbish the cars were quickly put on hold when NCDOT calculated the costs. "This was more on the long-term play of really looking into our rail program and how we take it into the future," said Orthner.

Image Credit: New York Public Library
Wikimedia & Wikipedia

Funding from two federal grants totaling $157 million rendered the rehab of the Ringling Bros. cars obsolete and will soon allow the NCDOT to replace their entire fleet.

"If we hadn't been successful at winning those grants, we would've taken a really hard look at putting these in service," said Orthner. "We really want to do the best thing for the citizens of North Carolina with the limited funding that we have available."

That's why they're listing the rail-cars on the state surplus site for a minimum price that's $32,000 more than the NCDOT paid for all of the cars but, without any bids, it's unclear if anyone will actually buy them.

"Tourist railroad operations, car collectors and other enthusiasts would certainly be interested in these cars," said Orthner. "There are operations around the country that run train service for excursion purpose, or other purposes, that would be interested in equipment like this."

Currently half of the rail-cars are stored in the NCDOT rail-yard in Raleigh and the other half are stored on an abandoned line in Nash County.

Want To Own A Piece Of History?
Holden Kurwicki
WNCN/CBS17
12-21-2020
I had no idea my state's DOT had purchased Ringling Bros. train cars. ~Vic
This is my last countdown post. I've saved my favorite gingerbread house for last. I've been inside this place and you can feel its history. Unfortunately, I didn't take any pictures when I was there. Before the world went insane, Ayr Mount would host Scottish Festivals. ~Vic
If you'd like to vote:
Homes for the Holidays 2020
Additional Information:
Ayr Mount (Classical American Homes Preservation Trust)
Ayr Mount Celebrates 200th Birthday (The News of Orange)
Cèilidh Scottish Festival (Visit Hillsborough NC)
Three hundred, forty years ago, Danish-German Baroque composer and organist Dieterich Buxtehude composed Membra Jesu Nostri. Considered to be one of the most influential composers in Germany, his style is reflected in the works of Johann Sebastian Bach, one of his students. [More] than 100 compositions of his survive […].
Membra Jesu Nostri [or The limbs of our Jesus], BuxWV 75, is a cycle of seven cantatas composed by Dieterich Buxtehude in 1680 and dedicated to Gustaf Düben. The full Latin title Membra Jesu Nostri Patientis Sanctissima translates to "The most holy limbs of our suffering Jesus". This work is known as the first Lutheran oratorio. The main text are stanzas from the Medieval hymn Salve Mundi Salutare, also known as the Rhythmica Oratio, a poem formerly ascribed to Bernard of Clairvaux but, now thought more likely to have been written by Medieval poet Arnulf of Leuven […]. It is divided into seven parts, each addressed to a different part of Christ's crucified body: feet, knees, hands, sides, breast, heart and face. In each part, biblical words referring to the limbs frame verses of the poem.
Sources:
Duke Vespers Ensemble (MSR Classics)
Salve Mundi Salutare (New Advent)
Buxtehude Composition List (Wikipedia)
Dieterich Buxtehude (Wikipedia)
Membra Jesu Nostri (Wikipedia)
The International Dieterich Buxtehude Society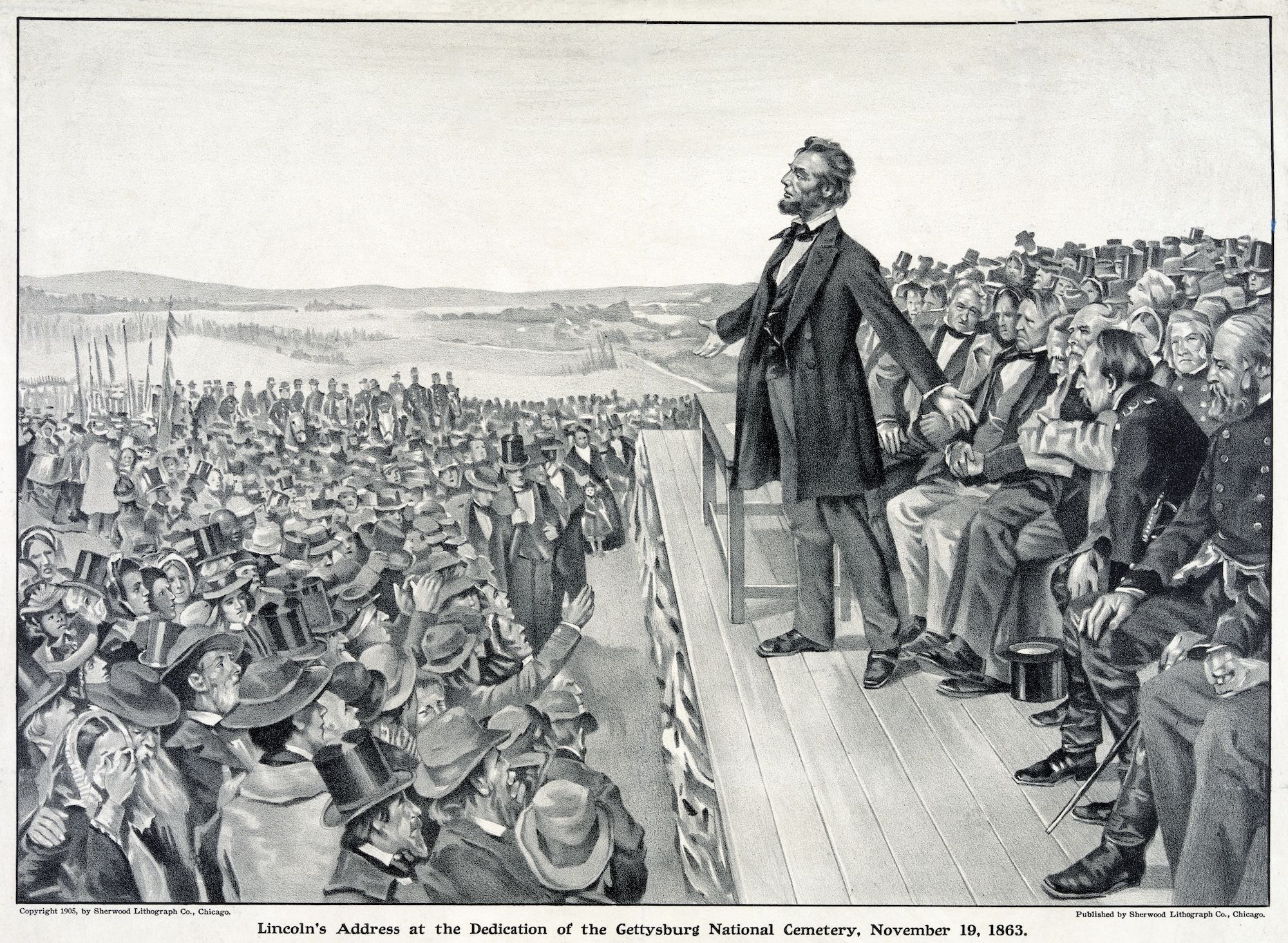 One hundred, fifty-seven years ago, today, President Abraham Lincoln gave his famous speech at the dedication of the Soldier's National Cemetery in Gettysburg. The Battle of Gettysburg had just been 4 1/2 months prior. Lincoln was in the early stages of a mild case of small pox.
Four score and seven years ago our fathers brought forth on this continent, a new nation, conceived in Liberty, and dedicated to the proposition that all men are created equal.

Now we are engaged in a great civil war, testing whether that nation, or any nation so conceived and so dedicated, can long endure. We are met on a great battle-field of that war. We have come to dedicate a portion of that field, as a final resting place for those who here gave their lives that that nation might live. It is altogether fitting and proper that we should do this.

But, in a larger sense, we can not dedicate — we can not consecrate — we can not hallow — this ground. The brave men, living and dead, who struggled here, have consecrated it, far above our poor power to add or detract. The world will little note, nor long remember what we say here, but it can never forget what they did here. It is for us the living, rather, to be dedicated here to the unfinished work which they who fought here have thus far so nobly advanced. It is rather for us to be here dedicated to the great task remaining before us — that from these honored dead we take increased devotion to that cause for which they gave the last full measure of devotion — that we here highly resolve that these dead shall not have died in vain—that this nation, under God, shall have a new birth of freedom — and that government of the people, by the people, for the people, shall not perish from the earth.
Additional Reading:
Speeches & Writings (Abraham Lincoln Online)
Britannica
History Channel
National Geographic
National Park Service
Two-hundred, ninety-four years ago, today, the book of satirical stories, Gulliver's Travels was published. Written by Irish clergyman Jonathan Swift, the original title was Travels into Several Remote Nations of the World. In Four Parts. By Lemuel Gulliver, First a Surgeon, and then a Captain of Several Ships. That has to be the longest book title in existence. I've never read any of it, nor have I seen the various movies that have been put out. That being said, there are several well written summaries and opinions on the material and, I'm not reinventing the wheel. ~Vic
Gulliver's Travels Study Guide on Grade Saver:
Gulliver's name probably is an allusion to King Lemuel of Proverbs 31, who was a weak-minded prophet. Swift may also be connecting his character to a common mule, a half-ass, half-horse animal that is known for being stubborn and stupid. A gull is a person who is easily fooled or gullible. At the same time, Gulliver represents the everyman with his average intelligence and general good humor. The reader is able to identify with him and join him in his travels. Even though Swift constantly alludes to events that were happening while he was alive, the story rings true today, bringing light to our own societal issues and to patterns of human nature. Throughout Gulliver's voyages, Swift goes to great lengths to scrutinize, parody, and satire various aspects of human, and often English, society.
A mock work of travel literature, Jonathan Swift's famous novel is a far deeper work than one of just Juvenalian and Horatian satire. It is an indictment against the prevailing spirit of Enlightenment philosophy and utopianism, an esoteric defense of Christianity against its Enlightenment critics, and a prophetic vision into the future degeneration of humanity in following the dictates of the natural philosophers of modernity. Swiftian irony is one of the great joys of the work. [Where] traditional literary narrative has the travelling protagonist return home to comfort and love, Swift's Gulliver returns home deranged and a hater of humanity.
Additional Reading:
1939 Animated Movie (IMDb)
1977 UK Movie (IMDb)
1996 TV Mini-Series (IMDb)
20th Century Fox 2010 Movie (IMDb)
Britannica
Gulliver's Travels (Wikipedia)
Jonathan Swift (Wikipedia)
Wikisource Text of the Book
Sixty years ago, today, the Italian-German film Die rote Hand or The Red Hand was released. Directed by Kurt Meisel, written & produced by Ernst Neubach, it starred Paul Hubschmid, Hannes Messemer and Eleonora Rossi Drago.
Finding specific information on this film has been difficult. It appears that this was based upon a French terrorist organization's bombings and assassinations that took place in Germany in September 1956, June 1957, October 1958, March 1959 and November 1959. IMDb doesn't have a summary or synopsis but, I did find a translated plot from the German side of Wikipedia (Translate The Web Link):
This arms dealer drama takes place in Germany and Switzerland […] during the Cold War.

Manora Khan, consul of an unspecified Asian country, intends to hunt down his Cuban colleague Maria Gomez's supply of weapons intended for her country. To this end, he orders the help of the smart Johnny Zamaris, with whom he has a common past: Johnny had once [been involved with] his great love, the actress Violetta Scotoni. [It] soon becomes apparent that no one is what he seems to be […]. Consul Khan turns out to be the leader of a secret organization called "The Red Hand" that deliberately kills competing gun-pushers. Competitor Johnny is more than just a smart Sonnyboy [sic]. [In] truth, he works as a defensive officer in his country, with the task of smashing "The Red Hand" again. Both men, who once competed for Violetta, die while serving in their respective [fatherlands], with Johnny being knocked down in the back of a black sedan with a machine gun after a final tender embrace with Violetta.
The writer and producer of this film was born in Austria but, emigrated to France after Anschluss. Unhappy with a Der Spiegel report, he wrote an opposite viewpoint. Der Speigel, in turn, panned the film.
I couldn't find a trailer on YouTube. ~Vic
Additional Reading:
The State as a Terrorist: France and the Red Hand (Perspectives on Terrorism)
One-hundred, fourteen years ago, today, Devil's Tower or, Bear Lodge Butte, was established as the first US National Monument by President Theodore Roosevelt. Composed of igneous rock, and possibly laccolithic, it is located in the Bear Lodge Mountains of the Black Hills, near Hulett and Sundance, in Crook County, Wyoming. It is also known as Matȟó Thípila by the Lakota and Daxpitcheeaasáao by the Crow (try to pronounce those). It got it's religious moniker in 1875 when an interpreter for Colonel Richard Dodge, leading an expedition, misunderstood a native name and thought it meant Bad God's Tower.
Additional Reading:
Close Encounters of the Third Kind 1977 (AMC's Filmsite)
The Dakota Peoples (Google Books)
Satellites in the High Country (Google Books)
Devil's Tower: First 50 Years (National Park Service PDF)
Proposed Name Change (Rapid City Journal June 22, 2015)
Native American Story & Culture (Wikipedia)
Other Native Names (Wikipedia)
Tower Ladder (Wikipedia)
Sixty-five years ago, today, the war film To Hell and Back was released, originally in San Antonio. Directed by Jesse Hibbs and based on the book of the same name, it starred Audie Murphy, Marshall Thompson, Charles Drake, Jack Kelly, Gregg Palmer, Paul Picerni, David Janssen, Denver Pyle, Brett Halsey (Admiral's great-nephew) and Gordon Gebert as a young Audie.
Biopic of the wartime exploits of Audie Murphy (played by himself), the most decorated US soldier in World War II. Starting with his boyhood in Texas, where he became the head of his family at a young age, the story follows his enrollment in [the] Army where he was assigned to the 3rd Division. He fought in North Africa, Sicily and Italy, before landing in southern France and, eventually, fighting in Germany. A Medal of Honor recipient, he also received battle honors from the French and Belgian government.
The highly variable Audie Murphy delivers his best screen performance as "himself" in Universal's To Hell and Back. Based on the star's autobiography, this is the story of how Murphy became America's most-decorated soldier during WW II. After dwelling a bit on Murphy's hard-scrabble Texas upbringing, the story moves ahead to 1942, when, as a teenager, Audie joined the army. Within a year, he was a member of the 7th Army, serving in North Africa, Italy, France and, ultimately, Germany and Austria. One by one, the members of Murphy's Company B are killed in the war, until only three men from the original company are left. [The] others appear at the finale as ghostly images […]. The bulk of the film is given over to Murphy's conspicuous acts of combat bravery and his killing of 240 enemy soldiers. Highlighted by excellent battle sequences, To Hell and Back is a serviceable tribute to a most complex individual.
Trivia Bits:
♦ Filmed at Fort Lewis, WA, Yakima River, WA, Oak Creek Wildlife Area, WA and Universal Studios.
♦ Audie Murphy originally declined the opportunity to portray himself in the movie, not wanting people to think that he was attempting to cash in on his role as a war hero. Murphy initially suggested his friend Tony Curtis to play him.
♦ Audie Murphy's war buddy Onclo Airheart was slated to play himself, but he declined due to the fact that the movie was to be shot during planting season.
♦ [Author] David Morell [sic] cites Audie Murphy as the inspiration for the character of John Rambo.
♦ In the movie, […] Murphy does his one-man standoff on top of a medium M-4 Sherman tank. [In] real life it happened on top of an M10 Wolverine tank destroyer.
♦ Audie Murphy's feats of heroism and his much decorated status have been compared to those of his counterpart during World War I, Sgt. Alvin C. York […].
Murphy […] wrote poetry and songs, and, himself a sufferer, was among the first advocates for Post-Traumatic Stress Disorder. He died on May 28, 1971, when the private airplane in which he was riding crashed.
Additional Reading:
To Hell and Back (American Film Institute)
To Hell and Back (Turner Classic Movies)
Alvin York (Wikipedia)
Audie Murphy (Wikipedia)
Technically, today is also a bust for Flick Friday, just like my July 24 post. There were no movie releases, today, in 1950, either, so I will grab the August 6 release. Seventy years ago, yesterday, the western film Vigilante Hideout was released. Directed by Fred C. Bannon and written by Richard Wormser, it starred Allan Lane, Black Jack (Allan Lane's horse), Eddie Waller, Roy Barcroft and Virginia Herrick.
Rocky (Lane), a Range Detective, arrives to help Nugget (Waller) with rustlers. When he learns Nugget owns only three cows, he stays on, anyway and, soon, becomes involved in Benson's attempt to blow open the bank's safe. When Rocky upsets his plans, Benson (Don Haggerty), supposedly, gets rid of him by having him declared an outlaw, wanted dead or alive. Then, Benson takes a load of explosives into an old mine located directly under the bank vault.
Double-barreled justice catches up with a cold-blooded killer when "Rocky" takes up the chase! Cattle detective, Rocky Lane, arrives in town to investigate cattle disappearances only to realize just three cows, owned by eccentric inventor Nugget Clark, are involved. However, the disappearances lead to a deeper mystery involving dynamite explosions, rampaging cowboys and a water shortage.
Lane and his trusty black stallion are on hand to help old-timer Waller find water for a town which is threatening to fold up due to drought. Some crooked townsfolk don't want the water to be found because they want to collect on the $25,000 being stashed away for an aqueduct. Lane's job is to make sure these people don't pose too much of a problem, while Waller goes about finding the water. The characterization of Waller as a crazed inventor of gadgets is an added attraction to this oater with a realistic bent.
Full Synopsis (Turner Classic Movies)
Additional Reading:
American Film Institute
The Complete Movie

Three hundred, fourteen years ago, today…
The Treaty of Union is the name usually, now, given to the agreement which led to the creation of the new state of Great Britain [.] [It stated] that England, which already included Wales, and Scotland were to be "United into one Kingdom by the name of Great Britain[.]" At the time it, was more often referred to as the Articles of Union. The details of the treaty were agreed on [July 22], 1706 and separate Acts of Union were then passed by the parliaments of England and Scotland to put the agreed articles into effect. The political union took effect on [May 1], 1707.

Queen Elizabeth I of England and Ireland, last monarch of the Tudor dynasty, died without issue on [March 24], 1603 and the throne fell at once […] to her first cousin twice removed, James VI of Scotland, a member of House of Stuart and the only son of Mary, Queen of Scots. By the Union of the Crowns in 1603, he assumed the throne of the Kingdom of England and the Kingdom of Ireland as King James I. This personal union lessened the constant English fears of Scottish cooperation with France in a feared French invasion of England. After [the] union, the new monarch, James I and VI, sought to unite the Kingdom of Scotland and the Kingdom of England into a state which he referred to as "Great Britain". Nevertheless, Acts of Parliament attempting to unite the two countries failed in 1606, 1667 and 1689.
The Negotiations
The Articles
The Commissioners
Scots History Online
Union with England (UK Legislation)
Union with Scotland (UK Legislation)
Scottish Referendums (BBC)
Mob Unrest and Disorder (Web Archive/Parliament UK)