wikimedia
The St. Matthew Passion (Matthäus-Passion in German ~ BWV 244) is a Passion, a sacred oratorio written by Johann Sebastian Bach in 1727 for solo voices, double choir and double orchestra, with libretto by Picander. It sets the 26th and 27th chapters of the Gospel of Matthew, in the Luther Bible, to music, with interspersed chorales and arias. It is widely regarded as one of the greatest masterpieces of Baroque sacred music.

The St. Matthew Passion is the second of two Passion settings by Bach that have survived in their entirety, the first being the St. John Passion, first performed in 1724. Little is known with certainty about the creation process of the St. Matthew Passion. The available information derives from extant early manuscripts, contemporary publications of the libretto, and circumstantial data, for instance in documents archived by the Town Council of Leipzig.

The St. Matthew Passion was probably first performed on April 11, 1727 (Good Friday), two hundred, ninety-five years, ago, today, in the St. Thomas Church in Leipzig.

Wikipedia Summaries
In the early 1820s, the director of the Berlin Singakademie, Carl Zelter, got hold of a copy of Bach's St. Matthew Passion and rehearsed some of the choral movements in private. By great good fortune, two of his singers were Fanny and Felix Mendelssohn. In April 1829, despite strong opposition from some quarters, the twenty-year-old Mendelssohn, with the help of Zelter and his friend the actor Eduard Devrient, mounted the work's first modern performance, albeit in an abbreviated form, given to mark what was then thought to be the centenary of its first performance. This Easter-time Berlin presentation was a stunning success and was followed by others. These led directly to a complete reassessment and revival of interest in all of Bach's music for, baffling as it seems nowadays, Johann Sebastian Bach had fallen into near obscurity since his death nearly 80 years earlier.

Bach's St. Matthew Passion: A Guide To The Sacred Masterpiece
UDiscoverMusic
Jeremy Nicholas
April 8, 2020
Beautiful music with beautiful voices. One tenor sounds just like a woman. ~Vic
Additional:
A Guide To Bach's St. Matthew Passion (Classical Music/BBC Music Magazine/05-26-2021)
Music History Monday: St. Matthew Passion (Robert Greenberg Music/04-11-2022)
Matthäus-Passion BWV 244 (Bach Cantatas Website/2000-2022)
Netherlands Bach Society
04-02-2019
Two Hours, 44 Minutes & 31 Seconds

Four hundred, nineteen years ago, today, James Charles Stuart was crowned James I, King of England and Ireland, after the death of Elizabeth I. Though England and Scotland were sovereign, individual states, he ruled them in personal union.
He was the son of Mary, Queen of Scots and the great-great grandson of Henry VII. He was thirteen months old when his mother abdicated and he succeeded to the Scottish throne, though he had regents governing due to his minority status. He took full control of the government in 1583 and succeeded Elizabeth I, whom was childless, the last monarch from the House of Tudor, in 1603.
He ruled over all three kingdoms for 22 years during the Jacobean Era until his death in 1625 (also in March, on the 27th). During his reign, the Plantation of Ulster and the Colonisation of the Americas began.
He was the longest reigning Scottish monarch, ruling nearly 58 years, surpassed only by crazy King George III (59 years), Queen Victoria (nearly 64 years) and current Queen Elizabeth II at 70 years. He was on the throne during the Gunpowder Plot of 1605 (see my post on Guy Fawkes) and, during the Elizabethan literature Golden Age, with writers such as William Shakespeare and Sir Francis Bacon. He sponsored the English translation of the Bible, the most widely read version and was a poet, himself. He preferred peace to war, steering clear of the Thirty Years' War that involved most of Europe. There are indications that he was bi-sexual.
He died young at the age of 58 and was succeeded by his second son, King Charles I, a poor ruler that was executed in 1649.
Who Was King James VI & I

King James I

"I may be the first woman member of Congress but, I won't be the last."
Jeannette Rankin was an American politician and women's rights advocate and, the first woman to hold federal office in the United States. She was elected to the U.S. House of Representatives as a Republican from Montana in 1916 and, again, in 1940. As of 2022, Rankin is still the only woman ever elected to Congress from Montana.

Each of Rankin's Congressional terms coincided with initiation of U.S. military intervention in the two World Wars. A lifelong pacifist, she was one of 50 House members who opposed the declaration of war on Germany in 1917. In 1941, she was the only member of Congress to vote against the declaration of war on Japan following the attack on Pearl Harbor.

A suffragist during the Progressive Era, Rankin organized and lobbied for legislation enfranchising women in several states including Montana, New York and North Dakota. While in Congress, she introduced legislation that eventually became the 19th Constitutional Amendment, granting unrestricted voting rights to women nationwide. She championed a multitude of diverse women's rights and civil rights causes throughout a career that spanned more than six decades.

Wikipedia Summary
"I want to be remembered as the only woman who ever voted to give women the right to vote."
Rankin was born on June 11, 1880, to John and Olive Rankin at Grant Creek Ranch near Missoula, in what was then the Montana Territory. She was the first of seven children […] in a prosperous family. Her father […] was a rancher and builder who had come to Montana from Canada. Her mother […] had moved from New Hampshire to teach before marrying John Rankin and becoming a housewife. Jeannette attended Montana State University in Missoula (now the University of Montana) and graduated in 1902 with a degree in biology. [Her] career in politics began as a student volunteer with a local women's suffrage campaign in Washington State, preparing for a referendum on voting rights. [In] February 1911, she became the first woman to address the Montana legislature when she testified in support of women's suffrage.

Jeannette Rankin
History, Art & Archives
United States House of Representatives
Rankin held office in her first term from March 4, 1917, one-hundred and five years, ago, today, to March 3, 1919. Her second term was from January 3, 1941 to January 3, 1943. Powerful enemies made sure she could not get re-elected. Twenty-four years later, she reclaimed her seat. She never married and passed away May 18, 1973 at the age of 92. ~Vic
Additional Reading:
Jeannette Rankin (Biography/February 27, 2018)
Montana's Women Candidates Are Out To Set Another Record (Billings Gazette/Web Archive/October 25, 2016)
Seven Things About Jeannette Rankin (History Channel/Jesse Greenspan/September 1, 2018)
The 1903 World Series was the first modern World Series to be played in Major League Baseball. It matched the American League champion Boston [Americans] against the National League champion [Pittsburg Pirates] (spelled without an "H" from 1891 to 1911) in a best-of-nine series, with Boston prevailing five games to three, winning the last four. The first three games were played in Boston, the next four in Allegheny (home of the Pirates), and the eighth (last) game in Boston.

Pittsburgh pitcher Sam Leever injured his shoulder while trap-shooting, so his teammate Deacon Phillippe pitched five complete games. Phillippe won three of his games but, it was not enough to overcome the club from the new American League. Boston pitchers Bill Dinneen and Cy Young led Boston to victory. In Game #1, Phillippe struck out ten Boston batters. The next day, Dinneen bettered that mark, striking out 11 Pittsburgh batters in Game #2.

Honus Wagner [was] bothered by injuries […] and committed six errors. The shortstop was deeply distraught by his performance. The following spring, Wagner […] refused to send his portrait to a "Hall of Fame" for batting champion:

"I was too bum last year. I was a joke in that Boston-Pittsburgh Series. What does it profit a man to hammer along and make a few hits, when they are not needed, only to fall down when it comes to a pinch? I would be ashamed to have my picture up now."

Due to overflow crowds at the Exposition Park games in Allegheny City, if a batted ball rolled under a rope in the outfield that held spectators back, a "ground-rule triple" would be scored. [Seventeen] ground-rule triples were hit in the four games played at the stadium.

In the series, Boston came back from a three-games-to-one deficit, winning the final four games (on October 13) to capture the title…(118 years ago). Such a large comeback would not happen again until the Pirates came back to defeat the Washington Senators in the 1925 World Series […]. […] Much was made of the influence of Boston's Royal Rooters, who traveled to Exposition Park and sang their theme song Tessie to distract the opposing players […]. Boston wound up winning three out of four games in Allegheny City.

Pirates owner Barney Dreyfuss added his share of the gate receipts to the players' share, so the losing team's players actually finished with a larger individual share than the winning team's.

The Series brought the new American League prestige and proved its best could beat the best of the National League, thus strengthening the demand for future World Series competitions.

Wikipedia Summary
Additional:
Baffling Baseball Trivia (Dom Forker/Wayne Stewart/Michael J. Pellowski/2004/Sterling Publishing Company/Web Archive)
Baseball Almanac (World Series History/The Official Baseball History Site)
Honus Wagner: A Biography (Dennis DeValeria/Jeanne Burke DeValeria/1996/1998/GoodReads)
Retro Sheet (Pre-1984 Baseball Analysis)
The First World Series and the Baseball Fanatics of 1903 (Roger L. Abrams/2003/Northeastern University Press/Web Archive)
Johann Sebastian Bach was a German composer and organist. The most important member of the Bach family, his genius combined outstanding performing musicianship with supreme creative powers in which forceful and original inventiveness, technical mastery and intellectual control, are perfectly balanced. While it was in the former capacity, as a keyboard virtuoso, that in his lifetime he acquired an almost legendary fame, it is the latter virtues and accomplishments, as a composer, that, by the end of the 18th century, earned him a unique historical position. His musical language was distinctive and extraordinarily varied, drawing together and surmounting the techniques, the styles and the general achievements, of his own and earlier generations, and leading on to new perspectives, which later ages have received, and understood, in a great variety of ways.
Wachet! Betet! Betet! Wachet! (Watch! Pray! Pray! Watch!) is the title of two church cantatas by Johann Sebastian Bach. He composed a first version, BWV 70a, in Weimar for the second Sunday in Advent of 1716 and expanded it in 1723 in Leipzig to BWV 70, a cantata in two parts for the 26th Sunday after Trinity.

On [March] 2, 1714, Bach was appointed concertmaster of the Weimar court capelle of the co-reigning dukes Wilhelm Ernst and Ernst August of Saxe-Weimar. As concertmaster, he assumed the principal responsibility for composing new works, specifically cantatas for the Schlosskirche (palace church), on a monthly schedule. Bach originally wrote this cantata in his last year there […].

The instrumentation of the Weimar cantata is lost.

Bach first performed the cantata on [December] 6, 1716.

Wikipedia Summaries
Additional Reading:
Bach Cantata Translations (Emmanuel Music Organization Website)
Chapter 28 BWV 70 (The Cantatas of Johann Sebastian Bach by Julian Mincham)
Bach-Collegium Stuttgart
Gächinger Kantorei Choir
Helmuth Rilling
Dvořák Hall Prague
Monteverdi Choir
John Eliot Gardiner
The French Baroque composer Jean-Philippe Rameau wrote three books of Pièces de clavecin for the harpsichord. The first, Premier Livre de Pièces de Clavecin (first book of harpsichord pieces), was published in 1706. [T]he second, Pièces de Clavessin, [was] in 1724. [T]he third, Nouvelles Suites de Pièces de Clavecin, [was] in 1726 or 1727. They were followed in 1741 by Pièces de clavecin en concerts, in which the harpsichord can either be accompanied by violin (or flute) and viola da gamba or played alone. An isolated piece, La Dauphine, survives from 1747.

Jean-Philippe Rameau was one of the most important French composers and music theorists of the 18th century. He replaced Jean-Baptiste Lully as the dominant composer of French opera and is also considered the leading French composer of his time for the harpsichord, alongside François Couperin.

Little is known about Rameau's early years. It was not until the 1720s that he won fame as a major theorist of music with his Traité de L'harmonie Réduite à ses Principes naturels (1722…Treatise on Harmony reduced to its natural principles) and also in the following years as a composer of masterpieces for the harpsichord, which circulated throughout Europe. He was almost 50 before he embarked on the operatic career on which his reputation chiefly rests today.

Rameau's music had gone out of fashion by the end of the 18th [C]entury and it was not until the 20th [Century] that serious efforts were made to revive it. Today, he enjoys renewed appreciation with performances and recordings of his music ever more frequent.

Wikipedia Summaries
Additional Reading:
Jean Philippe Rameau (Atlanta Symphony Orchestra)
Jean-Philippe Rameau (Britannica)
Treatise On Harmony (CMuse)
Jean Philippe Rameau (Find A Grave)
Jean-Philippe Rameau Biography (The Famous People)
Hanspostcard has a movie draft challenge. This is my Round Eleven pick.
Category: Romance/Holiday/Animation
Film: Love Actually
All I have to say is, this is a great movie. It will make you laugh. It will make you cry. ~Vic
Written and directed by Richard Curtis (with six producers in tow), this is a Christmas romance romp with an all-star ensemble cast, mostly comprised of Brits. There are ten separate stories, that become interwoven in places…with one exception. This was Curtis's Directorial Debut.
Filmed primarily in London, production was a collaboration between the US, the UK & France, with the first release on September 7, 2003, at the Toronto International Film Festival.
The movie opens with Prime Minister David talking about the state of the world.
[1] Rock and Roll legend Billy Mack records a Christmas version of the song Love Is All Around (by The Troggs). He thinks it's crap but, he promotes it, anyway. He spends Christmas with his manager Joe and, you can see him on various TV sets throughout the movie.
[2] Best man Mark (a very young Andrew Lincoln sans Colt Python) is in love with Peter's soon-to-be wife, Juliet, though they both believe that Mark dislikes her. He declares his love with cue cards on Christmas Eve.
[3] Jamie discovers his girlfriend is having an affair with his brother. He meets Aurélia but, she doesn't speak any English. He learns Portuguese to communicate his love for her.
[4] Harry & Karen are happily married and raising their children. Mia is Harry's new secretary. He is drawn to her and nearly destroys his marriage over her.
[5] Karen's brother is David, the Prime Minister. He finds himself attracted to staffer Natalie and having to deal with the U.S. President.
[6] Daniel, Karen's friend, is still mourning the loss of his wife, Joanna. His step-son Sam is interested in an American classmate, also named Joanna. Sam shows his affection for Joanna at the airport (before she returns to the US). Daniel crosses paths with Carol and is interested.
[7] Sarah works for Harry and is in love with Karl. Karl is interested but, Sarah's mentally ill brother Michael is an issue.
[8] Colin tells his friend Tony that he is traveling to America to try to woo some women there. He meets Stacey, Jeannie and Carol-Anne in Milwaukee and they invite him to stay with them. Roommate Harriet shows up, later.
[9] John (a young Martin Freeman…Arthur Dent/Bilbo Baggins) and Judy meet as nude stand-ins for a film that Tony is a production assistant for. Comfortable with each other simulating sex, they are shy with clothes on, later.
[10] Rufus is a jewelry salesman, wrapping Harry's gift for Mia and, he assists Sam at the airport in getting to Joanna before her flight. He was, originally, to be a Christmas angel but, a script re-write removed that part of the story.
Trivia Bits:
♦ Knowing about Billy Bob Thornton's quite unusual fear of antique furniture, Hugh Grant would sometimes flash a piece of antique [furniture] (which is abundant in England) in front of Thornton just before the cameras rolled and watch him freak out in amusement (an issue that is part of the dialogue in Sling Blade).
♦ Simon Pegg was considered for the role of Rufus.
♦ For the role of her lovelorn character Karen, Emma Thompson has said that she drew on the immense heartbreak she experienced over former husband Kenneth Branagh's affair with Helena Bonham Carter with whom he had co-starred, and directed, in Mary Shelley's Frankenstein (1994). This extramarital affair ultimately led to their divorce in 1995.
♦ The airport greeting footage at the beginning and end of this movie is real. Writer/director Curtis had a team of cameramen film at Heathrow airport for a week and, whenever they saw something that would fit in, they asked the people involved for permission to use the footage.
♦ For her one-minute cameo, Claudia Schiffer received a reported £200,000 (roughly $300,000 U.S.).
Additional Reading:
Epilogue
Full Cast List
How We Made Love Actually (The Guardian/12-16-2013)
Three hundred, twenty years ago, yesterday, Scottish Sea Captain William Kidd was hanged at Execution Dock in London at low tide:
[P]roceedings against [Kidd] had been long and notorious. The actions for which he was tried had been still more notorious, one involving murder and five [involving] piracy. His career had been brief, brilliant in the beginning [but], catastrophic at the end. The general excitement at the time of his execution and, all during his imprisonment in London, had been at [a] fever pitch. Gossip went to work and, the wildest of tales of Kidd's wickedness and wealth were believed. […] Upon his death, numerous accounts, both factual and fictitious, appeared.

William Hallam Bonner
University of Buffalo
American Literature, Vol. 15, No. 4, Jan. 1944
Journal Storage
Kidd was commissioned by King William III (William of Orange) as a Privateer and carried a license to hunt pirates, reserving 10% of any bounty acquired for the Crown. His murder charge was the result of the killing of crew member William Moore, his gunner, during a near mutiny.
Of all the things written and expressed, the ballad Captain Kid's Farewel to the Seas (or the Famous Pirate's Lament) was the only thing to survive. It was quite popular in the Colonies where the Captain had a home and may be considered America's first folk legend. There is a British version and an American version, which changed the Captain's first name to Robert for some strange reason and, several contemporary covers. The last website, below, has his name as John. He had to be hanged, twice, as the rope broke the first time. ~Vic
Additional Reading:
Captain Kidd Lyrics (David Kidd Website/Wayback Machine)
Captain Kidd Song (Wikipedia)
The Ballad of Captain Kidd (Chivalry Website Archive)
Wizard of the Seas (Ex-Classics Website)
The Gunpowder Plot of 1605, […] often called the Gunpowder Treason Plot or the Jesuit Treason [in earlier centuries], was a failed assassination attempt against King James I by a group of provincial English Catholics led by Robert Catesby.

The plan was to blow up the House of Lords during the State Opening of Parliament on [November] 5, 1605, as the prelude to a popular revolt in the Midlands, during which James's nine-year-old daughter, Elizabeth, was to be installed as the Catholic head of state. Catesby may have embarked on the scheme after hopes of securing greater religious tolerance under King James had faded, leaving many English Catholics disappointed. His fellow plotters were John and Christopher Wright, Robert and Thomas Wintour, Thomas Percy, Guy Fawkes, Robert Keyes, Thomas Bates, John Grant, Ambrose Rookwood, Sir Everard Digby and Francis Tresham. Fawkes, who had 10 years of military experience fighting in the Spanish Netherlands in the failed suppression of the Dutch Revolt, was given charge of the explosives.

The plot was revealed to the authorities in an anonymous letter sent to William Parker, 4th Baron Monteagle, on [October] 26, 1605. During a search of the House of Lords in the evening on [November] 4, 1605, Fawkes was discovered guarding 36 barrels of gunpowder, enough to reduce the House of Lords to rubble, and [was] arrested. Most of the conspirators fled from London as they learned of the plot's discovery, trying to enlist support along the way. Several made a stand against the pursuing Sheriff of Worcester and his men at Holbeche House […]. [In] the ensuing battle, Catesby was one of those shot and killed. At their trial on [January] 27 1606, four hundred, fifteen years ago, today, eight of the survivors, including Fawkes, were convicted and sentenced to be hanged, drawn and quartered.

The thwarting of the Gunpowder Plot was commemorated for many years afterwards by special sermons and other public events such as the ringing of church bells, which evolved into the British variant of Bonfire Night of today.

Wikipedia Summary
Additional Reading:
The Trial of the Gunpowder Conspirators (The Tudor Society/Claire Ridgway/January 27, 2018)
The six partitas for solo violin by Johann Paul von Westhoff are the earliest known published music for solo violin. Although Westhoff's compositions were rediscovered by scholars […] in the mid-19th century, this work was not found until the late 20th century.

The collection […] was discovered […] by musicologist Peter P. Várnai. He announced his discovery in a 1971 article […] published in Die Musikforschung, volume 24. The extant copy is dated 1696 (three hundred & twenty-five years, ago) but, it may be a reprint (partial or full) of a much earlier publication by Westhoff…the Erstes Dutzend Allemanden, Couranten, Sarabanden und Giguen Violino Solo sonder Passo Continuo. [That] collection was published in Dresden in 1682 and is considered lost. The first modern edition of the partitas appeared in 1974.

Nothing is known about how or when the partitas were composed. One other work for solo violin by Westhoff survives, a 1683 suite published in an issue of Dresden's Mercure galant. [It] is entirely possible that the composer had more solo violin works. The […] surviving partitas are historically important works […] and were most probably the inspiration for Johann Sebastian Bach's sonatas and partitas for solo violin.

The partitas all consist of four dances, arranged in the standard late Baroque order… an Allemande, the Courante, the Sarabande and the Gigue. The music is technically demanding. [It is] fully polyphonic with frequent instances of tricky double stopping.

Johann Paul von Westhoff was a German Baroque composer and violinist. One of the most important exponents of the Dresden violin school, he was among the highest ranked violinists of his day […].
Johann Paul von Westhoff 1656-1705 (On Baroque)
List of Known Works
References
If you haven't finished your holiday shopping, the North Carolina Department of Transportation is offering up a piece of Americana but, it's going to cost you a pretty penny.

When the Ringling Bros. and Barnum & Bailey Circus closed their doors, NCDOT saw an opportunity to add to its fleet. That plan was derailed before the cars could hit the rails and, now, they're being put up for public auction.

NCDOT spent just over $380,000 on [the] Ringling Brothers rail cars.

"These cars have a great and amazing history," said Jason Orthner, director of the NCDOT rail division.

However, plans to refurbish the cars were quickly put on hold when NCDOT calculated the costs. "This was more on the long-term play of really looking into our rail program and how we take it into the future," said Orthner.

Image Credit: New York Public Library
Wikimedia & Wikipedia

Funding from two federal grants totaling $157 million rendered the rehab of the Ringling Bros. cars obsolete and will soon allow the NCDOT to replace their entire fleet.

"If we hadn't been successful at winning those grants, we would've taken a really hard look at putting these in service," said Orthner. "We really want to do the best thing for the citizens of North Carolina with the limited funding that we have available."

That's why they're listing the rail-cars on the state surplus site for a minimum price that's $32,000 more than the NCDOT paid for all of the cars but, without any bids, it's unclear if anyone will actually buy them.

"Tourist railroad operations, car collectors and other enthusiasts would certainly be interested in these cars," said Orthner. "There are operations around the country that run train service for excursion purpose, or other purposes, that would be interested in equipment like this."

Currently half of the rail-cars are stored in the NCDOT rail-yard in Raleigh and the other half are stored on an abandoned line in Nash County.

Want To Own A Piece Of History?
Holden Kurwicki
WNCN/CBS17
12-21-2020
I had no idea my state's DOT had purchased Ringling Bros. train cars. ~Vic
This is my last countdown post. I've saved my favorite gingerbread house for last. I've been inside this place and you can feel its history. Unfortunately, I didn't take any pictures when I was there. Before the world went insane, Ayr Mount would host Scottish Festivals. ~Vic
If you'd like to vote:
Homes for the Holidays 2020
Additional Information:
Ayr Mount (Classical American Homes Preservation Trust)
Ayr Mount Celebrates 200th Birthday (The News of Orange)
Cèilidh Scottish Festival (Visit Hillsborough NC)
Three hundred, forty years ago, Danish-German Baroque composer and organist Dieterich Buxtehude composed Membra Jesu Nostri. Considered to be one of the most influential composers in Germany, his style is reflected in the works of Johann Sebastian Bach, one of his students. [More] than 100 compositions of his survive […].
Membra Jesu Nostri [or The limbs of our Jesus], BuxWV 75, is a cycle of seven cantatas composed by Dieterich Buxtehude in 1680 and dedicated to Gustaf Düben. The full Latin title Membra Jesu Nostri Patientis Sanctissima translates to "The most holy limbs of our suffering Jesus". This work is known as the first Lutheran oratorio. The main text are stanzas from the Medieval hymn Salve Mundi Salutare, also known as the Rhythmica Oratio, a poem formerly ascribed to Bernard of Clairvaux but, now thought more likely to have been written by Medieval poet Arnulf of Leuven […]. It is divided into seven parts, each addressed to a different part of Christ's crucified body: feet, knees, hands, sides, breast, heart and face. In each part, biblical words referring to the limbs frame verses of the poem.
Sources:
Duke Vespers Ensemble (MSR Classics)
Salve Mundi Salutare (New Advent)
Buxtehude Composition List (Wikipedia)
Dieterich Buxtehude (Wikipedia)
Membra Jesu Nostri (Wikipedia)
The International Dieterich Buxtehude Society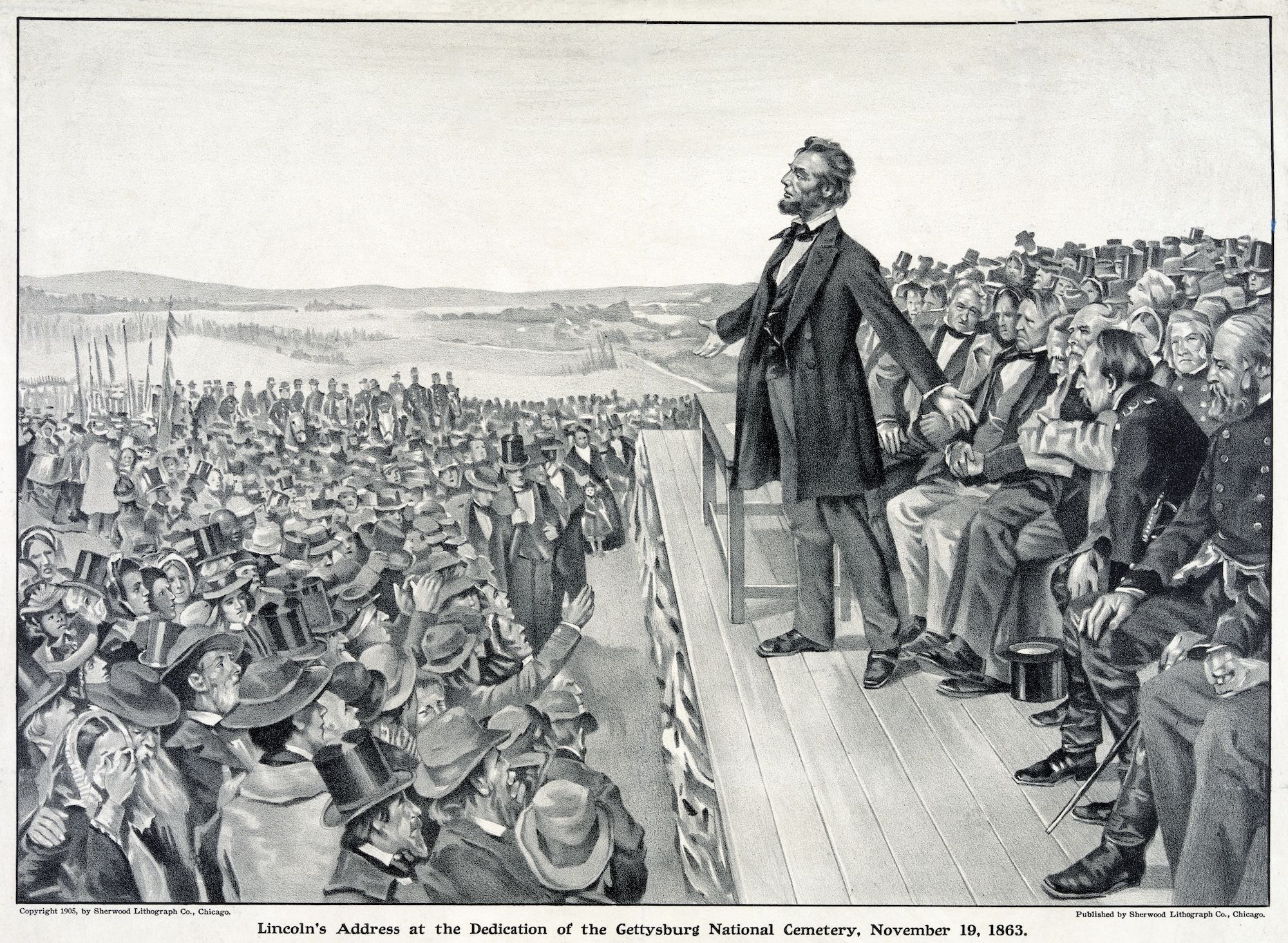 One hundred, fifty-seven years ago, today, President Abraham Lincoln gave his famous speech at the dedication of the Soldier's National Cemetery in Gettysburg. The Battle of Gettysburg had just been 4 1/2 months prior. Lincoln was in the early stages of a mild case of small pox.
Four score and seven years ago our fathers brought forth on this continent, a new nation, conceived in Liberty, and dedicated to the proposition that all men are created equal.

Now we are engaged in a great civil war, testing whether that nation, or any nation so conceived and so dedicated, can long endure. We are met on a great battle-field of that war. We have come to dedicate a portion of that field, as a final resting place for those who here gave their lives that that nation might live. It is altogether fitting and proper that we should do this.

But, in a larger sense, we can not dedicate — we can not consecrate — we can not hallow — this ground. The brave men, living and dead, who struggled here, have consecrated it, far above our poor power to add or detract. The world will little note, nor long remember what we say here, but it can never forget what they did here. It is for us the living, rather, to be dedicated here to the unfinished work which they who fought here have thus far so nobly advanced. It is rather for us to be here dedicated to the great task remaining before us — that from these honored dead we take increased devotion to that cause for which they gave the last full measure of devotion — that we here highly resolve that these dead shall not have died in vain—that this nation, under God, shall have a new birth of freedom — and that government of the people, by the people, for the people, shall not perish from the earth.
Additional Reading:
Speeches & Writings (Abraham Lincoln Online)
Britannica
History Channel
National Geographic
National Park Service