encyclopaedia britannica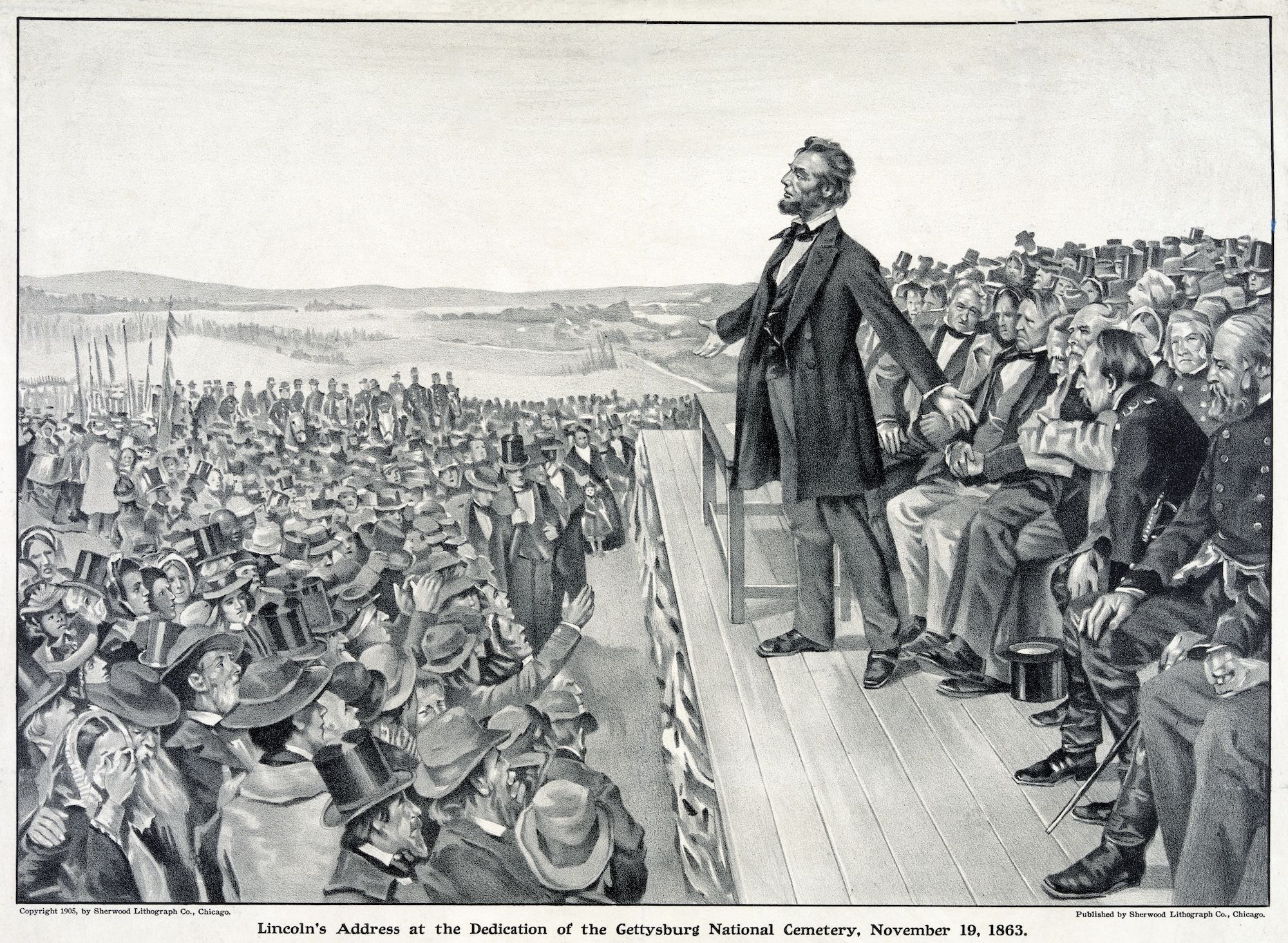 One hundred, fifty-seven years ago, today, President Abraham Lincoln gave his famous speech at the dedication of the Soldier's National Cemetery in Gettysburg. The Battle of Gettysburg had just been 4 1/2 months prior. Lincoln was in the early stages of a mild case of small pox.
Four score and seven years ago our fathers brought forth on this continent, a new nation, conceived in Liberty, and dedicated to the proposition that all men are created equal.

Now we are engaged in a great civil war, testing whether that nation, or any nation so conceived and so dedicated, can long endure. We are met on a great battle-field of that war. We have come to dedicate a portion of that field, as a final resting place for those who here gave their lives that that nation might live. It is altogether fitting and proper that we should do this.

But, in a larger sense, we can not dedicate — we can not consecrate — we can not hallow — this ground. The brave men, living and dead, who struggled here, have consecrated it, far above our poor power to add or detract. The world will little note, nor long remember what we say here, but it can never forget what they did here. It is for us the living, rather, to be dedicated here to the unfinished work which they who fought here have thus far so nobly advanced. It is rather for us to be here dedicated to the great task remaining before us — that from these honored dead we take increased devotion to that cause for which they gave the last full measure of devotion — that we here highly resolve that these dead shall not have died in vain—that this nation, under God, shall have a new birth of freedom — and that government of the people, by the people, for the people, shall not perish from the earth.
Additional Reading:
Speeches & Writings (Abraham Lincoln Online)
Britannica
History Channel
National Geographic
National Park Service
There is a LOT of data on this siege and I'm not re-writing history. This will serve as a highlight, only. I will provide links to more information, below. ~Vic
Four hundred, fifty-five years ago, today, the island of Malta was attacked and nearly invaded by the Ottoman Empire, it's second attempt.
If it had not taken place, the Great Siege would no doubt have been dreamt up for the screenplay of an epic film. Few other historic episodes rival it for sheer heroism, the bloodshed of war and military strategy. The story of the siege is interwoven with the tale of two adversaries, the ageing Grand Master Jean Parisot de la Valette, and his contemporary, the Barbary Corsair Dragut Reis who commanded the fleet of Sultan Suleiman the Magnificent. It is also the story of thousands of lives of Maltese Islanders, men at arms to the Knights of St. John.

The years leading up to the siege saw the Islands under constant threat from the Ottoman Turks […]. The Knights knew they were vulnerable in Malta despite the harbours and their two forts […]. Grand Master La Valette had done his best to build defences and had requested extra forces from the Emperor Charles V, the Pope and the Viceroy of Sicily. But, no help came. In May, 1565, a vast Ottoman fleet, some 40,000 men, lay siege to the Islands.

The Knights were heavily outnumbered with a mere 700 or so men and around 8000 Maltese regular troops. The Islanders took refuge in the fortified towns [..] destroying crops and poisoning wells as they fled.
The Ottomans first decided to attack isolated Fort St. Elmo […]. Repeated assaults were launched over 36 days but, the small garrison of Knights held on to the fort for far longer than Suleiman's men anticipated. After four weeks, they finally overran St. Elmo but, at a heavy price […]. The Turkish commander Dragut was fatally injured during the taking […].

It is the battle for [Fort] St. Angelo which saw some of the bloodiest episodes of this Holy War. It was to [be] the basis of legends for centuries to come. [Some] 10 attacks [were launched] on [its] walls [and], when a huge part of the defences were breached, the Ottomans failed to take the Fort.

At one point in the battle, the Ottomans floated the headless corpses of captured Knights across Grand Harbour. The act was returned in kind [as] Valette ordered all Ottoman prisoners to be executed and their heads used as 'cannon balls' to fire back toward their compatriots in St. Elmo.

[Valette]'s long-awaited relief forces [finally] appeared […] and took control of high ground inland. [The] Ottoman troops retreated […].
The Turks fled to their ships, and from the islands, on September 13 (almost four months had passed). Malta had survived the Turkish assault, and throughout Europe, people celebrated what would turn out to be the last epic battle involving Crusader Knights.
Malta's magnificent capital, Valletta, was founded by and named after Grand Master Jean de la Valette. Valette, himself, was buried in the city some three years later.
Additional Reading & Sources
Siege of Malta (Encyclopaedia Britannica)
Siege of Malta 1565 (Military Wiki)
The Whole World Was About to Explode (PJ Media)
The Great Siege 1565 (Visit Malta Site)
Great Siege of Malta (Wikipedia)
Three hundred, twenty-nine years ago, today, the multi-page newspaper Publick Occurrences Both Forreign and Domestick was published in the Americas. Edited by Benjamin Harris and printed by Richard Pierce, it was the first of its kind.
From Wikipedia:
Before [the multi-page], single-page newspapers, called broadsides, were published in the English colonies and printed in Cambridge in 1689. The first edition was published September 25, 1690, in Boston, then a city in the Dominion of New England, and was intended to be published monthly, "or, if any Glut of Occurrences happen, oftener."

No second edition was printed because the paper was shut down by the Colonial government on September 29, 1690, who issued an order as follows:

"Whereas some have lately presumed to Print and Disperse a Pamphlet, Entitled, Publick Occurrences, both Forreign and Domestick: Boston, Thursday, Septemb. 25th, 1690. Without the least Privity and Countenace of Authority. The Governour and Council having had the perusal of said Pamphlet, and finding that therein contained Reflections of a very high nature: As also sundry doubtful and uncertain Reports, do hereby manifest and declare their high Resentment and Disallowance of said Pamphlet, and Order that the same be Suppressed and called in; strickly forbidden any person or persons for the future to Set forth any thing in Print without License first obtained from those that are or shall be appointed by the Government to grant the same."

Without a license, it was closed down after a single issue, Harris was jailed, and the next newspaper did not appear until 1704, when John Campbell's Boston News-Letter was the first American newspaper to last beyond the first issue.
From Encyclopaedia Britannica:
Benjamin Harris [was an] English bookseller and writer who was the first journalist in the British-American colonies. An ardent Anabaptist and Whig, Harris published argumentative pamphlets in London, especially ones attacking Roman Catholics and Quakers […]. His newspaper, Publick Occurrences, Both Foreign and Domestick (Sept. 25, 1690), the first newspaper printed in the colonies, was suppressed by Boston authorities after one issue. Harris returned to London and journalism in 1695. His London Post appeared regularly from 1699 to 1706.
PDF of the Newspaper via the National Humanities Center
I was struck by the spelling of the times when I stumbled across this. The fact that he was shut down by the government for daring to speak out (in London & in Boston) also caught my attention. The more things change, the more they stay the same. ~Vic