iceland
Origin
The verb glower, "to look or stare with sullen dislike" comes from Middle English gloren [or] glouren "to shine, gleam, glow, stare, stare at fixedly." The Middle English forms are mostly from the north (Yorkshire) and Scotland. [T]he sense "to stare at fixedly" is Scottish. The source of gloren and glouren is obscure but, possibly, Scandinavian, e.g., Icelandic [as] glóra "to glow (like a cat's eyes)" [or] Swedish and Norwegian dialect glora "to glow, stare." The source of gloren [and] glouren may also be from Middle Low German glūren "to be overcast" or Dutch glueren "to leer, peep." Glower entered English in the 15th century.
This is very similar to our "glaring at someone" which has its roots in Middle English, Middle Dutch and Middle Low German.
I've been doing a lot of glowering and glaring, lately. The whole world has gone insane-stupid. ~Vic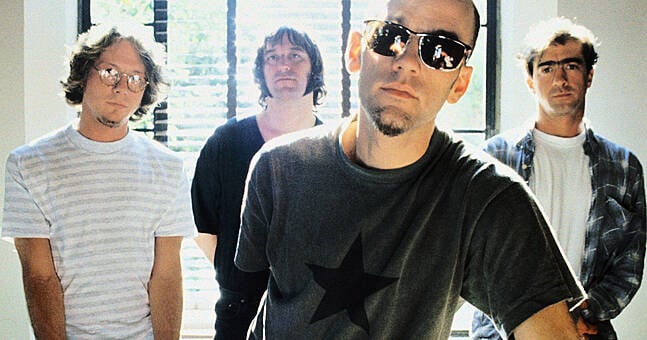 Twenty-five years ago, this week (November 26/December 2, 1994) the song Bang and Blame by R.E.M. debuted on the Billboard Alternative Songs chart (Page 119/called Modern Rock Tracks in 1994), entering at #8, making it to #1 on December 17. Released October 31, it was the second single from the album Monster, their ninth studio album. Co-produced by the band and Scott Litt, all song writing credits are the band members. The song also made it to #1 in Canada on February 20, 1995, and peaked in the top ten in the Billboard Mainstream Rock chart (Album Rock Tracks in 1994), Billboard Mainstream Top 40 chart and, in Finland, Iceland and Poland.
Rain Phoenix (sister of River & Joaquin) and Lynda Stipe (Michael's sister) sang backing vocals. Recordings were difficult with Mike Mills and Bill Berry's illnesses and, the deaths of Kurt Cobain and River Phoenix. The album is dedicated to Phoenix.
Television Episodes (song used)

 
Lyrics (from LyricFind):
If you could see yourself now, baby
It's not my fault, you used to be so in control
You're going to roll right over this one
Just roll me over, let me go
You're laying blame
Take this as no, no, no, no, no
You bang, bang, bang, bang, bang
Then blame, blame, blame
You bang, bang, bang, bang, bang
It's not my thing, so let it go
If you could see yourself now, baby
The tables have turned, the whole world hinges on your swings
Your secret life of indiscreet discretions
I'd turn the screw and leave the screen
Don't point your finger
You know that's not my thing
You came to bang, bang, bang, bang, bang
To blame, blame, blame
Bang, bang, bang, bang, bang
It's not my thing, so let it go now
You've got a little worry
I know it all too well
I've got your number
But so does every kiss and tell
Who dares to cross your threshold
Happens on you way
Stop laying blame
You know that's not my thing
You know that's not my thing
You came to bang, bang, bang, bang, bang
Then blame, blame, blame
Bang, bang, bang, bang, bang
It's not my thing so let it go, you
Bang, bang, bang, bang, bang
Then blame, blame, blame
Bang, bang, bang, bang, bang
It's not my thing so let it go
You kiss on me
Tug on me
Rub on me
Jump on me
You bang on me
Beat on me
Hit on me
Let go on me
You let go on me
Seventy-eight years ago, today, the last battlecruiser of the Royal Navy, the HMS Hood, was sunk during the Battle of Denmark Strait by the German Kriegsmarine battleship Bismarck.
From Wikipedia:
One of four Admiral-class battlecruisers ordered in mid-1916, [she was] commissioned in 1920 [and] named after 18th-century Admiral Samuel Hood. Despite the appearance of new and, more modern ship designs over time, Hood remained the largest and most powerful warship in the world for 20 years after her commissioning. […] her prestige was reflected in her nickname, "The Mighty Hood". She was scheduled to undergo a major rebuild in 1941 to correct [some] issues but, the outbreak of World War II in September 1939 forced the ship into service without the upgrades.

In May, [she and] the battleship Prince of Wales were ordered to intercept the German battleship Bismarck and, the heavy cruiser Prinz Eugen, which were en route to the Atlantic where they were to attack convoys. When Bismarck sailed for the Atlantic […], Hood, together with […] Prince of Wales, was sent out in pursuit along with several other groups of British capital ships to intercept the German ships before they could break into the Atlantic […]. Hood was commanded by Captain Ralph Kerr and was flying the flag of Vice-Admiral Lancelot Holland. The German ships were spotted by two British heavy cruisers (Norfolk & Suffolk) on 23 May and Holland's ships intercepted Bismarck, and her consort, Prinz Eugen, in the Denmark Strait between Greenland and Iceland.

Bismarck
Image Credit: pinterest.com

On 24 May 1941, early in the Battle of the Denmark Strait, less than 10 minutes after the British opened fire, a shell from Bismarck struck Hood near her aft ammunition magazines. Soon afterwards, Hood exploded and sank within three minutes, with the loss of all but three of her crew. Prince of Wales continued to exchange fire with Bismarck but, suffered serious malfunctions in her main armament. The British battleship had only just been completed in late March 1941 and used new quadruple gun turrets that were unreliable. [She] soon broke off the engagement.

Due to [the] perceived invincibility of the Hood, the loss affected British morale.
From The History Channel:
On this day in 1941, Germany's largest battleship, the Bismarck, sinks the pride of the British fleet, HMS Hood.

The Bismarck was the most modern of Germany's battleships, a prize coveted by other nation's navies, even while still in the blueprint stage (Hitler handed over a copy of its blueprints to Joseph Stalin as a concession during the days of the Hitler-Stalin Neutrality Pact). The HMS Hood, originally launched in 1918, was Britain's largest battlecruiser (41,200 tons) but, also capable of achieving the relatively fast speed of 31 knots. The two met in the North Atlantic, northeast of Iceland, where two British cruisers had tracked down the Bismarck. Commanded by Admiral Gunther Lutjens, Commander-in-Chief of the German Fleet, the Bismarck sunk the Hood, resulting in the death of 1,500 of its crew. Only three Brits survived. Captain Kerr was one of the casualties.

During the engagement, the Bismarck's fuel tank was damaged. Lutjens tried to make for the French coast but, was sighted, again, only three days later. Torpedoed to the point of incapacity, the Bismarck was finally sunk by a ring of British war ships. Admiral Lutjens was one of the 2,300 German casualties.
Having grown up listening to Johnny Horton, one of my favorite songs of his is, of course, Sink the Bismarck, released in 1960 (a #1 single in Canada). ~Vic

 
Lyrics
In May of 1941 the war had just begun
The Germans had the biggest ship that had the biggest guns
The Bismarck was the fastest ship that ever sailed the sea
On her decks were guns as big as steers and shells as big as trees
Out of the cold and foggy night came the British ship the Hood
And every British seaman he knew and understood
They had to sink the Bismarck the terror of the sea
Stop those guns as big as steers and those shells as big as trees
We'll find the German battleship that's makin' such a fuss
We gotta sink the Bismarck 'cause the world depends on us
Yeah hit the decks a runnin' boys and spin those guns around
When we find the Bismarck we gotta cut her down
The Hood found the Bismarck and on that fatal day
The Bismarck started firing fifteen miles away
We gotta sink the Bismarck was the battle sound
But when the smoke had cleared away the mighty Hood went down
For six long days and weary nights they tried to find her trail
Churchill told the people put every ship asail
Cause somewhere on that ocean I know she's gotta be
We gotta sink the Bismarck to the bottom of the sea
We'll find the German battleship that's makin' such a fuss
We gotta sink the Bismarck 'cause the world depends on us
Yeah hit the decks a runnin' boys and spin those guns around
When we find the Bismarck we gotta cut her down
The fog was gone the seventh day and they saw the morning sun
Ten hours away from homeland the Bismarck made its run
The Admiral of the British fleet said turn those bows around
We found that German battleship and we're gonna cut her down
The British guns were aimed and the shells were coming fast
The first shell hit the Bismarck they knew she couldn't last
That mighty German battleship is just a memory
Sink the Bismarck was the battle cry that shook the seven seas
We found the German battleship 'twas makin' such a fuss
We had to sink the Bismarck cause the world depends on us
We hit the deck a runnin' and we and spun those guns around
Yeah we found the mighty Bismarck and then we cut her down
We found the German battleship 'twas makin' such a fuss
We had to sink the Bismarck cause the world depends on us
We hit the deck a runnin' and we and spun those guns around
We found the mighty Bismarck and then we cut her down