genius lyrics
Hanspostcard has a song draft challenge. This is my Round Two pick.
I grew up around lots of music. My dad had his tastes, my mom had hers and I got some exposure to my grandparents music, too. There was plenty of Elvis, Buddy Holly, Everly Brothers, Ricky Nelson, Gene Pitney, Chuck Berry, Johnny Cash, Johnny Horton, The Ventures, The Beach Boys, instrumental music (think Hugo Montenegro or Paul Mauriat), funny stuff like Ben Colder/Sheb Wooley, Ray Stevens or David Seville (my dad's stuff), The Four Seasons, Motown, soul music, beach music (my mom's stuff), big band music (my paternal grandparents) and, bluegrass, country and Latin/jazz (maternal grandparents). One song, in particular, that reminds me of my dad the most is Cathy's Clown. When I was a kid, my dad liked to just get in the car, drive around and listen to the radio. It was, literally, No Particular Place To Go. When I became an adult, we'd still get in the car and cruise. He and I would sing Cathy's Clown, together, with me taking Phil's harmony. I still own my dad's original 45. ~Vic
Written by Don, it was recorded in March and released in April 1960. It was recorded live, in a single take, with both brothers sharing a microphone. Floyd Cramer was on piano, Floyd Chance on bass and Buddy Harman on drums. An odd song, it has a chorus and bridges but, no verses. It was their first single for Warner Bros. It spent five weeks at #1 on Billboard's Hot 100 chart, one week on the Billboard's R&B chart and seven weeks at #1 on UK's Singles chart. It was their biggest selling single and their last #1 after Wake Up Little Susie and All I Have to Do Is Dream.
The song is ranked at #150 Rolling Stone's 500 Greatest Songs of All Time and it was added to the National Recording Registry of the Library of Congress in 2013. Covers have been done by Reba McEntire and Neil Sedaka (1983) with McEntire's version reaching #1 on Billboard's Hot Country Songs chart and Canada's RPM Country Tracks chart in 1989. There is even a Jan and Dean version on Filet Of Soul Redux: The Rejected Master Recordings (2017).
"We owe those guys everything. They started it all." ~Bob Dylan
Additional Reading & References:
The Everly Brothers: That Sibling Sound (BBC News/2014)
Cathy's Clown ~ The Everly Brothers (Library of Congress/PDF)
Recording Cathy's Clown (Steve Hoffman Music Forum)
Saturday Night Beech-Nut Show 1960

Hanspostcard has a song draft challenge. This is my Round One pick. I will be posting these per decade. This will be my only submission for the 1950s.
Having grown up on the East Coast/Mid-Atlantic, one thing my state is known for is shagging (for the Brits, no, that is not what it means). While my grandparents did the Jitterbug as youths, my parents shagged (a descendant of the Jitterbug), as did my classmates and I. This song, in particular, was my favorite to shag to, though I enjoyed many beach music songs. ~Vic
Released either in May (per Rolling Stone Magazine) or April 24, 1959 (per Wikipedia), it was written by Benjamin Nelson (Ben E. King), Lover Patterson and George Treadwell. Produced by Jerry Leiber and Mike Stoller, the song hit #1 on Billboard's Hot R&B chart (July) and, #2 on Billboard's Hot 100 (August).
This is the second version of The Drifters under Treadwell's management, crafted from the Five Crowns: Ben E. King, Charlie Thomas, Doc Green and Elsbeary Hobbs with James "Poppa" Clark being rejected for alcohol issues. With this line-up, There Goes My Baby was their first single and King's debut as lead singer. It was unusual for its time, being the first commercial R&B/Soul recording with strings, arranged by Stan Applebaum, and a Brazilian Baiãon groove. Phil Spector studied the production style under Leiber & Stoller.
The song is ranked at #196 on Rolling Stone's 500 Greatest Songs of All Time. Donna Summer did a version that was released in July 1984 and peaked at #21 on Billboard's Hot 100.
Additional:
Ben E. King and The Drifters (The Vocal Group Hall of Fame Foundation/Inducted 2000)
John Gilliland's Pop Chronicles (The Drifters & Ritchie Valens/Track 2/University of North Texas Digital Library)
There Goes My Baby (The Art of Rock Music Listening Guide/University of Albany/PDF)
Things You Didn't Know About The Drifters (Pop, Rock & Doo Wopp/Joe Mirrione/April 10, 2020)
"Oh, it's Friday night. Let's run tonight, 'til the morning light…"
Returning to my Samsung playlist, this Saturday's submission is Keep On Runnin' by American rock band Journey, formed in San Francisco in 1973 out of former members of Santana and Frumious Bandersnatch. The fourth track from the album Escape (released in July 1981), it was co-written by Jonathan Cain, Steve Perry and Neal Schon and, was never released as a single, though the album, itself, reached #1 on the Billboard 200 on September 12, 1981. The song does show up in the Journey video game from Bally Midway, that came out in March of 1983, with this tagline (one of three):
"The hottest band in the country is about to take over the planet!"
The album got its own Atari 2600 video game in 1982. This album, and Frontiers after it, is a musical tapestry to my high school years.
I got to see the band in concert, twice, in Texas and was lucky enough to get to meet them. This is the tour where Journey dropped Steve Augeri and picked up Jeff Scott Soto for a year. Neither could match Perry but, Augeri was close.
I'm on the far left next to Jonathan Cain. My buddy Monica is in between Cain & Neal Schon. My buddy Amy is in between Deen Castronovo & Ross Valory.
It's a shame the members are embroiled in a lawsuit. ~Vic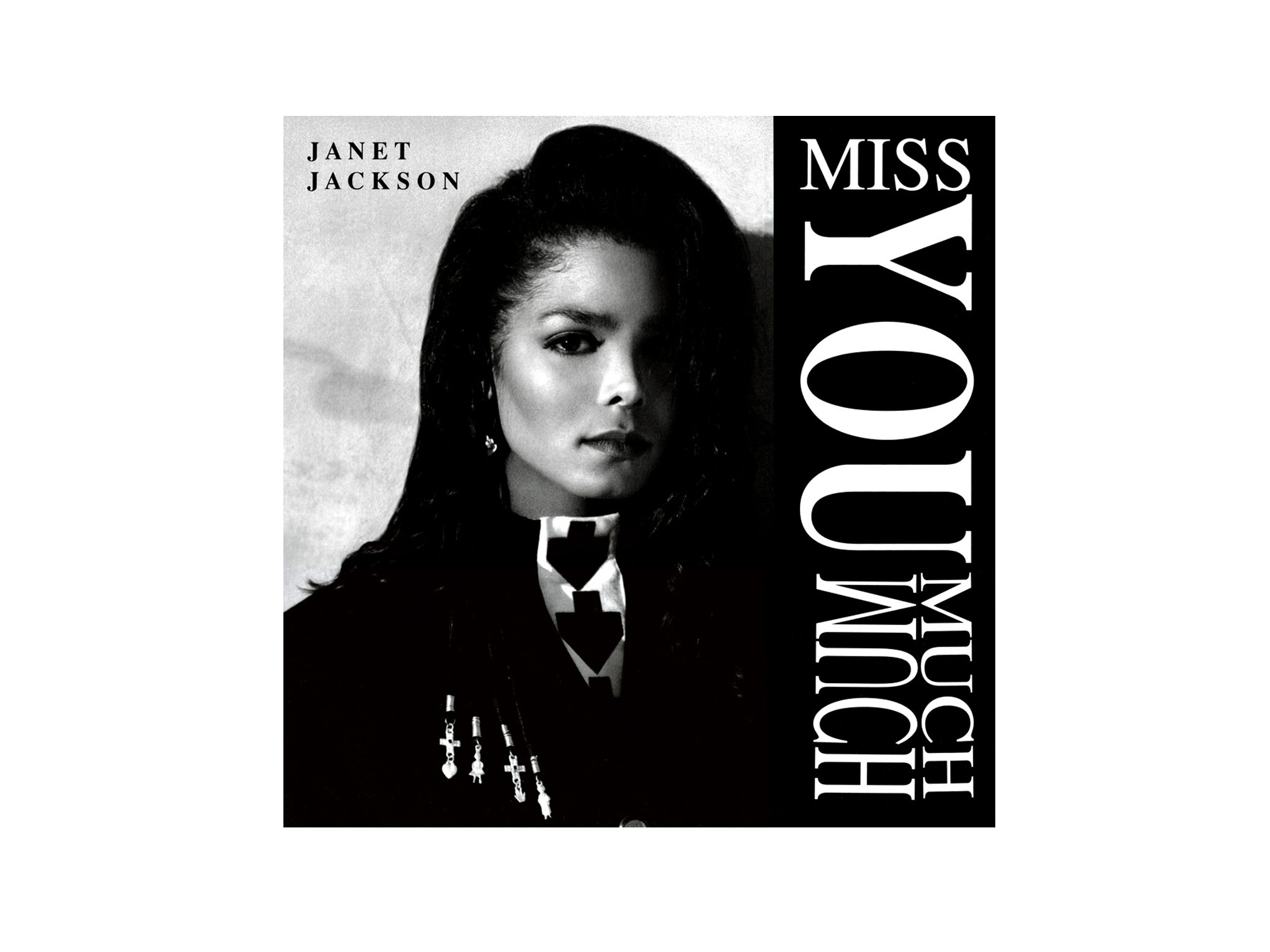 Thirty years ago, Miss You Much by Janet Jackson debuted on the Billboard Hot 100 chart the week of September 2, entering at position 42 (changing to chart entries and releases instead of number ones to cover more pieces of music). Released August 22 as the lead single from the album Janet Jackson's Rhythm Nation 1814, it reached number one the week of October 7 and stayed there for four weeks. It also reached number one on the Dance Club chart the same week, staying for two weeks. It hit number one on the Hot R&B chart the week of October 14, staying two weeks and was number one in South Africa.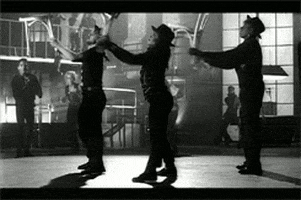 Billboard went on to declare that the song was Janet's biggest Hot 100 single. The song was written and produced by writing team "Jimmy Jam" Harris and Terry Lewis.
Grammy Award & Nominations (32nd Annual 1989)
American Music Awards
Billboard Awards
Soul Train Awards
Brit Awards Nomination
Thirty-five years ago, today, the #1 song on the Billboard Hot Country chart was I Can Tell By The Way You Dance (You're Gonna Love Me Tonight) by Vern Gosdin from the album There Is A Season. Released on March 26 as the lead single, it was written by Sandy Pinkard (of Pinkard & Bowden) and Robb Strandlund.
The song, later on, also made it to #1 on Canada's RPM Country chart.
Additional Reading:
"The Voice" Passes Away (CMT Website)
2017 Inductee (Nashville Songwriters Foundation Website)
Vern Gosdin Music (Official Website)
Thirty-five years ago, today, the #1 song on the Billboard Adult Contemporary chart (and, simultaneously, on the Billboard Hot 100 chart and Canadian Singles chart) was Time After Time from the album She's So Unusual by Cyndi Lauper. Co-written by Lauper and Rob Hyman (The Hooters), it was released on January 27, the second single from the album. The title came from the 1979 movie Time After Time:
"We started by putting together a list of song titles. I thumbed through a TV Guide magazine. One movie title seemed good—a sci-fi film called "Time After Time" from 1979. I never meant for it to be the song's real title. It was just supposed to get me thinking." (Quote from Lauper)
It was her first #1 hit on the Billboard Hot 100.
The video for "Time After Time" was directed by Edd Griles and, its storyline is about a young woman leaving her lover behind when she becomes homesick and worried about her mother. Lauper's mother, brother and then-boyfriend, David Wolff, appear in the video and Lou Albano, who played her father in the "Girls Just Want to Have Fun" video, can be seen as a cook.

The video opens with Lauper watching the 1936 film The Garden of Allah and the final scene, where she gets on the train and waves goodbye to David, has Lauper crying for real.

[Source]
Cover artists include Miles Davis, Eva Cassidy and Lil Mo. Lauper made an acoustic version with Sarah McLachlan and performed live with McLachlan at the 2005 AMA Awards. Other live performances have been with Patti LaBelle and Lil' Kim.
♦ Critical Reception
♦ Accolades
♦ Awards & Nominations
♦ Greatest & Best Songs
♦ Other Cover Versions
Thirty-five years ago, today, the #1 song on the Billboard Hot Mainstream Rock chart was Dancing in the Dark from the album Born in the USA by Bruce Springsteen. The music video was directed by Brian De Palma (Carrie/Scarface/The Untouchables) and it introduced the world to a, then, unknown Courteney Cox. This was his biggest hit single and the album is, to this day, his best selling. The song also went to #1 with Cash Box, in Canada, with Radio & Records and, went on to #1 in 1985 in Belgium & The Netherlands. Notable cover version artists are Kermit the Frog, Mary Chapin Carpenter and Pete Yorn.
Awards
♥ Best Rock Vocal Performance, Male Grammys
♥ Grammy Hall of Fame Grammys
♥ Pop/Rock Single American Music Awards
♥ International Album of the Year Juno Awards
♥ Best Stage Performance MTV Video Music Awards
Nominations
Grammys: 2
American Music Awards: 2
Brit Awards: 1
MTV Video Music Awards: 1
Thirty-five years ago, today, the #1 song on the Billboard Hot 100 and Hot R & B charts (plus Cash Box) was Let's Hear It For The Boy by Deniece Williams from the soundtrack of the movie Footloose. This was Williams second number one hit on the Billboard 100.
Composed by Tom Snow and Dean Pitchford, country singer Jana Kramer performed the song for the 2011 Footloose remake.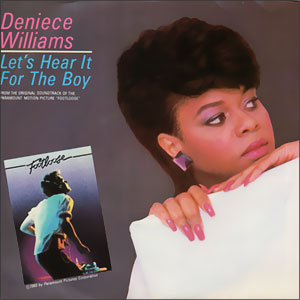 From Songfacts [no citations]:
This was the second single from the Footloose soundtrack, following the "title track," which was recorded by Kenny Loggins. In the film, the song was used in a scene where Kevin Bacon tries to teach Christopher Penn how to dance and Penn is having a hard time.

Once the song was written, Pitchford asked Deniece Williams and her producer George Duke to record the song. Kenny Loggins was onboard for the title track, which gave the project credibility and, Williams loved the song and the story idea for the film. She grew up in a small Indiana town with a religious environment similar to the one described in Footloose. When she saw the film, she thought the scene where they used her song was incredible. "If I had come to the film without the music in and they asked me what segment I wanted my song to be in, I would have chosen that segment." said Williams.
♡ Best Original Song Academy Award Nomination
♥ Best Pop Vocal Performance (Single) Grammy Nomination
♥ Best R & B Vocal Performance (Album) Grammy Nomination
Seventy-eight years ago, today, the last battlecruiser of the Royal Navy, the HMS Hood, was sunk during the Battle of Denmark Strait by the German Kriegsmarine battleship Bismarck.
From Wikipedia:
One of four Admiral-class battlecruisers ordered in mid-1916, [she was] commissioned in 1920 [and] named after 18th-century Admiral Samuel Hood. Despite the appearance of new and, more modern ship designs over time, Hood remained the largest and most powerful warship in the world for 20 years after her commissioning. […] her prestige was reflected in her nickname, "The Mighty Hood". She was scheduled to undergo a major rebuild in 1941 to correct [some] issues but, the outbreak of World War II in September 1939 forced the ship into service without the upgrades.

In May, [she and] the battleship Prince of Wales were ordered to intercept the German battleship Bismarck and, the heavy cruiser Prinz Eugen, which were en route to the Atlantic where they were to attack convoys. When Bismarck sailed for the Atlantic […], Hood, together with […] Prince of Wales, was sent out in pursuit along with several other groups of British capital ships to intercept the German ships before they could break into the Atlantic […]. Hood was commanded by Captain Ralph Kerr and was flying the flag of Vice-Admiral Lancelot Holland. The German ships were spotted by two British heavy cruisers (Norfolk & Suffolk) on 23 May and Holland's ships intercepted Bismarck, and her consort, Prinz Eugen, in the Denmark Strait between Greenland and Iceland.

Bismarck
Image Credit: pinterest.com

On 24 May 1941, early in the Battle of the Denmark Strait, less than 10 minutes after the British opened fire, a shell from Bismarck struck Hood near her aft ammunition magazines. Soon afterwards, Hood exploded and sank within three minutes, with the loss of all but three of her crew. Prince of Wales continued to exchange fire with Bismarck but, suffered serious malfunctions in her main armament. The British battleship had only just been completed in late March 1941 and used new quadruple gun turrets that were unreliable. [She] soon broke off the engagement.

Due to [the] perceived invincibility of the Hood, the loss affected British morale.
From The History Channel:
On this day in 1941, Germany's largest battleship, the Bismarck, sinks the pride of the British fleet, HMS Hood.

The Bismarck was the most modern of Germany's battleships, a prize coveted by other nation's navies, even while still in the blueprint stage (Hitler handed over a copy of its blueprints to Joseph Stalin as a concession during the days of the Hitler-Stalin Neutrality Pact). The HMS Hood, originally launched in 1918, was Britain's largest battlecruiser (41,200 tons) but, also capable of achieving the relatively fast speed of 31 knots. The two met in the North Atlantic, northeast of Iceland, where two British cruisers had tracked down the Bismarck. Commanded by Admiral Gunther Lutjens, Commander-in-Chief of the German Fleet, the Bismarck sunk the Hood, resulting in the death of 1,500 of its crew. Only three Brits survived. Captain Kerr was one of the casualties.

During the engagement, the Bismarck's fuel tank was damaged. Lutjens tried to make for the French coast but, was sighted, again, only three days later. Torpedoed to the point of incapacity, the Bismarck was finally sunk by a ring of British war ships. Admiral Lutjens was one of the 2,300 German casualties.
Having grown up listening to Johnny Horton, one of my favorite songs of his is, of course, Sink the Bismarck, released in 1960 (a #1 single in Canada). ~Vic

 
Lyrics
In May of 1941 the war had just begun
The Germans had the biggest ship that had the biggest guns
The Bismarck was the fastest ship that ever sailed the sea
On her decks were guns as big as steers and shells as big as trees
Out of the cold and foggy night came the British ship the Hood
And every British seaman he knew and understood
They had to sink the Bismarck the terror of the sea
Stop those guns as big as steers and those shells as big as trees
We'll find the German battleship that's makin' such a fuss
We gotta sink the Bismarck 'cause the world depends on us
Yeah hit the decks a runnin' boys and spin those guns around
When we find the Bismarck we gotta cut her down
The Hood found the Bismarck and on that fatal day
The Bismarck started firing fifteen miles away
We gotta sink the Bismarck was the battle sound
But when the smoke had cleared away the mighty Hood went down
For six long days and weary nights they tried to find her trail
Churchill told the people put every ship asail
Cause somewhere on that ocean I know she's gotta be
We gotta sink the Bismarck to the bottom of the sea
We'll find the German battleship that's makin' such a fuss
We gotta sink the Bismarck 'cause the world depends on us
Yeah hit the decks a runnin' boys and spin those guns around
When we find the Bismarck we gotta cut her down
The fog was gone the seventh day and they saw the morning sun
Ten hours away from homeland the Bismarck made its run
The Admiral of the British fleet said turn those bows around
We found that German battleship and we're gonna cut her down
The British guns were aimed and the shells were coming fast
The first shell hit the Bismarck they knew she couldn't last
That mighty German battleship is just a memory
Sink the Bismarck was the battle cry that shook the seven seas
We found the German battleship 'twas makin' such a fuss
We had to sink the Bismarck cause the world depends on us
We hit the deck a runnin' and we and spun those guns around
Yeah we found the mighty Bismarck and then we cut her down
We found the German battleship 'twas makin' such a fuss
We had to sink the Bismarck cause the world depends on us
We hit the deck a runnin' and we and spun those guns around
We found the mighty Bismarck and then we cut her down
Forty years ago, today, the #1 song on the Billboard Hot R&B chart (and the Hot 100 chart, simultaneously, plus Cash Box) was Reunited by Peaches & Herb (Herb Fame & Linda "Peaches #3" Greene). The song was co-written by Dino Fekaris and Freddie Perren, whom also co-wrote Shake Your Groove Thing, a previous Peaches & Herb song and, I Will Survive, the Gloria Gaynor hit. This was a sequel piece to the duo's (Herb Fame & Francine "Peaches" Hurd Barker) previous song (We'll Be) United released in 1968, a cover of The Intruders hit from 1966.
The song sold over two million copies, was the Billboard #5 song for 1979 and the RPM (Canadian) #9 song for 1979 (Wayback Machine). Artists Louise Mandrell (with husband R. C. Bannon), Faith No More and Lulu (with Cliff Richard) have done cover versions. [This link reflects David Hasselhoff and Raven-Symone as cover artists but, I can't verify. ~Vic]
Nominated for:
American Music Award: Favorite Soul/R&B Song
Grammy: Best R&B Vocal Performance By A Duo, Group Or Chorus
Forty years ago, today, the #1 song on the Billboard Hot 100 chart was Heart of Glass by Blondie. Written by Harry and Stein in 1974-75, its working title was Once I Had A Love. The inspiration for its writing came from The Hues Corporation's song Rock the Boat.
From The Guardian:
Heart of Glass was one of the first songs Blondie wrote but, it was years before we recorded it properly. We'd tried it as a ballad, as reggae but, it never quite worked. At that point, it had no title. We just called it "the disco song". Back then, it was very unusual for a guitar band to be using computerised sound. People got nervous and angry about us bringing different influences into rock. Although we'd covered Lady Marmalade and I Feel Love at gigs, lots of people were mad at us for "going disco" with Heart of Glass. There was the Disco Sucks! movement, and there had even been a riot in Chicago, with people burning disco records. Clem Burke, our drummer, refused to play the song live at first. When it became a hit, he said: "I guess I'll have to." The lyrics weren't about anyone. They were just a plaintive moan about lost love. At first, the song kept saying: "Once I had a love, it was a gas. Soon turned out, it was a pain in the ass." We couldn't keep saying that, so we came up with: "Soon turned out, had a heart of glass." We kept one "pain in the ass" in – and the BBC bleeped it out for radio. ~Debbie Harry

*************

As far as I was concerned, disco was part of R&B, which I'd always liked. The Ramones went on about us "going disco" but, it was tongue-in-cheek. They were our friends. In the video, there's a shot of the legendary Studio 54, so everyone thought we shot the video there but, it was actually in a short-lived club called the Copa or something. I came up with the phrase "heart of glass" without knowing anything about Werner Herzog or his movie of the same name, which is a great, weird film. It's nice people now use the song to identify the period in films and documentaries. I never had an inkling it would be such a big hit, or become the song we'd be most remembered for. It's very gratifying. ~Chris Stein
From CityBeat:
In season one, DJ Johnny Fever not only plays Blondie's "Heart of Glass" on his broadcast but, home audiences actually hear him announce the band's, and the song's, names. It was fantastic promotion for the up-and-coming Blondie, whose huge breakthrough album, Parallel Lines (with other seminal singles like Hanging on the Telephone and One Way or Another), came out the same month WKRP in Cincinnati debuted. The band reportedly gave the show a Gold record plaque celebrating the album's major sales numbers as a "Thank You" card. It can be seen in the background as set design on several episodes in later seasons.
From NPR:
Unlike many DJs from that era, Fever played punk as well as rock and soul. The range of music on the show gave this fictional radio station a better playlist than most of the era's real ones. […] although the show helped break Blondie's "Heart of Glass" big, the exception, in Fever's case, was disco. "I asked him to play one disco record and he threatened to throw himself in front of Donna Summer's tour bus," Travis complains in "Baby, If You've Ever Wondered," from season two.
As of April 20, 2011, Heart of Glass is #259 of Rolling Stone Magazine's 500 Greatest Songs of All Time.
Awards & Nominations
♦ Best Selling International Single (Juno 1980)
♦ Rock & Roll Hall of Fame (2006)
♦ Grammy Hall of Fame (2016)
Forty-five years ago, today, the #1 song on the Billboard Hot R&B/Hip-Hop chart was Best Thing That Ever Happened to Me by Gladys Knight & The Pips. Written by Jim Weatherly, a former quarterback for the University of Mississippi, is the same songwriter that penned what became known as Midnight Train to Georgia, a previous hit for Gladys & her Pips. The song was originally recorded in 1973 by country music artist Ray Price.
From Wikipedia:
Weatherly told Tom Roland in The Billboard Book of Number One Country Hits that he wrote the song in 1971 and let his father-in-law first record it as a Christmas present for the latter's wife. "I thought it was really strange that nobody'd written a song with that title — possibly somebody had but, I'd never heard it — so, I just sat down and let this stream of consciousness happen. I basically wrote it in a very short period of time, probably 30 minutes or an hour."
Other artists to cover the song were Dean Martin, Steve Lawrence, Andy Williams, The Persuaders and, James Cleveland & The Charles Fold Singers.
The song made it to #3 on the Billboard Hot 100.
Forty-five years ago, today, the #1 song on the Billboard Adult Contemporary chart was A Very Special Love Song by Charlie Rich. It was, also, the #1 song on the Billboard Hot Country chart, simultaneously. Written by Billy Sherrill and Norro Wilson, it was released as a single in January 1974 from the album Very Special Love Songs. Inspiration for the song came from the soundtrack of the movie The Summer of '42, composed by French pianist Michel LeGrand. Track listing #8, The Summer Knows, was the lyrics version of the movie's main theme. Rich was quoted by Tom Roland of Billboard:
"I don't think I stole from them [at] all but, that's my favorite theme of all time. There's not a similarity, and yet, you can understand what I was thinking about and where I was coming from."
The song garnered a Best Country Song Grammy for songwriters Sherrill & Wilson. Rich won an AMA for Favorite Country Male Artist of 1975 (for 1974) and the album was nominated for Favorite Country Album. He also won a CMA for Entertainer of the Year (1974) and the album won Album of the Year (1974).
Lyrics:
Babe, somewhere I know I'm gonna find it, babe
It'll have my love behind it
And it will be a symphony of all you mean to me
A Very Special Love Song
And babe, if there's a way you know I'm gonna say it babe
If there's a melody I'll play it
I'll play it through especially for you and all the words are true
A Very Special Love Song
So don't be surprised if you're sittin' alone and you hear it
'Cause I'm goin' to sing it to the whole big lonely world
So turn your radio way down low and get near it
And I'll tell the world I love you, girl
Babe, if there's an ounce of love I'm gonna give it to you
Babe, if there's a breath of life I'm gonna live it every day for you
And all the whole night through, singin' just for you