1984
"She may be one good reason to leave but, I'm a hundred reasons to stay…"
This Sunday's playlist submission is Hands Tied by American pop rock band Scandal, formed in 1981 in New York City by guitarist Zack Smith…and not to be confused with the Japanese band or the Australian band. Written by Holly Knight and Mike Chapman, it was the third track from the album Warrior (featuring Patty Smyth). I can't find a release date but, it entered the Billboard Hot 100 on October 20, 1984, and peaked at #41 on December 1st. It also peaked at #21 on the Billboard Mainstream Rock Tracks on the same day.
This album was the very first CD I ever owned. It was a gift and, up until that point, I only had vinyl, 45s and cassettes. I wore this one out, too. The band called it quits in 1985 but, reformed in 2004 and are still active. The song Love's Got A Line On You from their debut EP Scandal was on the soundtrack to the 1983 movie Easy Money and Smyth was a solo artist on soundtracks for Caddyshack II & Armageddon. Other songs have appeared in additional movies and TV.
Patty Smyth & Scandal (Official Site)
Thirty-five years ago, today, the #1 song on the Billboard Hot Country chart was I Can Tell By The Way You Dance (You're Gonna Love Me Tonight) by Vern Gosdin from the album There Is A Season. Released on March 26 as the lead single, it was written by Sandy Pinkard (of Pinkard & Bowden) and Robb Strandlund.
The song, later on, also made it to #1 on Canada's RPM Country chart.
Additional Reading:
"The Voice" Passes Away (CMT Website)
2017 Inductee (Nashville Songwriters Foundation Website)
Vern Gosdin Music (Official Website)
Thirty-five years ago, today, the #1 song on the Billboard Adult Contemporary chart (and, simultaneously, on the Billboard Hot 100 chart and Canadian Singles chart) was Time After Time from the album She's So Unusual by Cyndi Lauper. Co-written by Lauper and Rob Hyman (The Hooters), it was released on January 27, the second single from the album. The title came from the 1979 movie Time After Time:
"We started by putting together a list of song titles. I thumbed through a TV Guide magazine. One movie title seemed good—a sci-fi film called "Time After Time" from 1979. I never meant for it to be the song's real title. It was just supposed to get me thinking." (Quote from Lauper)
It was her first #1 hit on the Billboard Hot 100.
The video for "Time After Time" was directed by Edd Griles and, its storyline is about a young woman leaving her lover behind when she becomes homesick and worried about her mother. Lauper's mother, brother and then-boyfriend, David Wolff, appear in the video and Lou Albano, who played her father in the "Girls Just Want to Have Fun" video, can be seen as a cook.

The video opens with Lauper watching the 1936 film The Garden of Allah and the final scene, where she gets on the train and waves goodbye to David, has Lauper crying for real.

[Source]
Cover artists include Miles Davis, Eva Cassidy and Lil Mo. Lauper made an acoustic version with Sarah McLachlan and performed live with McLachlan at the 2005 AMA Awards. Other live performances have been with Patti LaBelle and Lil' Kim.
♦ Critical Reception
♦ Accolades
♦ Awards & Nominations
♦ Greatest & Best Songs
♦ Other Cover Versions
 

 
Lyrics:
[Verse 1]
Lying in my bed, I hear the clock tick and think of you
Caught up in circles, confusion is nothing new
Flashback, warm nights almost left behind
Suitcases of memories, time after…
Sometimes you picture me, I'm walking too far ahead
You're calling to me, I can't hear what you've said
Then you say, "Go slow." I fall behind
The second hand unwinds
[Chorus]
If you're lost, you can look and you will find me
Time after time
If you fall, I will catch you, I'll be waiting
Time after time
If you're lost, you can look and you will find me
Time after time
If you fall, I will catch you, I'll be waiting (I will be waiting)
Time after time
[Verse 2]
After my picture fades and darkness has turned to gray
Watching through windows, you're wondering if I'm OK
Secrets stolen from deep inside
The drum beats out of time
[Chorus]
If you're lost, you can look and you will find me
Time after time
If you fall, I will catch you, I'll be waiting
Time after time
[Instrumental break]
[Bridge]
You said, "Go slow." I fall behind
The second hand unwinds
[Chorus]
If you're lost, you can look and you will find me
Time after time
If you fall, I will catch you, I'll be waiting
Time after time
If you're lost, you can look and you will find me
Time after time
If you fall, I will catch you, I'll be waiting (I will be waiting)
Time after time
[Outro]
Time after time
Time after time
Time after time
Time after time
Time after time
Time after time
Time after time
Time after time
Time after time
Time after… time…
Thirty-five years ago, today, the #1 song on the Billboard Hot Mainstream Rock chart was Dancing in the Dark from the album Born in the USA by Bruce Springsteen. The music video was directed by Brian De Palma (Carrie/Scarface/The Untouchables) and it introduced the world to a, then, unknown Courteney Cox. This was his biggest hit single and the album is, to this day, his best selling. The song also went to #1 with Cash Box, in Canada, with Radio & Records and, went on to #1 in 1985 in Belgium & The Netherlands. Notable cover version artists are Kermit the Frog, Mary Chapin Carpenter and Pete Yorn.
Awards
♥ Best Rock Vocal Performance, Male Grammys
♥ Grammy Hall of Fame Grammys
♥ Pop/Rock Single American Music Awards
♥ International Album of the Year Juno Awards
♥ Best Stage Performance MTV Video Music Awards
Nominations
Grammys: 2
American Music Awards: 2
Brit Awards: 1
MTV Video Music Awards: 1
Lyrics
[Verse 1]
I get up in the evening
And I ain't got nothing to say
I come home in the morning
I go to bed feeling the same way
I ain't nothing but tired
Man, I'm just tired and bored with myself
Hey there baby, I could use just a little help
[Chorus 1]
You can't start a fire
You can't start a fire without a spark
This gun's for hire
Even if we're just dancing in the dark
[Verse 2]
Message keeps getting clearer
Radio's on and I'm moving 'round the place
I check my look in the mirror
I wanna change my clothes, my hair, my face
Man, I ain't getting nowhere
I'm just living in a dump like this
There's something happening somewhere
Baby, I just know that there is
[Chorus 1]
You can't start a fire
You can't start a fire without a spark
This gun's for hire
Even if we're just dancing in the dark
[Bridge]
You sit around getting older
There's a joke here somewhere and it's on me
I'll shake this world off my shoulders
Come on, baby, the laugh's on me
[Verse 3]
Stay on the streets of this town
And they'll be carving you up all right
They say you gotta stay hungry
Hey, baby, I'm just about starving tonight
I'm dying for some action
I'm sick of sitting 'round here trying to write this book
I need a love reaction
Come on now, baby, gimme just one look
[Chorus 2]
You can't start a fire
Sitting 'round crying over a broken heart
This gun's for hire
Even if we're just dancing in the dark
You can't start a fire
Worrying about your little world falling apart
This gun's for hire
Even if we're just dancing in the dark
[Outro]
Even if we're just dancing in the dark
Even if we're just dancing in the dark
Even if we're just dancing in the dark
Hey, baby
Thirty-five years ago, today, the #1 song on the Billboard Hot 100 and Hot R & B charts (plus Cash Box) was Let's Hear It For The Boy by Deniece Williams from the soundtrack of the movie Footloose. This was Williams second number one hit on the Billboard 100.
Composed by Tom Snow and Dean Pitchford, country singer Jana Kramer performed the song for the 2011 Footloose remake.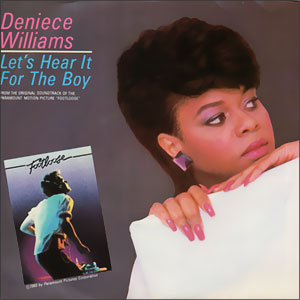 From Songfacts [no citations]:
This was the second single from the Footloose soundtrack, following the "title track," which was recorded by Kenny Loggins. In the film, the song was used in a scene where Kevin Bacon tries to teach Christopher Penn how to dance and Penn is having a hard time.

Once the song was written, Pitchford asked Deniece Williams and her producer George Duke to record the song. Kenny Loggins was onboard for the title track, which gave the project credibility and, Williams loved the song and the story idea for the film. She grew up in a small Indiana town with a religious environment similar to the one described in Footloose. When she saw the film, she thought the scene where they used her song was incredible. "If I had come to the film without the music in and they asked me what segment I wanted my song to be in, I would have chosen that segment." said Williams.
♡ Best Original Song Academy Award Nomination
♥ Best Pop Vocal Performance (Single) Grammy Nomination
♥ Best R & B Vocal Performance (Album) Grammy Nomination
The Situation Post 21/12/12
Many people have asked me for an update of our situation following the passing of the 21st of December 2012 "deadline". This essay is not intended to be a full update as not all of the information is yet available to carry out a full assessment of where we are and what exactly happened on the day. However, two things are already very clear:
[1] The reason for so few people undergoing soul re-integration is, as a result of, human lack of belief in themselves. I am not going to explore this aspect in full as this will be the subject of a future essay.
[2] Given that there were so few completions on that date, those who would re-shape the world into their view of a "New World Order" have stepped up their plans of moving people in directions that the NWO wish to go whilst totally ignoring the choices of the people.
It is this second situation that I would mainly like to explore in this essay and, in doing so, will highlight many of the reasons for the seeming "failure" of so many to re-integrate.
New World Order?
This is a term that has been used by most leading politicians, as well as many others, in recent years. However, not everybody is familiar with the term and certainly not with its implications. Think of Aldous Huxley's [sic] novel "1984" [Note: George Orwell wrote 1984. Huxley wrote Brave New World, a very similar novel. Chris Thomas got his authors reversed. He was under enormous strain while writing in 2013. This is the last year he wrote anything.] and that will give you some idea of what the term "New World Order" means. Essentially, the plan is to create a one world government, a one world bank and a one world police force. A central government that rules the world and enforces its policies with a police force under its direct control.
Is this a bad thing? Well think about the governments we currently have. Are they honest? Do they carry out "the will of the people"? Do they treat all of their citizens equally? Most people would answer no to all of those questions. Imagine all of the political corruption there would be if there was only one world government. If you were a part of, or favoured by, that government, you would be allowed to get away with virtually anything. If you were not favoured by the government, you would be made to suffer or even be imprisoned.
There are far too many examples of these kinds of behaviour in the world today by individual governments. The only thing that holds back their, sometimes, extreme behaviour is the reactions of other individual governments. Without those individual governments expressing their views, the one world government could do as it pleases without hindrance. But, would this one world government actually be there to carry out the wishes of the electorate or would it be under the control of what has become known as "the industrial/military complex"?
At the time of writing, a bill is passing through the American government (Obama Administration) that has been written by the GMO company Monsanto. Known as the Monsanto Protection Act, it gives the company total immunity from all health and environmental controls that are currently in place in America. Monsanto are looking to be able to plant any genetically modified organism (GMO) anywhere it chooses on American soil with total immunity from any current or future environmental law. "Monsanto's Law" has been passed by the American Congress and is headed towards the American Senate where it is anticipated it will pass without change.
Then, we have the situation in Guantanamo Bay prison. Both President GW Bush and President Obama have granted pardons to more than half of the prisoners held at Guantanamo as they have been proven to have no connections to any terrorist organisations. The Presidential Orders further state that the prisoners who have been granted pardons be repatriated to their home countries. The military controllers of Guantanamo have ignored both Presidents, locked down the prison, refused access to the prisoners' legal representatives and stopped commercial flights into the area. The prisoners have responded by going on a hunger strike and this hunger strike has had a news blackout as it has not been reported in the western media.
We have all seen the recent banking situation in Cyprus. Due to EU and government policies, the banking system in Cyprus is in a state of dire collapse. The European Central Bank and the International Monetary Fund have stepped in with a rescue package of measures. The first thing they did was to reduce the level of state benefits to pensioners, the disabled, etc…by twenty percent and halt the spending on government projects. They, then, close the banks, preventing people from accessing their own money. They insist on a one-off tax of ten percent of all the money individuals hold in their bank deposit accounts. When this causes riots, they modify this tax to taking ten percent but, could be up to eighty percent, of the accounts that hold more than one hundred thousand Euros. The Bank of Cyprus collapses because of the activities of the European Central Bank, International Monetary Fund and the Cyprus government and, who pays the price for it? Ordinary people who have tried to generate some savings against a rainy day. Most people now see this as the model for future bank bailouts.
We have already had situations where governments gave the banks many millions of tax payers' money but, next time the banks deliberately mess up the economy, they will plunder our savings accounts. At the time of writing, I have heard strong rumours that the Canadian government is looking to pass a law that gives them the powers to act in the same way as the Cyprus government is acting when future problems arise in the banks in Canada. Imagine how safe your savings would be if there was only a one world bank?
To continue reading (this is a 39-page mini-book), download the PDF version HERE.
[Note: This PDF was originally posted on the The Spirit Guides UK (Post Removed) and on the One Vibration Forum Blog on April 13, 2013.]
Thirty-five years ago, today, the #1 film at the box office was Splash, starring Tom Hanks, Daryl Hannah, Eugene Levy, John Candy, Dody Goodman, Shecky Greene, Rance Howard, Cheryl Howard, Clint Howard and Bill Smitrovich. A Rom-Com fantasy, it was directed by Ron Howard, produced by Brian Grazer and, the story was developed by Grazer and Bruce Jay Friedman. The screenplay was written by Lowell Ganz and Marc 'Babaloo' Mandel with music by Lee Holdridge.
Alan [sic] Bauer nearly drowned as a child but, has memories of being saved by a young mermaid. He manages his family's wholesale fruit and vegetable business and, continues his search to find true love. Along with his feelings, Allen must also contend with his womanizing older brother Freddie, who takes love less seriously than his brother. When he is jilted as an adult and loses his wallet in the surf, the young mermaid tries to return it. They are soul mates who have been meant for each other but, Madison fears how he will react when he finds out she is not human.
Quotes
From Brian Grazer:
"Tom came in wearing these 501 Levi's and construction boots and a T-shirt. He wasn't nervous at all – and here's a guy who had never had a major movie. I thought, why is this guy so calm? But we read him and we liked him and we hired him right away."

On Hannah's abilities, Grazer states "[…] while we were testing Daryl [Hannah] in her tail underwater, we noticed how well she swam. Then we realized that she was as good, if not better, than her stunt doubles. Her endurance was actually better than theirs. We began wondering if Daryl couldn't do all the scenes herself and she happily agreed, which certainly helped the movie's credibility.
From Tom Hanks:
"They're very, very funny guys (Candy & Levy). But my job in Splash was not to be particularly funny. That's what Ron [Howard] kept drilling into me."

Learning a valuable lesson from Howard, he recalls being unprepared…"It took longer to shoot than it should have, and when we were done with the scene, Ron said, "You know, you should have been a little more prepared." He didn't yell at me. He probably knew that if he had yelled, I'd be paste for the rest of the day. He just let me know in no uncertain terms that I was starring in this movie and with that comes huge responsibilities, and one of them is to be ready to go. I've never forgotten that."
From Daryl Hannah:
[…] having to lie still for three hours every day for technicians to put her into the 35 lbs. rubber fin, she states "At lunch they'd yank me out on a crane and plop me on the deck. I couldn't eat because I couldn't go to the bathroom. I just lay there shivering with barnacles in my hair, soaking wet. And underwater it was difficult because I was not able to see since I couldn't wear a mask. I had to trust the guys to get air to me. It was difficult and we worked long hours but, it seemed more like playing than work. It was real magical down there."
Trivia Bits:
♦ This film was the first to be released by the new Touchstone Films.
♦ According to the Biography Channel, Bill Murray and P.J. Soles (Stripes) were considered for the roles of Allen and Madison, but Murray turned it down.
♦ Daryl Hannah swam with the mermaid tail so fast that her safety team could not keep pace with her.
♦ A vegetarian, Hannah refused to eat real lobster for the restaurant scene. The crew scooped out the insides of real, cooked lobsters and filled them with a thick, tofu-like paste. Ron Howard said [she] cried after each take over the deaths of the lobsters for their shells.
♦ Tom Hanks had trouble with the water scenes, partly because he was a smoker.
The movie received twelve nominations including the Academy Award for Best Original Screenplay and the Golden Globe for Best Motion Picture – Musical or Comedy. It won a National Society of Film Critics (NSFC) award for Best Screenplay and Daryl Hannah won the Saturn Award for Best Actress.
Love Came For Me Theme Song by Rita Coolidge

A song you remember from your childhood…
As the challenge comes to a close, this is the final post.
I've covered everything in the 70s back to 1972, specific to my childhood. Rolling back a little bit more, I remember liking these though I was very young.
1971
1970
1969
1968
I just barely remember this playing. I was so little but, it is burned into my young memory.
Past that, everything I know of music was learned later in life. The above are my earliest true music memories of what I liked, even as a child.
A song that reminds you of yourself…
I've never really found a song that reminded me of myself but, there are four songs I really identify with in terms of wandering thru life and the subsequent lessons.
The opening line to the movie:
"On a Saturday (March 24, 1984), five high school students report for all-day detention."
This is my generation, though I was never in detention. I graduated in June 1984. Ditto Footloose
Also released during my senior year…
What I have turned into (tongue in cheek)…minus the nail-biting. *wink*
A song you like by an artist no longer living…
I've already posted some Prince videos and I will have to work hard to keep this post trimmed down.
Can't do a post like this without The King of Rock and Roll…Elvis. I grew up with this music.
Then, we can't do a post with The King of Pop…Michael. His Off The Wall album was the third album I ever owned, behind Surf & Drag and Grease.
Next up, The Queen of Disco…Donna. Her music covered my life from 10 years old to 18.
The Beatles were never played in my house. Their music was just not part of my childhood. I discovered who they were after they split up and I liked a lot of solo stuff that came out. My favorite was George. I liked his scratchy, squeaky voice. Paul came in second.
This one covers two that have left us…Freddie and Bowie. This song spoke to me at 15 and still does to this day (and I was extraordinarily annoyed when Vanilla Ice ripped it off).
This came out after I started college. Teena was the Ivory Queen of Soul.
Ok. I'm stopping at seven (I could be here all night). I grew up with this music, as well and still remember all the words. I previously posted my favorite of his songs related to the Gold Rush of 1896. So, I will post my second favorite. I give you Johnny Horton.
October 11, 1984, Kathryn Dwyer "Kathy" Sullivan became the first American woman astronaut during the STS-41-G mission to perform an EVA or an extravehicular activity (3.5 hours worth), which freely translates to a "space walk". This was NASA's thirteenth flight in the Space Shuttle program and the sixth flight of the Challenger. She was the Mission Specialist 1 and had just turned 33 years of age eight days prior.
She received a Ph.D. in geology from Dalhousie University in 1978, became an Adjunct Professor of Geology at Rice University in 1985 and joined the Navy Reserves in 1988 as an Oceanography Officer, retiring after 18 years at the rank of Captain.
April 24, 1990, she served on board the Space Shuttle Discovery as a Mission Specialist 3 for the STS-31 mission that launched the Hubble Space Telescope. March 24, 1992, she served as Mission Specialist 1 during the STS-45 mission on board the Space Shuttle Atlantis. She was part of the Group 8 NASA Astronaut selection on January 16, 1978. She left NASA in 1993.
Other October 11 space-related trivia:
1957…..Operation Moonwatch scientists calculate Sputnik 1's 'satisfactory orbit' with an IBM 704.
1958…..NASA launches the lunar probe Pioneer 1 (Pioneer Program). It falls back to Earth and burns up.
1968…..NASA launches Apollo 7, the first crewed flight.
2000…..NASA launches STS-92, the 100th Space Shuttle mission to the ISS via Discovery.