billboard modern rock tracks
"She may be one good reason to leave but, I'm a hundred reasons to stay…"
This Sunday's playlist submission is Hands Tied by American pop rock band Scandal, formed in 1981 in New York City by guitarist Zack Smith…and not to be confused with the Japanese band or the Australian band. Written by Holly Knight and Mike Chapman, it was the third track from the album Warrior (featuring Patty Smyth). I can't find a release date but, it entered the Billboard Hot 100 on October 20, 1984, and peaked at #41 on December 1st. It also peaked at #21 on the Billboard Mainstream Rock Tracks on the same day.
This album was the very first CD I ever owned. It was a gift and, up until that point, I only had vinyl, 45s and cassettes. I wore this one out, too. The band called it quits in 1985 but, reformed in 2004 and are still active. The song Love's Got A Line On You from their debut EP Scandal was on the soundtrack to the 1983 movie Easy Money and Smyth was a solo artist on soundtracks for Caddyshack II & Armageddon. Other songs have appeared in additional movies and TV.
Patty Smyth & Scandal (Official Site)
"I think it's strange you never knew…"
Sunday evening's playlist submission is Fade Into You by alternative band Mazzy Star. Released April 12, 1994, it is the first track on the album So Tonight That I Might See. Written by Hope Sandoval and David Roback, it was a surprise hit, peaking at #44 on Billboard's Hot 100, #19 on the Mainstream Top 40 chart, #3 on the Modern Rock Tracks (Alternative Songs, now) chart and #48 on the UK Singles chart. It was Mazzy Star's only single to make to make the Billboard Hot 100. It has been used, frequently, in movies, most notably Starship Troopers, Lord of War, Burlesque and Thank You For Your Service plus several TV shows.
I'd never heard of Mazzy Star or heard this song when it originally came out. I am late to the party finding this, just discovering them a few years ago. Sadly, David Roback passed away February 24, 2020, from cancer.
Mazzy Star Official (Facebook Page)
MTV Version

Monochrome Version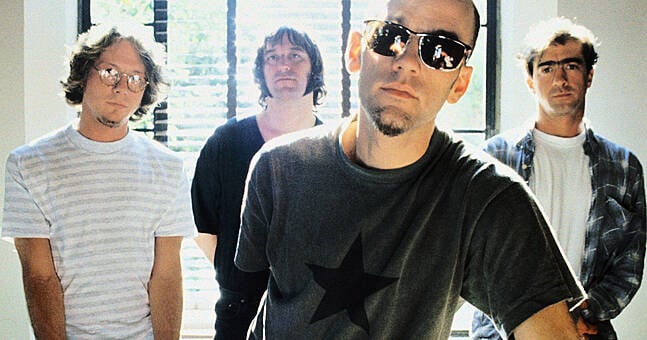 Twenty-five years ago, this week (November 26/December 2, 1994) the song Bang and Blame by R.E.M. debuted on the Billboard Alternative Songs chart (Page 119/called Modern Rock Tracks in 1994), entering at #8, making it to #1 on December 17. Released October 31, it was the second single from the album Monster, their ninth studio album. Co-produced by the band and Scott Litt, all song writing credits are the band members. The song also made it to #1 in Canada on February 20, 1995, and peaked in the top ten in the Billboard Mainstream Rock chart (Album Rock Tracks in 1994), Billboard Mainstream Top 40 chart and, in Finland, Iceland and Poland.
Rain Phoenix (sister of River & Joaquin) and Lynda Stipe (Michael's sister) sang backing vocals. Recordings were difficult with Mike Mills and Bill Berry's illnesses and, the deaths of Kurt Cobain and River Phoenix. The album is dedicated to Phoenix.
Television Episodes (song used)

 
Lyrics (from LyricFind):
If you could see yourself now, baby
It's not my fault, you used to be so in control
You're going to roll right over this one
Just roll me over, let me go
You're laying blame
Take this as no, no, no, no, no
You bang, bang, bang, bang, bang
Then blame, blame, blame
You bang, bang, bang, bang, bang
It's not my thing, so let it go
If you could see yourself now, baby
The tables have turned, the whole world hinges on your swings
Your secret life of indiscreet discretions
I'd turn the screw and leave the screen
Don't point your finger
You know that's not my thing
You came to bang, bang, bang, bang, bang
To blame, blame, blame
Bang, bang, bang, bang, bang
It's not my thing, so let it go now
You've got a little worry
I know it all too well
I've got your number
But so does every kiss and tell
Who dares to cross your threshold
Happens on you way
Stop laying blame
You know that's not my thing
You know that's not my thing
You came to bang, bang, bang, bang, bang
Then blame, blame, blame
Bang, bang, bang, bang, bang
It's not my thing so let it go, you
Bang, bang, bang, bang, bang
Then blame, blame, blame
Bang, bang, bang, bang, bang
It's not my thing so let it go
You kiss on me
Tug on me
Rub on me
Jump on me
You bang on me
Beat on me
Hit on me
Let go on me
You let go on me