december 17
Hanspostcard has a movie draft challenge. This is my Round Six pick.
Category: Western/War
Film: El Dorado
Mississippi: "[…] My name is Alan Bourdillion Traherne."
Cole: "Lord Almighty…"
Sheriff Harrah: "Who is he?"
Cole: "Tell him your name, Mississippi."
Mississippi: [sigh] "Alan Bourdillion Traherne."
Sheriff Harrah: "Well, no wonder he carries a knife."
Mississippi: "Always make you mad, don't I?"
Cole: "Mostly."
Produced and directed by Howard Hawks, the film is a loose adaption of The Stars in Their Courses, a 1960 novel by Harry Brown. The screenplay was written by Leigh Brackett and starred John Wayne, Robert Mitchum, James Caan, Charlene Holt, Paul Fix, Arthur Hunnicutt, Michele Carey, R. G. Armstrong, Ed Asner, Christopher George and Johnny Crawford. Jim Davis (Jock Ewing) and John Mitchum have small parts. It was released December 17, 1966, in Japan, oddly and didn't make it to US theaters until June 7, 1967.
Cole Thornton (Wayne) is a gunslinger for hire and land owner Bart Jason (Asner) has offered him a job. J. P. Harrah (Mitchum) is a Sheriff and an old friend of Cole's. When Harrah informs Cole of Jason's intention to use him to push the MacDonald family off of their land for water rights, Cole refuses the job. After shooting the youngest MacDonald son, unintentionally, during a volley of gunfire, Cole is wounded by the MacDonald daughter (Carey), in return, after he brings the deceased boy back home. Cole suffers intermittent paralysis on his right side throughout the rest of the movie. With the help of a gambler (Caan) he crosses paths with and the Sheriff's deputy (Hunnicutt), Cole straightens out the drunken Sheriff, tangles with another gunslinger (George), derails Jason's takeover and just might stop his previous ways for his lady, Maudie (Holt).
Mississippi repeats parts of the Edgar Allen Poe poem (except the second stanza) during the film, aggravating Cole somewhat (Caan had trouble with the word "boldly", slurring it to sound like either "bowlie" or "bodie"). He's also terrible with a gun and couldn't hit the broadside of a barn (but, I love that hat!). Cole gets him a shotgun and later regrets it as he has scatter shot in his leg at the end of the movie.
This is my favorite John Wayne movie even though it is an ensemble cast. A close second is The Quiet Man where Wayne played another "Thornton" character. ~Vic
Trivia Bits:
♦ Archival footage of this movie was used in The Shootist as some backstory for Wayne's character J.B. Books.
♦ The artwork in the opening credits was painted by Olaf Wieghorst, the Swedish gunsmith.
♦ At the end of the movie, both Cole & Harrah are on crutches under the wrong arm.
♦ The bathtub scene was Mitchum's idea.
♦ Mitchum's brother was a bartender named Elmer. He called him by his real name by accident.
♦ Wayne and Asner did not get along.
Other Goofs (There are a lot.)
Nominations
Opening Credits

Caan on Wayne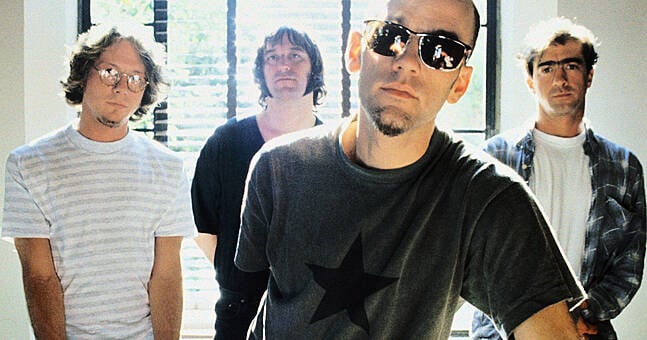 Twenty-five years ago, this week (November 26/December 2, 1994) the song Bang and Blame by R.E.M. debuted on the Billboard Alternative Songs chart (Page 119/called Modern Rock Tracks in 1994), entering at #8, making it to #1 on December 17. Released October 31, it was the second single from the album Monster, their ninth studio album. Co-produced by the band and Scott Litt, all song writing credits are the band members. The song also made it to #1 in Canada on February 20, 1995, and peaked in the top ten in the Billboard Mainstream Rock chart (Album Rock Tracks in 1994), Billboard Mainstream Top 40 chart and, in Finland, Iceland and Poland.
Rain Phoenix (sister of River & Joaquin) and Lynda Stipe (Michael's sister) sang backing vocals. Recordings were difficult with Mike Mills and Bill Berry's illnesses and, the deaths of Kurt Cobain and River Phoenix. The album is dedicated to Phoenix.
Television Episodes (song used)

 
Lyrics (from LyricFind):
If you could see yourself now, baby
It's not my fault, you used to be so in control
You're going to roll right over this one
Just roll me over, let me go
You're laying blame
Take this as no, no, no, no, no
You bang, bang, bang, bang, bang
Then blame, blame, blame
You bang, bang, bang, bang, bang
It's not my thing, so let it go
If you could see yourself now, baby
The tables have turned, the whole world hinges on your swings
Your secret life of indiscreet discretions
I'd turn the screw and leave the screen
Don't point your finger
You know that's not my thing
You came to bang, bang, bang, bang, bang
To blame, blame, blame
Bang, bang, bang, bang, bang
It's not my thing, so let it go now
You've got a little worry
I know it all too well
I've got your number
But so does every kiss and tell
Who dares to cross your threshold
Happens on you way
Stop laying blame
You know that's not my thing
You know that's not my thing
You came to bang, bang, bang, bang, bang
Then blame, blame, blame
Bang, bang, bang, bang, bang
It's not my thing so let it go, you
Bang, bang, bang, bang, bang
Then blame, blame, blame
Bang, bang, bang, bang, bang
It's not my thing so let it go
You kiss on me
Tug on me
Rub on me
Jump on me
You bang on me
Beat on me
Hit on me
Let go on me
You let go on me
Today, we are going waaaaaaay back…to 1918. On this date, Shoulder Arms, a Charlie Chaplin piece, was a very popular film. Was it a 'number one'? Hard to tell. This film pre-dates the Academy Awards by 11 years. Starring Sir Charles Spencer Chaplin, Edna Purviance, Sydney Chaplin (Charlie's elder, half-brother) and Tom Wilson, it is, primarily, a dream sequence set in France during World War I.
Plot from IMDB:
Charlie is in boot camp in the "awkward squad." Once in France, he gets no letters from home. He finally gets a package containing limburger cheese, which requires a gas mask and which he throws over into the German trench. He goes "over the top" and captures thirteen Germans ("I surrounded them") then, volunteers to wander through the German lines disguised as a tree trunk. With the help of a French girl, he captures the Kaiser and the Crown Prince and, is given a statue and victory parade in New York. Then…fellow soldiers wake him from his dream. [edited for grammar]
From an archived New York Times article:
""The fool's funny," was the chuckling observation of one of those who saw Charlie Chaplin's new film. "Shoulder Arms", at the Strand, yesterday and, apparently, that's the way everybody felt. There have been learned discussions as to whether Chaplin's comedy is low or high, artistic or crude but, no one can deny that when he impersonates a screen fool, he is funny. Most of those who go to find fault with him remain to laugh. They may still find fault but, they will keep on laughing. In "Shoulder Arms", Chaplin is as funny as ever." [edited for grammar]
Trivia Bits:
♦ Many in Hollywood were nervous that one of their most famous peers was going to tackle the subject of WWI. It was released shortly before the Armistice so, it did not help boost national morale but, it did end up as one of Charles Chaplin's most popular films and, it was particularly popular with returning doughboys.
♦ Released two weeks and one day before the end of World War I.