poland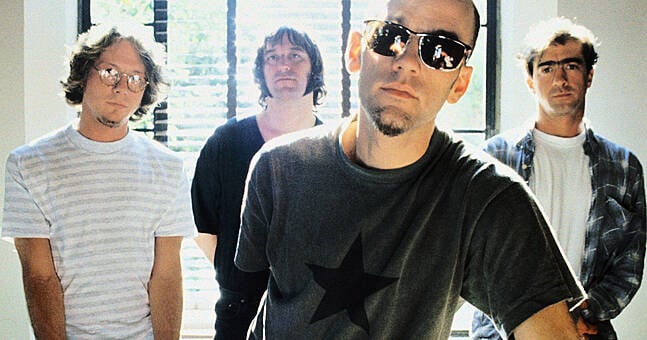 Twenty-five years ago, this week (November 26/December 2, 1994) the song Bang and Blame by R.E.M. debuted on the Billboard Alternative Songs chart (Page 119/called Modern Rock Tracks in 1994), entering at #8, making it to #1 on December 17. Released October 31, it was the second single from the album Monster, their ninth studio album. Co-produced by the band and Scott Litt, all song writing credits are the band members. The song also made it to #1 in Canada on February 20, 1995, and peaked in the top ten in the Billboard Mainstream Rock chart (Album Rock Tracks in 1994), Billboard Mainstream Top 40 chart and, in Finland, Iceland and Poland.
Rain Phoenix (sister of River & Joaquin) and Lynda Stipe (Michael's sister) sang backing vocals. Recordings were difficult with Mike Mills and Bill Berry's illnesses and, the deaths of Kurt Cobain and River Phoenix. The album is dedicated to Phoenix.
Television Episodes (song used)

 
Lyrics (from LyricFind):
If you could see yourself now, baby
It's not my fault, you used to be so in control
You're going to roll right over this one
Just roll me over, let me go
You're laying blame
Take this as no, no, no, no, no
You bang, bang, bang, bang, bang
Then blame, blame, blame
You bang, bang, bang, bang, bang
It's not my thing, so let it go
If you could see yourself now, baby
The tables have turned, the whole world hinges on your swings
Your secret life of indiscreet discretions
I'd turn the screw and leave the screen
Don't point your finger
You know that's not my thing
You came to bang, bang, bang, bang, bang
To blame, blame, blame
Bang, bang, bang, bang, bang
It's not my thing, so let it go now
You've got a little worry
I know it all too well
I've got your number
But so does every kiss and tell
Who dares to cross your threshold
Happens on you way
Stop laying blame
You know that's not my thing
You know that's not my thing
You came to bang, bang, bang, bang, bang
Then blame, blame, blame
Bang, bang, bang, bang, bang
It's not my thing so let it go, you
Bang, bang, bang, bang, bang
Then blame, blame, blame
Bang, bang, bang, bang, bang
It's not my thing so let it go
You kiss on me
Tug on me
Rub on me
Jump on me
You bang on me
Beat on me
Hit on me
Let go on me
You let go on me
June 14 was a banner day for the countries of France, Lithuania and Poland. Except for reading the words, we, today, have no clue what these people went through. ~Vic
[Source]
Paris started mobilizing for war in September 1939 when Nazi Germany, and their allied Soviet Union, according to the Ribbentrop-Molotov Treaty, invaded Poland. […] the war seemed far away until May 10, 1940, when the Germans attacked France and quickly defeated the French army. The French government departed Paris on June 10 and the Germans occupied the city on June 14.

In the spring of 1939, war with Germany already seemed inevitable. On March 10, the city began to distribute gas masks to civilians and on March 19, signs were posted guiding Parisians to the nearest shelters. On August 31, anticipating bombardment, the French government began to evacuate 30,000 children out of the city […]. On September 1, news reached Paris that Germany had invaded Poland, and France, as expected, promptly declared war on Germany. […] in February 1940, ration cards for food were issued [..].

The French defense plan was purely passive, waiting for the Germans to attack. After eight months of relative calm, […] the Germans struck France on May 10, 1940, bypassing the Maginot Line and slipping through the Ardennes. On June 3, the Germans bombed Paris and its suburbs for the first time […]. On June 8, the sound of distant artillery fire could be heard in the capital. On 10 June, the French government fled Paris […]. On June 12, the French government, in Tours, declared Paris to be an open city [and] that there would be no resistance. At 5:30 in the morning of June 14, the first German advance guard entered the city […]. By the end of the afternoon, the Germans had hung a swastika flag at the Arc de Triomphe […].
[Source]
The Soviet Union issued an ultimatum to Lithuania before midnight of June 14, 1940. The Soviets, using a formal pretext, demanded to allow an unspecified number of Soviet soldiers to enter the Lithuanian territory and to form a new pro-Soviet government […]. The ultimatum and subsequent incorporation of Lithuania into the Soviet Union stemmed from the division of Eastern Europe into the German and Russian spheres of influence in the Molotov–Ribbentrop Pact of August 1939. Lithuania, along with Latvia and Estonia, fell into the Russian sphere. Despite the threat to the independence, Lithuanian authorities did little to plan for contingencies and were unprepared for the ultimatum. With Soviet troops already stationed in the country according to the Mutual Assistance Treaty, it was impossible to mount effective military resistance. On June 15, Lithuania unconditionally accepted the ultimatum and lost its independence.
[Source]
The first mass transport of prisoners by Nazi Germany to Auschwitz Concentration Camp was organized in occupied Poland on June 14, 1940, during World War II. The transport departed from the southern Polish city of Tarnów and, consisted of 728 Poles and 20 Polish Jews. They were dubbed 'political prisoners' and members of the Polish resistance. Most were Catholics, since the mass deportations of Jews had not yet begun. All were sent to Auschwitz by the German Security Police. They were transported there from a regular prison in Tarnów where they had been incarcerated as enemies of the Nazi regime. Numbers were tattooed on the prisoners' arms in the order of their arrival […]. These inmates were assigned the numbers 31 through 758, with numbers 1 through 30 having been reserved for a group of German criminals who were brought to Auschwitz from Sachsenhausen on May 20 and became the first Auschwitz kapos.