finland
In looking thru odd stories, this caught my attention. From Oddity Central:
A Creepy Art Installation Freaking People Out on Google Maps

By Spooky on May 15th, 2020
An eerie art installation located in a barren field in the Finnish countryside recently went viral after someone accidentally stumbled upon it while searching on Google Maps. With quarantine and isolation measures still in place in many countries around the world, people are spending a lot of time online looking for cool places to visit once they can travel again. Many are using free tools, like Google Maps, and end [up] going deeper down the rabbit hole than they originally anticipated. That's probably how some people recently discovered The Silent People, […] creepy-looking [figures] that left them scratching their heads about why anyone would fill a field with hundreds of scarecrows and dress them as real people.

Seen from afar, The Silent People [site] looks like a perfectly still army of people all facing the same way. It's only when you take a closer look that you realize it's made up of wooden frames covered in human clothes and heads made of [peat], which does a surprisingly good job of emulating human hair. Even knowing that it's an art installation, you still feel uneasy looking at the almost one thousand still [bodies] but, knowing absolutely nothing about it and [suddenly] finding it on Google Maps can really freak a person out.
From Amusing Planet:
Hiljainen Kansa: The Silent People of Suomussalmi, Finland

By Kaushik Patowary on March 28, 2015
Motorists driving along Highway 5, about 30 km north of the small town of Suomussalmi, in north-eastern Finland, are greeted by a peculiar sight. A crowd of almost a thousand figures stand silently on a field near the road. In the morning with light behind them, this motionless army appears morose, even menacing. But, when a light breeze picks up their colorful dresses and blows them around their still bodies, they appear to have sprung into life.

This army of scarecrow-like figures called "The Silent People" or "Hiljainen Kansa" in Finnish, were the creation of local artist Reijo Kela. They were first displayed in 1988 in a field in Lassila, a neighbourhood of Helsinki. Later in 1994, these were on display in the Market Place of Helsinki's Senate Square, then on the banks of the river Jalonuoma, Ämmänsaari and finally moved to this location in 1994 itself.
Additional Reading:
The Silent People (Atlas Obscura)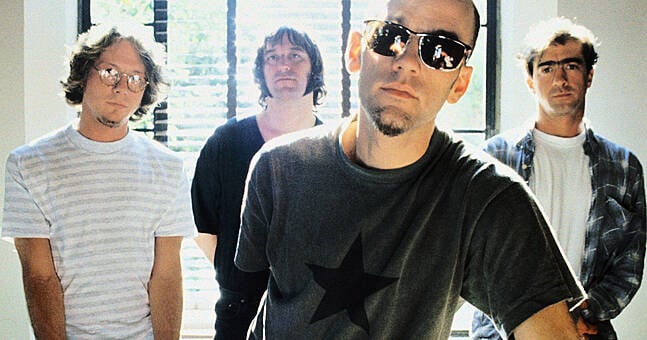 Twenty-five years ago, this week (November 26/December 2, 1994) the song Bang and Blame by R.E.M. debuted on the Billboard Alternative Songs chart (Page 119/called Modern Rock Tracks in 1994), entering at #8, making it to #1 on December 17. Released October 31, it was the second single from the album Monster, their ninth studio album. Co-produced by the band and Scott Litt, all song writing credits are the band members. The song also made it to #1 in Canada on February 20, 1995, and peaked in the top ten in the Billboard Mainstream Rock chart (Album Rock Tracks in 1994), Billboard Mainstream Top 40 chart and, in Finland, Iceland and Poland.
Rain Phoenix (sister of River & Joaquin) and Lynda Stipe (Michael's sister) sang backing vocals. Recordings were difficult with Mike Mills and Bill Berry's illnesses and, the deaths of Kurt Cobain and River Phoenix. The album is dedicated to Phoenix.
Television Episodes (song used)

 
Lyrics (from LyricFind):
If you could see yourself now, baby
It's not my fault, you used to be so in control
You're going to roll right over this one
Just roll me over, let me go
You're laying blame
Take this as no, no, no, no, no
You bang, bang, bang, bang, bang
Then blame, blame, blame
You bang, bang, bang, bang, bang
It's not my thing, so let it go
If you could see yourself now, baby
The tables have turned, the whole world hinges on your swings
Your secret life of indiscreet discretions
I'd turn the screw and leave the screen
Don't point your finger
You know that's not my thing
You came to bang, bang, bang, bang, bang
To blame, blame, blame
Bang, bang, bang, bang, bang
It's not my thing, so let it go now
You've got a little worry
I know it all too well
I've got your number
But so does every kiss and tell
Who dares to cross your threshold
Happens on you way
Stop laying blame
You know that's not my thing
You know that's not my thing
You came to bang, bang, bang, bang, bang
Then blame, blame, blame
Bang, bang, bang, bang, bang
It's not my thing so let it go, you
Bang, bang, bang, bang, bang
Then blame, blame, blame
Bang, bang, bang, bang, bang
It's not my thing so let it go
You kiss on me
Tug on me
Rub on me
Jump on me
You bang on me
Beat on me
Hit on me
Let go on me
You let go on me