raleigh
If you haven't finished your holiday shopping, the North Carolina Department of Transportation is offering up a piece of Americana but, it's going to cost you a pretty penny.

When the Ringling Bros. and Barnum & Bailey Circus closed their doors, NCDOT saw an opportunity to add to its fleet. That plan was derailed before the cars could hit the rails and, now, they're being put up for public auction.

NCDOT spent just over $380,000 on [the] Ringling Brothers rail cars.

"These cars have a great and amazing history," said Jason Orthner, director of the NCDOT rail division.

However, plans to refurbish the cars were quickly put on hold when NCDOT calculated the costs. "This was more on the long-term play of really looking into our rail program and how we take it into the future," said Orthner.

Image Credit: New York Public Library
Wikimedia & Wikipedia

Funding from two federal grants totaling $157 million rendered the rehab of the Ringling Bros. cars obsolete and will soon allow the NCDOT to replace their entire fleet.

"If we hadn't been successful at winning those grants, we would've taken a really hard look at putting these in service," said Orthner. "We really want to do the best thing for the citizens of North Carolina with the limited funding that we have available."

That's why they're listing the rail-cars on the state surplus site for a minimum price that's $32,000 more than the NCDOT paid for all of the cars but, without any bids, it's unclear if anyone will actually buy them.

"Tourist railroad operations, car collectors and other enthusiasts would certainly be interested in these cars," said Orthner. "There are operations around the country that run train service for excursion purpose, or other purposes, that would be interested in equipment like this."

Currently half of the rail-cars are stored in the NCDOT rail-yard in Raleigh and the other half are stored on an abandoned line in Nash County.

Want To Own A Piece Of History?
Holden Kurwicki
WNCN/CBS17
12-21-2020
I had no idea my state's DOT had purchased Ringling Bros. train cars. ~Vic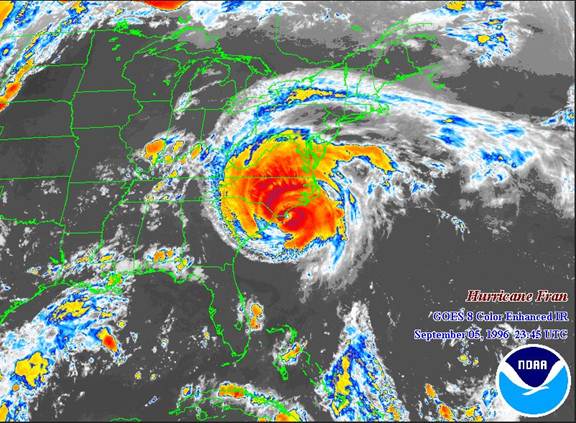 While many folks are suffering from the damage brought about by Hurricane Dorian, including my own state, twenty-three years ago, today, another hurricane made landfall between 7:17 & 9:03pm EDT…Hurricane Fran. The eye passed over Bald Head Island and Southport.
From NOAA:
Fran was the second hurricane to slam into the North Carolina coast in the same season. Bertha was a Category 2 hurricane when she hit just two months earlier. There wasn't much time to recover from the first disaster before the second hit.

Due to a low pressure centered over Tennessee and the western extension of the subtropical ridge over the northwest Atlantic, Fran was steered onto a north-northwesterly track and gained speed. Moving around 17 mph, the center of Fran made landfall over the Cape Fear area on September 5th around 8:30 p.m., just southwest of Wilmington. At landfall, sustained winds were 115 mph […].

Image Credit: noaa.gov

Fran caused major flooding from North Carolina to Maryland [to] West Virginia. The damage from Fran was so extensive that the name "Fran" was removed from the hurricane name list and replaced by Fay. North Carolina got the worst of the storm […]. The North Topsail Beach police station was washed away by a 12 foot storm surge. The police station was being temporarily housed in a double wide since Bertha wiped out the original building just a few months prior. Kure Beach Pier was destroyed along with the Emerald Isle fishing pier, while Bogue Inlet Pier lost 150 feet. Storm surge in North Topsail Beach created a 100-foot wide inlet. Topsail Island lost 40 feet of beach due to erosion. Swansboro and New Bern experienced 10 feet of storm surge […].

Hurricane force wind gusts were experienced as far inland as Raleigh. High winds damaged historical buildings. Classes at the University of North Carolina were canceled for a day and it was almost a week before the water was drinkable again. Strong winds and a saturated ground led to many trees being uprooted inland. This led to numerous houses being destroyed by trees falling on them. Over a million people were left without power. Almost two weeks after the storm, 150 secondary roads were still closed due to flooding and downed trees.

In the same way that residents of Columbia and Charlotte remember Hurricane Hugo's devastating inland winds, residents of Raleigh and most of the North Carolina inland coastal plain think back to Fran when discussing the strong wind a hurricane can bring well away from the coast. Fran was the worst storm to strike southeastern North Carolina since Hurricane Hazel in 1954.
My dad was nine years old when Hazel hit. He remembered being underneath his desk in elementary school. I was living in Durham when Fran hit. I thought the roof of the house was going to come off (I was living in an attic studio apartment on the west side of town, close to Duke Hospital and Duke University). That hurricane came straight up thru the middle of NC. Working in Law Enforcement, I was considered "necessary personnel" and when I got up to head in, Durham looked like a war zone. Interstate 85 was completely shut down and I wound my way thru town, west to east. Oh, the devastation. The Trooper Station I worked in had power but, my apartment went without for a week. I need to dig up the pictures of the damage and post them. They are in a box…somewhere. ~Vic
A song by a band you still wish were together…
Oh, the music we have lost.
Lone Justice (1982-1986)
What a powerhouse voice this little thing had. I wore out the Shelter cassette.
Cry of Love (1989-1997)
A band out of Raleigh, they only made one studio album in 1993 with their original lead singer, Kelly Holland, who quit after one tour. He died young in 2014 at the age of 52. They got a lot of airplay, locally. The remaining members tried to continue with former Warrant lead singer, Robert Mason and made a second album that produced one single in 1997. Band members moved on/scattered to The Black Crowes, Lynyrd Skynyrd and Sheryl Crow's touring band. To me, once Kelly left, the magical sound was gone (no offense to Robert Mason).
Seven Mary Three (1992-2012)
A band out of Williamsburg, Virginia, they started when two Jasons met at William & Mary. The band name came from the TV Show CHiPs as 7 Mary 3 was Officer Jon Baker's call sign. Their best-selling album, American Standard, was produced in 1995 by the, now, defunct Mammoth Records out of Carrboro, NC, after their first attempt in 1994 failed to chart.
Far Too Jones (1995-2000)
This was another band out of Raleigh, nicknamed the Tobacco Road Quintet. They also had one album produced by Mammoth Records and got a lot of local airplay. The only reason this band broke up, as best as I can tell, is because they had no label support. They just couldn't break out of the region, much like what happened to Echo 7 in Myrtle Beach (whom, I know, personally…I may have to put up some of their music one day).
And, just for Christmas Eve, this one. I remember this playing on G105 in the late 90s. This band was so loved here. Quote from them, regarding this song, posted on Facebook, yesterday:
"A little history on that one… we wrote it for the Acoustic Christmas Party we did for G105 many moons ago. We actually did not know we were going to write a song until one of the on-air personalities mentioned on the air that we were…LOL!"