1990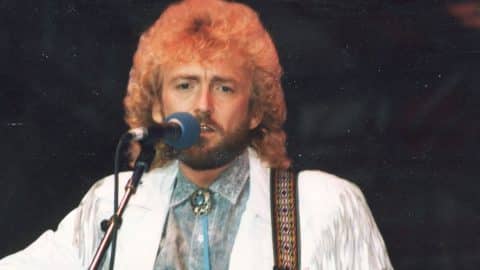 Thirty years ago, today, It Ain't Nothin' by American country singer Keith Whitley debuted on the Billboard Hot Country chart, entering at #59. The second release from the album I Wonder Do You Think of Me, it was written by Tony Haselden and Keith was a co-producer. Released posthumously, it spent 17 weeks on the chart and became a #1 hit January 13, 1990, seven months after his death. It also reached #1 on Canada's RPM Country chart February 3, 1990.
Lyrics (via LyricFind):
My boss is the boss's son and that makes for a real long day.
When that day is finally done I'm facing 40 thousand cars on the interstate.
Feeling lower than a well diggers shoes
knee deep in a mess of blues.
But those blues just fade away
When I hear my baby say.
[Chorus]
It ain't nothin a little bit of love won't fix
It ain't nothin but a scratch, a little bit of love can't stitch.
It ain't nothin a little bit of love can't heal.
Your love makes me feel.
No matter what hands me — it ain't nothin, it ain't nothin.
It was written all over her face she was about to climb the walls.
She said you gotta get me out of this place cause even
Cindarella got to go to the ball.
If you multiply hell times three that's what this day has been like for me.
I said honey we'll do the town.
Just don't let it get you down.
Cause……
[Chorus]
[Chorus]
It ain't nothin, it ain't nothin, it ain't nothin, naugh it ain't nothin, it ain't nothin
In 1913, The Revenue Act or the Underwood Act or the Underwood Tariff or the Underwood Tariff Act or the Underwood-Simmons Act or, simply, the Tariff Act (Federal Income Tax) was signed into law (re-imposed) by President Woodrow Wilson after the ratification of the Sixteenth Amendment. It was sponsored/introduced by House Majority Leader Oscar Underwood from Alabama.
The very first personal income tax was signed into law in 1861 by Abraham Lincoln as a way to fund the Civil War. It was largely ineffective and, was, originally, a flat rate tax before being repealed and replaced with the Revenue Act of 1862, converting the flat rate into a progressive rate. This act ended in 1866.
When the U.S. Supreme Court struck down the income tax provision of the Wilson-Gorman Tariff Act of 1894 via Pollock vs Farmers' Loan & Trust in 1895, that opened the door for the Sixteenth Amendment 18 years later, affirming that "…the Constitution did not deny Congress the power to impose a tax on real and personal property"… Yay for us.
Other things from October 3…
1922…Rebecca Ann Latimer Felton of Georgia is the 1st woman in the U.S. Senate, if only for one day.
1929…The Kingdom of Serbs, Croats and Slovenes changes its name to the Kingdom of Yugoslavia.
1945…Elvis Presley has his first public appearance at the age of 10. He was dressed as a cowboy, stood on a chair and sang "Old Shep" at the Mississippi–Alabama Fair and Dairy Show.
1955…Captain Kangaroo and The Mickey Mouse Club both premier on CBS and ABC, respectively.
1990…At midnight on this day, the flag of West Germany was raised over Brandenburg Gate, signifying the reunification of Germany.