nbc
Hanspostcard has a movie draft challenge. This is my Round Nine pick.
Category: Historical/Biographical/Political
Film: Infamous
Gore Vidal: […on Truman's voice…] "To the lucky person who has never heard it, I can only say…imagine what a brussel sprout would sound like, if a brussel sprout could talk."
Truman Capote: […on Smith & Hickock…] "When you're talking to them, they seem like perfectly nice boys. To be frank, I'm much more concerned for my safety around Norman Mailer."
This is the second movie on Truman Capote regarding his foray into the Clutter Family murders. Released August 31, 2006, at the Venice Film Festival and widely on October 13, 2006, this film stood in the shadow of Philip Seymour Hoffman's Capote and his Academy Award for Best Actor. Unlike its predecessor, this film, with its $13 million budget, lost money. That being said, despite Hoffman's turn, Toby Jones is no slouch and his interpretation has its own unique depth. Jones was awarded the London Critics' Circle Film Award for British Actor of the Year. I found this film to be fascinating and quite entertaining, with parts difficult to watch. Bubbly Sandra Bullock brings forth the subdued, Southern To Kill A Mockingbird novelist Harper Lee. Much of the storytelling is done in mock interviews with the actors, in character, talking about their interactions with Truman. I seem to have a thing for underdog/obscure movies. ~Vic
Written and directed by Douglas McGrath, the movie is based on George Plimpton's book Truman Capote: In Which Various Friends, Enemies, Acquaintances and Detractors Recall His Turbulent Career (1997). Produced by John Wells & Christine Vachon, (a pre-James Bond) Daniel Craig is Perry Smith, Peter Bogdanovich is Bennett Cerf (Random House Publishing Co-Founder), Jeff Daniels is Alvin Dewey (Kansas Bureau of Investigation Special Agent), Hope Davis is Slim Keith (ex-wife of Producer & Director Howard Hawks), Gwyneth Paltrow has a singing cameo as Kitty Dean (a Peggy Lee clone and possible reference to The Royal Family play), Isabella Rossellini is Marella Agnelli (Italian Princess and wife of the Chairman of Fiat Automobiles), Juliet Stevenson is Diana Vreeland (Editor-in-Chief of Vogue), Sigourney Weaver is Babe Paley (wife of CBS founder William Paley), Lee Pace is Richard Hickock, John Benjamin Hickey is Jack Dunphy (Capote's partner) and Michael Panes is Gore Vidal (writer and Democrat party candidate).
"Why shouldn't there be a fizzy, comedic take on the naughty adventures of the Park Avenue gadabout as he fashioned In Cold Blood […]? Why not a movie that concentrates on the contrast between the writer's frivolous party-boy side and the brutal murders in Kansas, the exotic and colorful tropical specimen who becomes a fish-out-of water when he jumps from his luxurious high-rise swan pond into the Midwestern plains?

[A]fter In Cold Blood, [Capote] never published another major work. Out of career desperation as much as anything else, he sold out his friendships with these […] people, publishing gossipy stories about them in an Esquire excerpt from Answered Prayers in 1976 and was banished from their lives.

[T]he movie centers on the symbiotic relationship between Truman and Perry, pondering the extent of the seduction and, who seduced whom.

Toby Jones inhabits Truman as if he were to the character born, a livelier and more perversely ebullient man than Phillip Seymour Hoffman's version in Capote (2005)."

Truman On The Rocks
Roger Ebert
October 12, 2006
Trivia Bits:
♦ Mark Walberg was to play Perry Smith, originally but, dropped out. Mark Ruffalo was next but, dropped out, as well.
♦ Sigourney Weaver portrays the wife of a CBS Executive and is the daughter of NBC Executive Pat Weaver.
♦ Michelle Pfeiffer was to play Slim Keith, originally.
Additional Reading:
The Story Behind A Non-Fiction Novel (George Plimpton/New York Times Archive/1997)
Warner Brothers Trailer
Forty years ago, today, the very first American Movie Awards was televised on NBC. Filmed at the Wilshire Theatre, the ceremony honored film, actors, directors, screenwriters, music, favorites and a special recognition. Co-hosts were David Frost (also Executive Producer) and Dudley Moore with Angie Dickinson as Co-Hostess. Susan Anton was a performer. Judging by what few images I could find, the trophy was designed to resemble the Empire State Building.
Presenters were:
Peter Falk, Anthony Franciosa, William Holden, Christopher Lee, Jack Lemmon, Rita Moreno, Ricky Schroder, Suzanne Somers, Donna Summer and Donald Sutherland.
Winners:
♦ Best Film: Rocky II
♦ Best Actor: Alan Alda (The Seduction of Joe Tynan)
♦ Best Actress: Sally Field (Norma Rae)
♦ Best Supporting Actor: Robert Duvall (Apocalypse Now)
♦ Best Supporting Actress: Meryl Streep (The Deer Hunter)
♦ Best Director: Michael Cimino (The Deer Hunter)
♦ Best Screenplay: The China Syndrome
♦ Best Original Song: Every Which Way But Loose (Every Which Way But Loose)
♦ Favorite Film Star-Female: Jane Fonda
♦ Favorite Film Star-Male: Burt Reynolds
♦ Special Marquee: Clint Eastwood (Distinguished and Continuing Career)
There was another ceremony in March 1982 at a different location and a relaunch in 2013 with ceremonies in 2014, 2015, 2016, 2017 and 2018 focusing mainly on Independent Film. I doubt there will be anymore ceremonies as the website was taken down last year. There are no videos of the event on YouTube, either.
Forty-five years ago, today, the Hallmark Hall of Fame television movie All Creatures Great and Small aired on NBC. Based on two novels by James Alfred Wight (pen name James Herriot), If Only They Could Talk (1970) and It Shouldn't Happen To A Vet (1972), it was the first of a series of films and TV series based on his work. Directed by Claude Whatham and produced by David Susskind, it starred Simon Ward (as James Herriot), Anthony Hopkins, Lisa Harrow, Brian Stirner and Freddie Jones.
From Wikipedia
It is 1937 and newly qualified vet James Herriot travels to Yorkshire to apply for the post of assistant in Siegfried Farnon's practice. He soon learns the facts of country life but, struggles to overcome the prejudices of the Darrowby locals who are skeptical of the novice vet's ability. In between cases, Herriot courts pretty farmer's daughter Helen Alderson and finally marries her.
From Turner Classic Movies:
A gentle, episodic account of author Herriot's apprenticeship in the mid-1930s to an eccentric rural English veterinarian and his awkward courtship of a farmer's daughter.
From IMDB:
The story of a young veterinarian's apprenticeship to a somewhat eccentric, older vet in the English countryside and the young man's hesitating courtship of the daughter of a local farmer.
Filming began May 1974 in Malton, North Yorkshire with studio work in London. The film wasn't released in the UK until May 9, 1975, opening in London at Studio Two on Oxford Street.
Trivia Bits:
♦ Although born in Sunderland, England, James Herriot spent the first twenty-three years of his life in Glasgow, Scotland and never lost the accent, as can be heard in television interviews. Simon Ward however, plays him as a Londoner.
♦ Known to the cast and crew as "All Creatures Grunt and Smell".
Forty years ago, today, Part I of the mini-series Beggarman, Thief aired on NBC. Based on the novel of the same name by Irwin Shaw, it was the sequel to the novel and mini-series Rich Man, Poor Man that aired from February through March 1976 on ABC. An additional sequel, Rich Man, Poor Man Book II aired from September 1976 to March 1977, also on ABC but, was not based on the actual sequel novel.
Directed by Lawrence Doheny, it starred (in credit order) Jean Simmons, Glenn Ford, Lynn Redgrave, Tovah Feldshuh and Andrew Stevens.
From IMDB:
This sequel to "Rich Man, Poor Man" is set in the '60s and focuses on wannabe Hollywood filmmaker Gretchen, black-sheep Army officer Billy and, Billy's cousin Wesley, who's tracking his father's killer in France.
From TCM:
The two-part, four-hour sequel to Irwin Shaw's "Rich Man, Poor Man" and the vastly successful mini-series made from it (and the subsequent, less-successful short-lived series, "Rich Man, Poor Man Book II," during the 1976-77 season). Moviemaker Gretchen Jordache, the sister not seen in either of the predecessors, strives to pull the family together after the murder of brother Tom (in the mini-series) and the disappearance of brother Rudy (in the later series), by first re-establishing contact with her soldier son and, then, patching things up with her sister-in-law, Kate, Tom's widow.
Casey Kasem's Network Promo Advertisement

Casey Kasem's Intro to Part II

Thirty years ago, today, Part I of the mini-series Cross of Fire aired on NBC. Based on the kidnapping, rape and murder of Madge Oberholtzer, it starred John Heard, Mel Harris, David Morse, George Dzundza and Lloyd Bridges. Directed by Paul Wendkos and written by Robert Crais, it was filmed in Kansas, though the historical events occurred in Indiana.
John Heard plays the part of D. C. Stephenson, the Grand Dragon of the Indiana Branch of KKK.
The two-part TV movie Cross of Fire is set in the 1920s, when the Ku Klux Klan was at the height of its political power in Indiana. Part One, originally telecast November 5, 1989, details the resurgence of the Klan (which had been created during the Reconstruction era) under the leadership of David "Steve" Stephenson […]. Cloaking himself in the twin veils of patriotism and morality, Stephenson rails against such "deviates" as blacks, Jews and Catholics, gaining political clout and financial kickbacks as his "invisible empire" grows. Part Two […], telecast November 6, traces the fall of Stephenson…not because his followers have wised up but, because of a 1925 rape and murder charge.

[From Allmovie]
Madge Oberholtzer's Dying Declaration [Warning: graphic descriptions]
Stephenson's Murder Conviction
Aftermath and Fallout
♠ The scandal reached the governor. He was indicted and tried but, the conclusion was a hung jury. He wasn't retried due to the statute of limitations but, left office disgraced with his political career destroyed.
Forty years ago, today, the television film The Flame Is Love aired on NBC. Based on the Barbara Cartland novel of the same name, it starred Linda Purl, Shane Briant, Timothy Dalton, Richard Johnson and Joan Greenwood. Directed and co-produced by Michael O'Herlihy, it was written by Hindi Brooks (teleplay) and filmed in Ireland.
Synopsis from The Movie Database:
This sudsy made-for-TV melodrama is based on a Barbara Cartland novel and follows the romantic exploits of an American heiress who sets sail for exciting Paris at the turn-of-the-century. She is traveling there to meet her fiance but, ends up falling in love with a French journalist.
Synopsis from the actual novel:
Reluctant to accept her arranged marriage to an English Duke she has never met, beautiful, young, American oil heiress, Emmeline Nevada Holtz, nicknamed "Vada" after the state, travels to Paris to buy her trousseau before meeting her husband-to-be. When her travelling companion, Nancy Sparling, has an accident and hurts her leg, Vada assumes her name to avoid unwelcome attention. [She] travels on with just her elderly maid, determined to make the most of her last chance to explore Bohemian Paris and, the wonders of the city that she had heard and read so much about. At her hotel she finds a handsome intruder in her suite, not a thief as she at first thinks but, a journalist looking to interview the famous heiress Emmeline. Smitten by this charismatic Frenchman and his talk of poetry, Vada finds herself agreeing to go with him to the Soleil d'Or, wellspring of the Symbolist movement. Soon, they are deeply and uncontrollably in love, a love that is surely doomed by her deception, her betrothal to the Duke and, now, a terrifying ordeal at a Satanist Black Mass on the dark side of the City of Light.
Timothy Dalton's character Marquis de Guaita is based on Stanislas de Guaita, the founder of Kabbalistic Order of the Rose-Cross (Rosicrucians).
The Complete Movie

I'm trying something different. We'll see how it goes. ~Vic
Sixty-five years ago, today, the sitcom Dear Phoebe debuted on NBC. Created by Alex Gottlieb, it starred Peter Lawford, Marcia Henderson, Charles Lane and Joe Corey. The first episode to air, Bill Gets a Job, included a young Chuck Connors and The Christmas Show episode included Jesse White (Maytag Man). The show's theme music was composed by George & Ira Gershwin.
From IMDB:
Bill Hastings works for a daily newspaper in a large city. His duties include a lonely hearts column, where he advises everyone on their problems, as "Phoebe", while trying to deal with his own.
From Wikipedia:
Lawford stars as Bill Hastings, a former college professor who becomes the writer of the advice-to-the-lovelorn column at the fictitious Los Angeles Daily Star. Hastings writes under the pseudonym "Miss Phoebe Goodheart". Marcia Henderson portrayed Mickey Riley, the female sportswriter at the newspaper and Hastings's own romantic interest. Charles Lane, who later portrayed J. Homer Bedloe in the CBS series Petticoat Junction, played newspaper boss Mr. Fosdick. Joe Corey played Humphrey Humpsteader, a copy boy trying to become a reporter.
Trivia Bits:
♦ Peter Lawford's wife, Patricia Kennedy Lawford (sister of John F. Kennedy), made a cameo appearance in one episode.
♦ This series was sponsored by Campbell Soup Company in its original prime time run.
The Christmas Show

Sixty-five years ago, today, the CBS TV variety series Stage Show debuted. It was produced by Jackie Gleason Enterprises and hosted by Tommy and Jimmy Dorsey. Starting out as an hour-long, summertime replacement for The Jackie Gleason Show, it was returned in the Fall of 1955.
This is the show that introduced the world to Elvis Presley.
Dave Marsh, in his insightful musical biography Elvis, writes about the moment Elvis Presley burst upon the American scene via The Dorsey Brothers Stage Show on January 28, 1956. "In his first appearance on the Dorsey Brothers' TV show, the young singer rocked the world". Marsh described Elvis' startling rendition of Heartbreak Hotel and concluded, "He owned the song and he owned the crowd".

March 17, 1956
Photo Credit: elvispresleymusic.com.au

After 17 months of personal appearances all over the south […], Elvis […] made his first appearance […]. Those shows were broadcast, live, from the CBS Studios in New York City. Young Elvis The Pelvis' first appearance […] was followed by 5 others throughout the next 2 months until the 24 of March, 1956.

[Source]
Introduced by Bill Randle, Elvis' January stage set was Shake, Rattle & Roll, Flip, Flop & Fly and, I Got A Woman.
Bobby Darin also made his television debut on this show in March of 1956 singing Rock Island Line. The June Taylor Dancers were regular guests & performers and, Jack Carter became the permanent host in the show's final season. Up against the The Perry Como Show on NBC, ratings began to decline. The final show was aired September 18, 1956, two months before the death of Tommy Dorsey. Jimmy passed in June of the following year.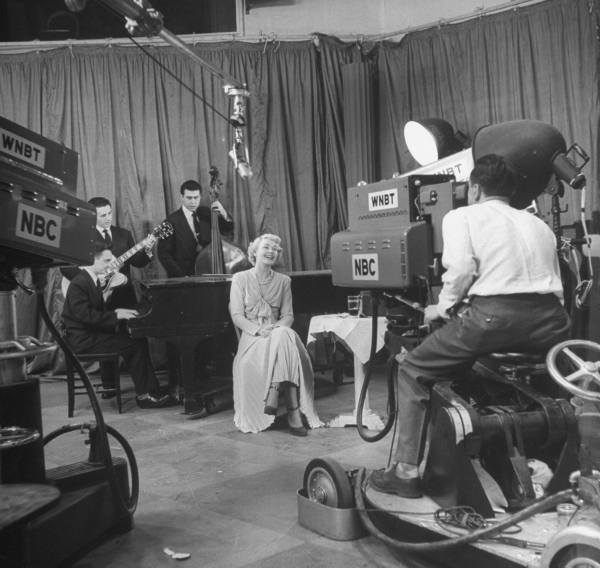 Seventy-three years, ago, today, the long forgotten variety show Hour Glass debuted on NBC. It was the first hour-long musical/skit/comedy in television history. Co-hosts were Helen Parrish and Eddie Mayehoff. Edgar Bergen appeared on November 14 performing his ventriloquism, a rare thing for radio personalities. He later became host of the program.
From Wikipedia
Hour Glass was sponsored by Standard Brands, promoting Chase and Sanborn Coffee and, Tenderleaf Tea. The program included comedians, musicians, entertaining films (such as a film of dance in South America) and a long, live commercial for the sponsor's products. Such famous names as Doodles Weaver, Bert Lahr, Dennis Day, Jerry Colonna, Peggy Lee and Joe Besser appeared on the program.

The Columbia History of American Television attributed the program's short life to its cost, saying, "Standard Brands invested $200,000 in this series over its ten-month tenure at a time when that level of investment just couldn't be supported and sustained, leading to the Hour Glass's abbreviated run." Another factor was that James Petrillo, president of the American Federation of Musicians, forbade musicians from performing on television without an agreement between the AFM and the networks, thus, limiting directors, and performers, to use of recorded music.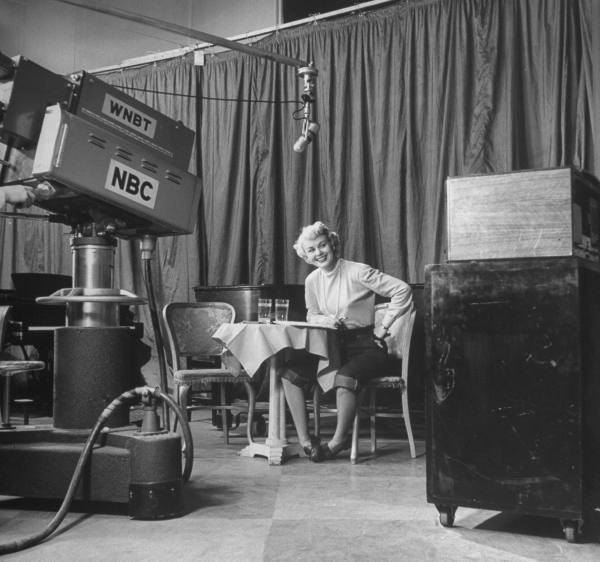 From the Television Academy Foundation:
It is historically important, however, in that it exemplified the issues faced by networks, sponsors and advertising agencies in television's formative years. The program was produced by the J. Walter Thompson agency […]. The lines of responsibility were not completely defined in those early years and the nine-month run of Hour Glass was punctuated by frequent squabbling among the principals. Each show was assembled by seven Thompson employees working in two teams, each putting together a show over two weeks in a frenzy of production. It must have been the curiosity factor that prompted some stars to appear on the show because they certainly were not paid much money. Hour Glass had a talent budget of only $350 a week, hardly more than scale for a handful of performers. Still, Standard Brands put an estimated $200,000 into the program's nine-month run, by far the largest amount ever devoted to a sponsored show at that time. In February 1947, Standard Brands canceled Hour Glass. They were pleased with the show's performance in terms of beverage sales and its overall quality, yet, were leery about continuing to pour money into a program that did not reach a large number of households (it is unclear if the show was broadcast anywhere other than NBC's interconnected stations in New York and Philadelphia). The strain between NBC and Thompson played a role as well. Still, Hour Glass did provide Thompson with a valuable blueprint for the agency's celebrated and long-running production, Kraft Television Theatre.
More information from Eyes of a Generation
Fifty-four years ago, today, the First March of the Selma to Montgomery marches took place. The planned marches were a response to the murder of Jimmie Lee Jackson by Alabama State Trooper James Fowler. Fowler shot Jackson on February 18, 1965, during a clash between, approximately, 500 protestors walking to Perry County Jail for James Orange and, Marion police officers, sheriff's deputies and the state troopers. Jackson died from his injuries on February 26. Other casualties that night were two UPI photographers and NBC News correspondent Richard Valereani.
The death of Jackson motivated James Bevel "to initiate and organize the first Selma to Montgomery march to present a way for the citizens of Marion and Selma to direct the anger over Jackson's death into a positive outcome." Amelia Boynton assisted with the planning.
As the demonstrators crossed the Edmund Pettus Bridge, state, and county police, stopped the march and beat the protesters. Boynton was knocked unconscious and the photograph of her wounded body got the entire world's attention.
The second march took place on March 9, referred to as Turnaround Tuesday. Though the march was peaceful due to a court order declaring no police interference, James Reeb was murdered that evening.
The third march to Montgomery spanned March 21 through March 24. By Thursday, March 25, the movement had reached the State Capitol Building. The murder of Viola Liuzzo was the final end to the violence and the 18 day struggle. Her murder, however, uncovered an FBI Informant, exposing J. Edgar Hoover's illegal activities.
The Voting Rights Act of 1965 was signed into law on August 6, 1965 and, the march route, the Selma To Montgomery Voting Rights Trail, is a designated National Historic Trail.