1946
The structure known today as the Colonial Inn was built on Lot 15 in 1838 as a hotel and was locally called Spencer's Tavern […] but, was advertised as the Orange Hotel (a name which lasted into the 1880s). The structure was built for Isaac (Isaiah) Spencer (from Hyde County) who had purchased the property in late 1837. In 1841, Richardson Nichols purchased the property from Spencer and expanded the main structure. In 1856, Nichols sold the structure to the "Hillsborough Improvement Company" which consisted of Alfred, Henry and Cave Stroud.

Stroud family history has it that Henry's wife (Sarah) saved the Inn from looting by Union troops by displaying her husband's Masonic apron. Upon seeing the apron, a sympathetic Union officer, [whom] was a fellow Mason, protected the site from destruction.
William F. Strayhorn may have purchased or, at least, managed the business beginning in 1868 and, the property was purchased by local businessmen Henry N. Brown and Charles M. Latimer (who was also the county treasurer) in 1870. Brown and Latimer apparently lost the property through bankruptcy in 1872, with Strayhorn managing or operating the hotel until at least then. Perhaps related is that Strayhorn had been living in Twin Chimneys across the street from the hotel but, lost it due to financial problems in January 1869. [It] was purchased by David C. Parks in December 1872. In 1885, Parks sold the property to neighboring property owner Emily Pogue, who sold it back to Parks in 1888. [At] this time, it became known as the Occoneechee Hotel.
In 1908, Thomas A. Corbin purchased the property and renamed the complex the Corbinton Inn. In 1921, W. L. Foushee […] purchased the property from a H. L. Akers and by 1924, renamed the hotel the Colonial Inn. In 1946, Paul Henderson purchased the property from Foushee […].
During Henderson's ownership, a "fine-dining" restaurant was added within the hotel structure. In December 1952, Charles and Ann Crawford purchased the property and business and, expanded the structure. They operated the business successfully until they, in turn, sold it to James and Maxine Freeland in 1969. The Freelands also expanded the structure and, continued the hotel and restaurant business at the location.

It fell into disrepair for many years. When I moved to this town in 2011, it looked bad.
The good news is, new owners are re-building. ~Vic
Additional Information:
The Colonial Inn Hillsborough (Facebook)
Old Town Cemetery (Hillsborough Government Site PDF)
Colonial Inn (Open Orange)
The Colonial Inn 1838-1969 (Rootsweb)
The Colonial Inn: It's History & Significance (World Now PDF)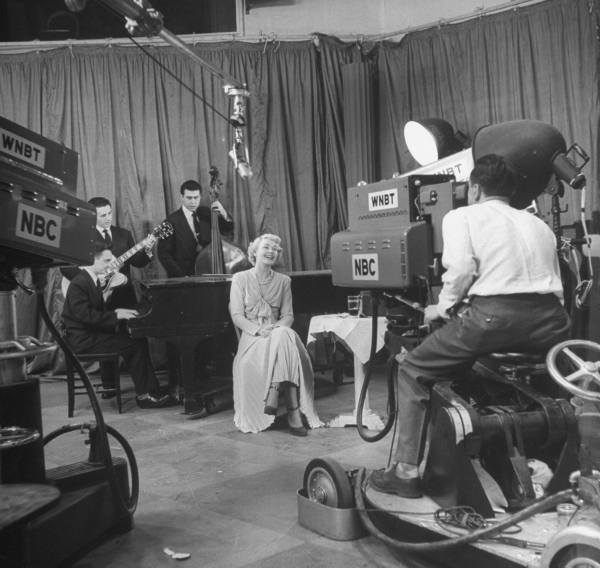 Seventy-three years, ago, today, the long forgotten variety show Hour Glass debuted on NBC. It was the first hour-long musical/skit/comedy in television history. Co-hosts were Helen Parrish and Eddie Mayehoff. Edgar Bergen appeared on November 14 performing his ventriloquism, a rare thing for radio personalities. He later became host of the program.
From Wikipedia
Hour Glass was sponsored by Standard Brands, promoting Chase and Sanborn Coffee and, Tenderleaf Tea. The program included comedians, musicians, entertaining films (such as a film of dance in South America) and a long, live commercial for the sponsor's products. Such famous names as Doodles Weaver, Bert Lahr, Dennis Day, Jerry Colonna, Peggy Lee and Joe Besser appeared on the program.

The Columbia History of American Television attributed the program's short life to its cost, saying, "Standard Brands invested $200,000 in this series over its ten-month tenure at a time when that level of investment just couldn't be supported and sustained, leading to the Hour Glass's abbreviated run." Another factor was that James Petrillo, president of the American Federation of Musicians, forbade musicians from performing on television without an agreement between the AFM and the networks, thus, limiting directors, and performers, to use of recorded music.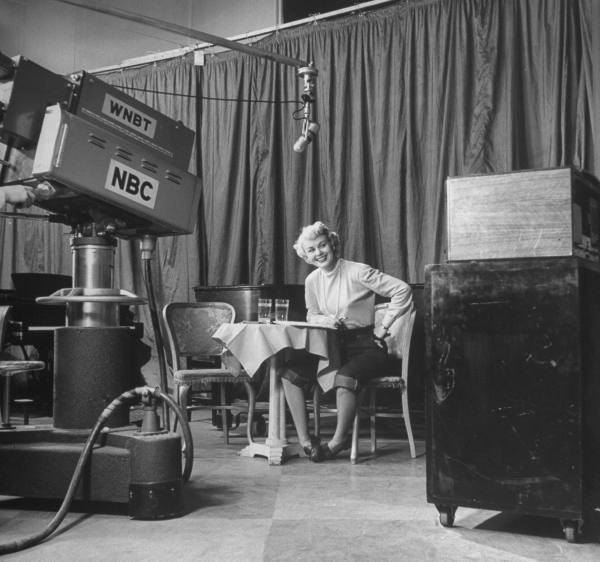 From the Television Academy Foundation:
It is historically important, however, in that it exemplified the issues faced by networks, sponsors and advertising agencies in television's formative years. The program was produced by the J. Walter Thompson agency […]. The lines of responsibility were not completely defined in those early years and the nine-month run of Hour Glass was punctuated by frequent squabbling among the principals. Each show was assembled by seven Thompson employees working in two teams, each putting together a show over two weeks in a frenzy of production. It must have been the curiosity factor that prompted some stars to appear on the show because they certainly were not paid much money. Hour Glass had a talent budget of only $350 a week, hardly more than scale for a handful of performers. Still, Standard Brands put an estimated $200,000 into the program's nine-month run, by far the largest amount ever devoted to a sponsored show at that time. In February 1947, Standard Brands canceled Hour Glass. They were pleased with the show's performance in terms of beverage sales and its overall quality, yet, were leery about continuing to pour money into a program that did not reach a large number of households (it is unclear if the show was broadcast anywhere other than NBC's interconnected stations in New York and Philadelphia). The strain between NBC and Thompson played a role as well. Still, Hour Glass did provide Thompson with a valuable blueprint for the agency's celebrated and long-running production, Kraft Television Theatre.
More information from Eyes of a Generation
Seventy years ago, today, the #1 film at the box office was A Letter to Three Wives, starring Jeanne Crain, Linda Darnell, Ann Sothern, Kirk Douglas, Paul Douglas and Jeffrey Lynn. Celeste Holm provided the uncredited voice of Addie Ross. Directed by Joseph L Mankiewicz, the movie was adapted by Vera Caspary from a 1945 John Klempner Cosmopolitan magazine novel titled A Letter to Five Wives. Mankiewicz also wrote the screenplay.
Just as they are leaving with a group of orphans for a Hudson River outing, three suburban housewives receive a note from Addie Ross, a friend against whom each woman measures herself. Addie claims to have run off with one of the women's husbands. As they try to get through the day, each thinks back on her marriage, considering the likely reason her husband would have run off with the other woman. Deborah (Jeanne Crain) remembers the disappointment her husband felt when he discovered the chic WAVE he fell for during World War II was a simple farm girl who could barely keep up with the educated Addie. Radio writer Rita (Ann Sothern) thinks her career as a radio writer has led her to neglect her husband (Kirk Douglas), who may have been drawn to the more attentive Addie. Social climber Lora Mae (Linda Darnell) recalls how she trapped department store magnate Porter Hollingsway (Paul Douglas) into marrying her when he had hoped to wed the more socially upright Addie. As the day finally ends, each returns home to prepare for the opening of the social season, the big country club dinner at which one of their husbands will not be present.
Trivia Bits:
♦ The identity of the actress Celeste Holm who did the voice-over for Addie Ross was kept secret when the film was released. The studio held a number of "Who is Addie?" contests around the country where moviegoers could guess the actress' name.
♦ General Douglas MacArthur was so confused by the ending that he had his aide write Joseph L. Mankiewicz a letter asking with whom Addie had, in fact, run off.
♦ The film actually went into production in 1946 as "A Letter to Five Wives" from a script by Melville Baker and Dorothy Bennett. Gene Tierney, Linda Darnell, Maureen O'Hara, Dorothy McGuire and Alice Faye were all earmarked to play the wives but, this version was quickly shelved until Joseph L. Mankiewicz retooled it in 1948.
♦ Both Joan Crawford and Ida Lupino were considered for Addie's off-screen voice before Celeste Holm was cast. When Mankiewicz offered Holm a role that would never be seen in the film, she quipped, "Oh my, that's wonderful. My wooden leg won't have to show." (Holm, quoted in Geist). She consented when he told her Crawford was after the role.
♦ When Ann Sothern's look of joyful surprise on finding her husband hadn't run off with Addie wasn't strong enough, Mankiewicz had Kirk Douglas jump up from behind the set's sofa (out of camera range) in only his underwear.
Awards
♥ Best Director & Best Writing/Screenplay (Joseph L. Mankiewicz/1950 Academy Awards)
♥ Best Written American Comedy (Joseph L. Mankiewicz & Vera Caspary/1950 Writers Guild of America (WGA) Award)
♥ Outstanding Directorial Achievement in Motion Pictures (Joseph L. Mankiewicz & Gaston Glass/1949 Directors Guild of America (DGA) Award)
♥ Top Ten Films (1949 National Board of Review (NBR) Award)
Nomination
♢ Best Picture (Sol C. Siegel/1950 Academy Awards)