philadelphia
From Wikipedia:
The Battle of Alamance was the final battle of the War of the Regulation, a rebellion in colonial North Carolina over issues of taxation and local control. Some historians in the late nineteenth-early twentieth centuries considered the battle to be the opening salvo of the American Revolution and locals agreed with this assessment. Named for nearby Great Alamance Creek, the battle took place in what was, then, Orange County and has since become Alamance County in the central Piedmont about 6 miles (9.7 km) south of present-day Burlington, North Carolina.
From North Carolina History:
On a field in [the] Piedmont [of] North Carolina, Regulators clashed with North Carolina militia on May 16, 1771. Many probably had predicted the day when public disagreements, political protests and riots would one day escalate into an armed conflict. For a couple decades, tensions had been mounting. Piedmont farmers believed that they were being overtaxed and had been paying excessive fees to local sheriffs, and the colonial government. Piedmont farmers started demanding changes to the law and, publicly humiliating, intimidating and sometimes, flogging officials whom they deemed to be corrupt…Judge Richard Henderson and Sheriff Edmund Fanning are two examples.

After the Johnston [Riot] Act was passed, Rowan Regulators deemed it "riotous," writes historian William Powell and, "swore that they would pay no more taxes." Similar sentiment spread throughout the backcountry, so, in 1771, Governor Tryon flexed his executive muscle and ordered a special court in Hillsborough. Predicting that disgruntled Regulators would protest this action, Tryon sent out militia to the courthouse to quell any rebellious activity or interference with court sessions.

Image Credit: wikipedia.org & J. Steeple Davis

As the militia marched westward, approximately 2,000 Regulators assembled and, converged and met the militiamen camping beside Great Alamance Creek. On May 16, the Regulators relayed to Governor Tryon that they wanted to discuss their differences with government officials. Tryon scoffed at the suggestion and returned a message stating that a prerequisite for such an audience necessitated that the Regulators disarm. The royal governor gave the Regulators one hour to surrender. Their reply: "Fire and be damned." No doubt believing the other side to be condemned to eternal fire, Tryon and the militia answered with cannon fire.

The Battle of Alamance lasted for two hours. The Regulators fired weapons behind trees and large rocks [but] their effort lacked organization. Sometimes when a Regulator would run out of ammunition, he left the field of battle. As to be expected, the militia was more organized in its attack, and maneuvers, and Tryon defeated the Regulators.
From the North Carolina Geneology Project:
The War of the Regulation which culminated in the Battle of Alamance is one of the most controversial events in the history of North Carolina.

A great many of the people of North Carolina in the years just before the American Revolution were restless and dissatisfied with the state of affairs in their province. Their grievances were serious and affected their daily lives. Royal governors sent from outside the province were not able to maintain peace and quiet but, instead, frequently gave the people further cause for discontent. The outstanding group opposing the ruling class represented by the governor and his friends were known as Regulators.

It was a movement based upon the social and economic differences between the tidewater section and the back country of North Carolina. In the East, the people were almost entirely of English descent. It was here that an aristocratic form of society prevailed, based upon large plantations and slave labor. This area had taken on many of the forms and luxuries of older societies. The people looked to Virginia, and the mother country, for its social, intellectual and political standards. In the West, Scotch-Irish and German ancestries were predominant. Here, plantations were small and slaves were few in number. For the most part, the West was still in the pioneer stage. The forms and ideals of society were democratic. Philadelphia was the principal center for the interchange of ideas, as well as of produce. With slight intercourse between them, the two sections felt but little sympathetic interest in each other.
From Rainbow Rob's Blog:
[…] North Carolina's Governor Tryon built himself a mansion of grandiose proportions from those unfair taxes levied on struggling farmers. At this point emerged the Regulators. A group formed to protest these abuses, initially to print petitions, distribute pamphlets, advertise their demands for fair hearing and tax.

What started as a war of words swiftly moved to confrontation in the North Carolina courthouse of Hillsborough when a mob took over the building and removed the judge. Governor Tryon immediately passed a law making membership in the Regulators an act of treason.

One man from the Regulators, attempting to negotiate peace, crossed to Tryon who took a gun from one of his militiamen and shot the man dead. An order to 'Fire and be damned' was given and the Battle of Alamance ensued. The Regulators, though not outnumbered, were without sufficient arms and ammunition and, the outcome was swift. Governor Tryon took 13 prisoners and six were later executed in nearby Hillsborough.
Additional Reading
North Carolina Historic Sites: Alamance Battleground
Alamance Battleground
[Historical records of the casualties are disputed. The numbers of dead range from nine to 27 and the wounded range from 61 to 300. Historians of the time claim that this was, indeed, the beginning of the American Revolution. Modern historians disagree with this.
Alamance is my home county. ~Vic]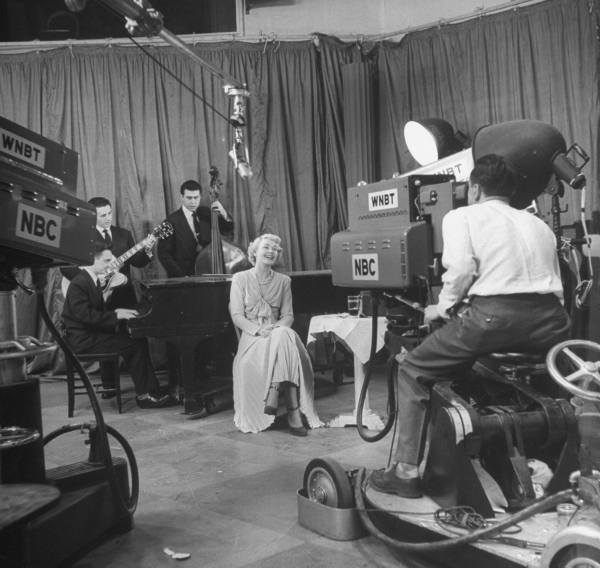 Seventy-three years, ago, today, the long forgotten variety show Hour Glass debuted on NBC. It was the first hour-long musical/skit/comedy in television history. Co-hosts were Helen Parrish and Eddie Mayehoff. Edgar Bergen appeared on November 14 performing his ventriloquism, a rare thing for radio personalities. He later became host of the program.
From Wikipedia
Hour Glass was sponsored by Standard Brands, promoting Chase and Sanborn Coffee and, Tenderleaf Tea. The program included comedians, musicians, entertaining films (such as a film of dance in South America) and a long, live commercial for the sponsor's products. Such famous names as Doodles Weaver, Bert Lahr, Dennis Day, Jerry Colonna, Peggy Lee and Joe Besser appeared on the program.

The Columbia History of American Television attributed the program's short life to its cost, saying, "Standard Brands invested $200,000 in this series over its ten-month tenure at a time when that level of investment just couldn't be supported and sustained, leading to the Hour Glass's abbreviated run." Another factor was that James Petrillo, president of the American Federation of Musicians, forbade musicians from performing on television without an agreement between the AFM and the networks, thus, limiting directors, and performers, to use of recorded music.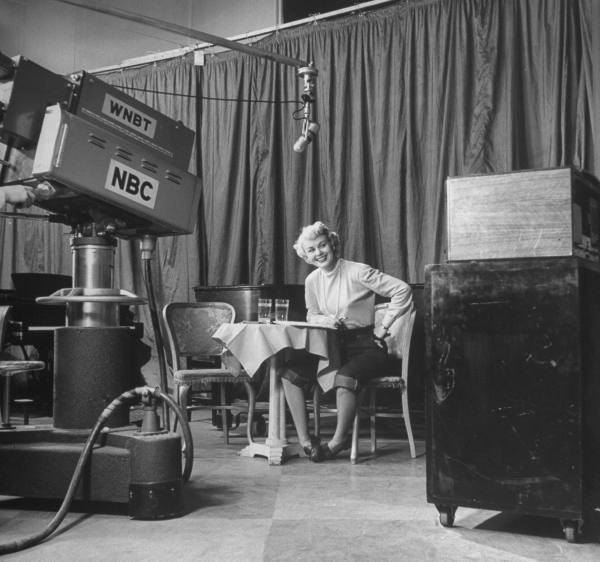 From the Television Academy Foundation:
It is historically important, however, in that it exemplified the issues faced by networks, sponsors and advertising agencies in television's formative years. The program was produced by the J. Walter Thompson agency […]. The lines of responsibility were not completely defined in those early years and the nine-month run of Hour Glass was punctuated by frequent squabbling among the principals. Each show was assembled by seven Thompson employees working in two teams, each putting together a show over two weeks in a frenzy of production. It must have been the curiosity factor that prompted some stars to appear on the show because they certainly were not paid much money. Hour Glass had a talent budget of only $350 a week, hardly more than scale for a handful of performers. Still, Standard Brands put an estimated $200,000 into the program's nine-month run, by far the largest amount ever devoted to a sponsored show at that time. In February 1947, Standard Brands canceled Hour Glass. They were pleased with the show's performance in terms of beverage sales and its overall quality, yet, were leery about continuing to pour money into a program that did not reach a large number of households (it is unclear if the show was broadcast anywhere other than NBC's interconnected stations in New York and Philadelphia). The strain between NBC and Thompson played a role as well. Still, Hour Glass did provide Thompson with a valuable blueprint for the agency's celebrated and long-running production, Kraft Television Theatre.
More information from Eyes of a Generation
July 20 has three celebrations. The most notable of the three is National Moon Day, commemorating Apollo 11 and the 1969 moon walk. Everyone knows about that one.
But, today is also National Pennsylvania Day, a recognition of the second state to join the Union. Known as the 'Keystone State', Pennsylvania also served as a temporary Capitol for the U.S….Philadelphia, the site of the signing of The Declaration of Independence and The U.S. Constitution. It is the home of the Original Philly Cheesesteak, the Original Banana Split, Hershey's Chocolate, Marshmallow Peeps and Twizzlers. It is also the home of the largest concentration of U.S. 'Pennsylvania Dutch' Amish.
Notable Pennsylvanians:
Daniel Boone – Frontiersman (November 2, 1734 – September 26, 1820)
Elizabeth Griscom 'Betsy' Ross – Flag Maker (January 1, 1752 – January 30, 1836)
James Buchanan – 15th U.S. President (April 23, 1791 – March 4, 1861)
Louisa May Alcott – Author (November 29, 1832 – March 6, 1888)
Elizabeth Cochrane Seaman [Nellie Bly] – Journalist (May 4, 1864 – January 27, 1922) [NOTE: Wikipedia reflects May 5]
Lee Iacocca – Auto Executive [Ford & Chrysler] (October 15, 1924)
Arnold Palmer – Golfer (September 10, 1929 – September 25, 2016)
Reginald Reggie Jackson – Baseball Player (May 18, 1946)
Gee. After all that, I think I need to visit!
Also celebrated today:
National Lollipop Day
Cheers and enjoy!