tony randall
Sixty years ago, today, the 17th annual Golden Globe Awards ceremony was held and aired on KTTV in Los Angeles (an independent station in 1960). The Globes are given by members of the Hollywood Foreign Press Association, the first gathering in 1944. Recognition is for excellence in film (American and International) and television (American). The 1960 ceremony was honoring work done in 1959.
Held at the Ambassador Hotel Cocoanut Grove nightclub, Co-hosts were Dick Powell, Vincent Price & Tony Randall.
Winners:
♥ Best Drama Film: Ben Hur
♥ Best Comedy Film: Some Like It Hot
♥ Best Musical Film: Porgy & Bess
♥ Best International (Understanding) Film: The Diary of Anne Frank
♥ Best Drama Actor: Anthony Franciosa
♥ Best Drama Actress: Elizabeth Taylor
♥ Best (Comedy/Musical) Actor: Jack Lemmon
♥ Best (Comedy/Musical) Actress: Marilyn Monroe
♥ Best Supporting Actor: Stephen Boyd
♥ Best Supporting Actress: Susan Kohner
♥ Best Director: William Wyler
♥ Best Original Score: Ernest Gold
♥ Cecil B.deMille Award: Bing Crosby
♥ Television Achievement: Edward R. Murrow
♥ Henrietta Awards (World Film Favorite): Doris Day & Rock Hudson
♥ Samuel Goldwyn Award: Room at the Top
♥ Special Award (Silent Film Star): Ramon Novarro
There were 35 presenters, including Fred Astaire, Rod Steiger, Bob Hope, Jayne Mansfield, Ricardo Montalbán, Debbie Reynolds, Mickey Rooney, Joan Fontaine, Eva Gabor & Jean Simmons.
Trivia Bits:
♦ Two and a half years later, on August 4, 1962, Marilyn Monroe was found dead in her Los Angeles home.
♦ On June 5, 1968, Robert F. Kennedy was shot three times inside the Ambassador Hotel and died 26 hours later.
Additional Reading & Sources:
17th Golden Globe Awards (Wiki)
Winners & Nominees (Golden Globes site)
17th Annual Golden Globes (IMDb)
1960 Awards (IMDb)
Marilyn Monroe (Wiki)
Robert F. Kennedy (Wiki)
Video clips are few and rare. ~Vic
No Sound

Sixty years ago, today, the game show Take a Good Look debuted on ABC. Created by Ernie Kovacs, it ran for two seasons with 53 episodes. Designed as a parody of Goodson-Todman panel games, celebrities were to guess the secret of the person brought before them. The clues provided were short video clips or skits and were extremely vague. The people brought on stage were regular folks that had an interesting area of expertise, had experienced extraordinary events in their lives or had been in the news.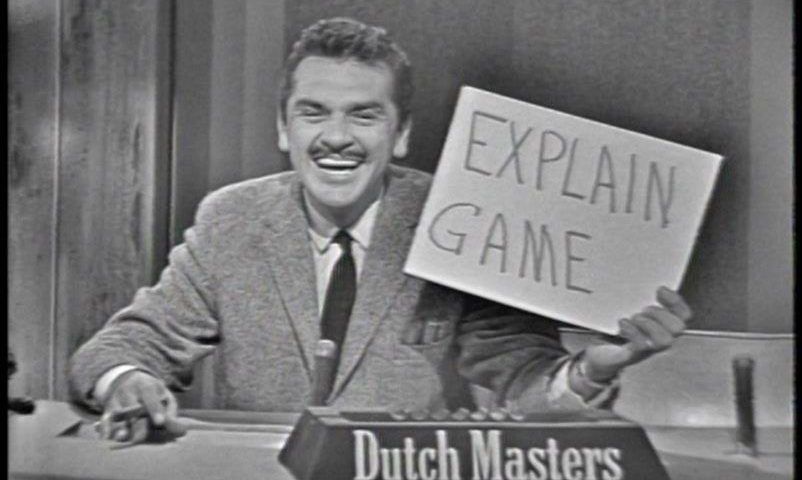 Regular panelists were Edie Adams (Kovacs' wife), Cesar Romero, Hans Conried, Ben Alexander and Carl Reiner (second season). Other panelists to participate were Zsa Zsa Gabor, Jane Wyatt, Mort Sahl, Jack Carson, Tony Randall, Janet Leigh and Jim Backus.
Kovacs was a guest panelist on What's My Line? (10 appearances) and a mystery guest (two appearances). This is probably where the idea for his show came from.