BMI
Ten years ago, today, the #1 movie at the box office was Four Christmases, starring Vince Vaughn, Reese Witherspoon, Robert Duvall, Sissy Spacek, Jon Voight, Jon Favreau, Mary Steenburgen, Dwight Yoakam, Tim McGraw, Kristin Chenoweth and Carol Kane (uncredited). One of the Executive Producers, Peter Billingsley, Ralphie from A Christmas Story, has a credited bit part as an airline ticket agent.
IMDB Summary:
"Brad and Kate have been together three years, in love, having fun and, doing all sorts of things together with no intention of marriage or children. Christmas morning, they're on their way to Fiji, having told their two sets of divorced parents that they're off to do charity work. Through a fluke, they have no choice but to visit each of their four idiosyncratic parents. As the day progresses, Brad and Kate remember growing up, each learns more about the other and, Kate realizes that her life may not be as good as it could be. Do they know each other well enough to weather the storms families bring?"
Interesting Trivia:
♦ Apparently, Vince Vaughn and Reese Witherspoon did not get along.
♦ All four cast members playing the parents are all Oscar winners.
♦ Carol Kane, (who was uncredited as Aunt Sarah), also appeared in Scrooged (1988), another Christmas movie, as the Ghost of Christmas Present (a violent, shrill fairy that hits Bill Murray's character with a toaster).
Award
♡ Film Music (Alex Wurman/2009 Broadcast Music, Inc. (BMI) Film & TV Awards)
Nomination
♢ Favorite Movie Actress (Reese Witherspoon/2009 Kid's Choice/Blimp Awards)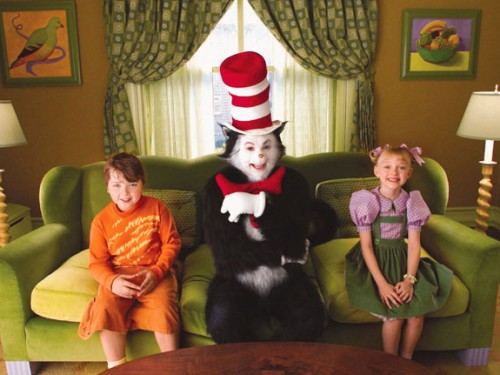 Fifteen years ago, today, the #1 movie at the box office was The Cat In The Hat, starring Mike Myers, Alec Baldwin, Kelly Preston, Dakota Fanning, Spencer Breslin and, Sean Hayes with cameos from Clint Howard and Paris Hilton. Dan Castellaneta did Thing One and Thing Two voice work.
IMDB Summary:
"Conrad and Sally Walden are home alone with their pet fish. It is raining outside and there is nothing to do until The Cat in the Hat walks in the front door. He introduces them to their imagination and, at first, it's all fun and games until things get out of hand and, The Cat must go, go, go, before their parents get back."
Interesting Trivia:
♦ Tim Allen was originally cast as The Cat but, had to drop out due to a scheduling conflict for The Santa Clause II.
♦ There was so much smog during the shoot that the sky had to be digitally replaced.
♦ Audrey Geisel, Dr. Seuss's widow, was appalled by this movie and decided to reject any future adaptations of her late husband's work. She was so furious after she saw the film that she legally forbade Hollywood from making anymore live-action stories (all subsequent films have been animated).
♦ Mike Myers said that the Cat's personality is a composite of director/producer Bruce Paltrow, his Saturday Night Live (1975) character "Linda Richman" and, actor Charles Nelson Reilly.
♦ Peter Travers of Rolling Stone Magazine had a different take:
"I hated How The Grinch Stole Christmas, which was a smash for Jim Carrey. Cat, another over-blown Hollywood raid on Dr. Seuss, has a draw in Mike Myers, who, inexplicably, plays the Cat by mimicking Bert Lahr as the Cowardly Lion in The Wizard of Oz."
Awards:
♡ Film Music (David Newman/2004 Broadcast Music, Inc. (BMI) Film & TV Awards)
♠ Worst Excuse for an Actual Movie (2004/Golden Raspberry (Razzie) Awards)
♠ Worst Film (2004/Dallas-Fort Worth Film Critics Association (DFWFCA) Awards)
♠ Worst Picture (2003/The Stinkers Bad Movie Awards *Site Defunct July 1, 2007*)
♠ Worst Screenplay for a Film Grossing More than $100 Million Using Hollywood Math (Alec Berg, David Mandel & Jeff Schaffer/2003/The Stinkers Bad Movie Awards)
♠ Most Annoying Non-Human Character (2003/The Stinkers Bad Movie Awards)
♠ The Spencer Breslin Award for Worst Performance by a Child (Spencer Breslin/2003/The Stinkers Bad Movie Awards)
♢ 21 Nominations [Not all bad. The kids & teens liked this and, the hair & makeup was noticed by the Guild. The Teen Choice Awards nominated Sean Hayes for Choice Movie Hissy Fit, which I found amusing. ~Vic]
Twenty-five years ago, today, the #1 film at the box office was The Three Musketeers, starring:
☆ Charlie Sheen
☆ Kiefer Sutherland
☆ Chris O'Donnell
☆ Oliver Platt
☆ Tim Curry (The original Pennywise)
☆ Rebecca De Mornay
☆ Gabrielle Anwar
☆ Michael Wincott
☆ Paul McGann (Doctor Who #8)
A summary from IMDB:
"A Disney-ized re-telling of Dumas' classic swashbuckling story of three swordsmen of the disbanded French King's Guard, plus one young man who dreams to become one of them, who seek to save their King from the scheming of the Cardinal Richelieu. Jokes and stunts are the expected fare in this light-hearted and jaunty adventure."
It was, apparently, panned by critics but, clearly, did well for Disney. The first song from the soundtrack, All For Love, had some notable success as well. Written by Bryan Adams, John "Mutt" Lange and Michael Kamen and, sung by Adams, Rod Stewart & Sting, it reached #1 in 1994 on the Billboard Hot 100 chart, the Billboard Mainstream Top 40 chart, the Eurochart Hot 100, the Canadian RPM chart and, 11 other countries.
Awards:
♡ Most Performed Song From A Film (Michael Kamen/1995 Broadcast Music, Inc. (BMI) Film & TV Awards)
♡ Most Performed Songs From Motion Pictures (Bryan Adams, Robert John Lange & Michael Kamen/1995 American Society of Composers, Authors & Publishers (ASCAP) Film & Television Music Awards)
Nominations:
♢ Best Editing ~ Sound Effects (Tim Chau/1994 Motion Picture Sound Editors (MPSE) Golden Reel Award)
♢ Best Movie Song (Bryan Adams, Rod Stewart & Sting/1994 MTV Movie & TV Awards)
♢ Worst Supporting Actor (Chris O'Donnell/1994 Golden Raspberry (Razzie) Awards)
Interesting Trivia Bits from the Disney Movie Database.