missouri
A dog from Olathe, that went missing, showed up at her old home about 60 miles away […].

"Where did the dog come from?" said [Colton Michael's wife].

The 4-year-old Labrador, named Cleo, feels right at home on the front porch. The only thing is, it's not her front porch, anymore and hasn't been for nearly two years. As it turns out, Cleo's owners had posted on Facebook a week earlier about the missing dog. They couldn't believe it when Michael called and said Cleo had walked home. "It's the most bizarre story. Really, she's everything to us and to my mother," said Drew, Cleo's owner. It is 57 miles door-to-door from Olathe to Lawson and neither family knows exactly how Cleo made the trip. "That's a hike for anybody," Michael said. "Now that we know who she belongs to, if she pops up again, we know who to call."

Both said they may never know anything about her journey.

Alan Shope
KMBC-TV
July 16, 2020
A dog named Cleo, who disappeared from her home in Kansas earlier this month, turned up a few days later at her old home in Missouri […]. Colton Michael told television station KMBC that the 4-year-old Labrador [R]etriever-[Border Collie] mix showed up on the front porch of his family's home in Lawson […]. "At first, she wouldn't let anyone get near her," said Michael, who has lived in the home for nearly two years. "She finds her way home and there's some strangers living in it. That would be scary for anybody," he said. Eventually, he was able to gain Cleo's trust and to get her checked for a microchip, which showed that she belonged to the former owners of his house.

AP News
July 18, 2020
It's a tale as old as time for any early '90s child. An adventurous golden retriever worries that they will never see their home again, embarking on a treacherous wilderness journey to find their way back. Believe It or Not!, the plot of Homeward Bound: The Incredible Journey just turned from fiction to fact. [Both] parties are at a loss trying to explain Cleo's long journey. [She] would have had to cross a river to make it back…just like in the movie!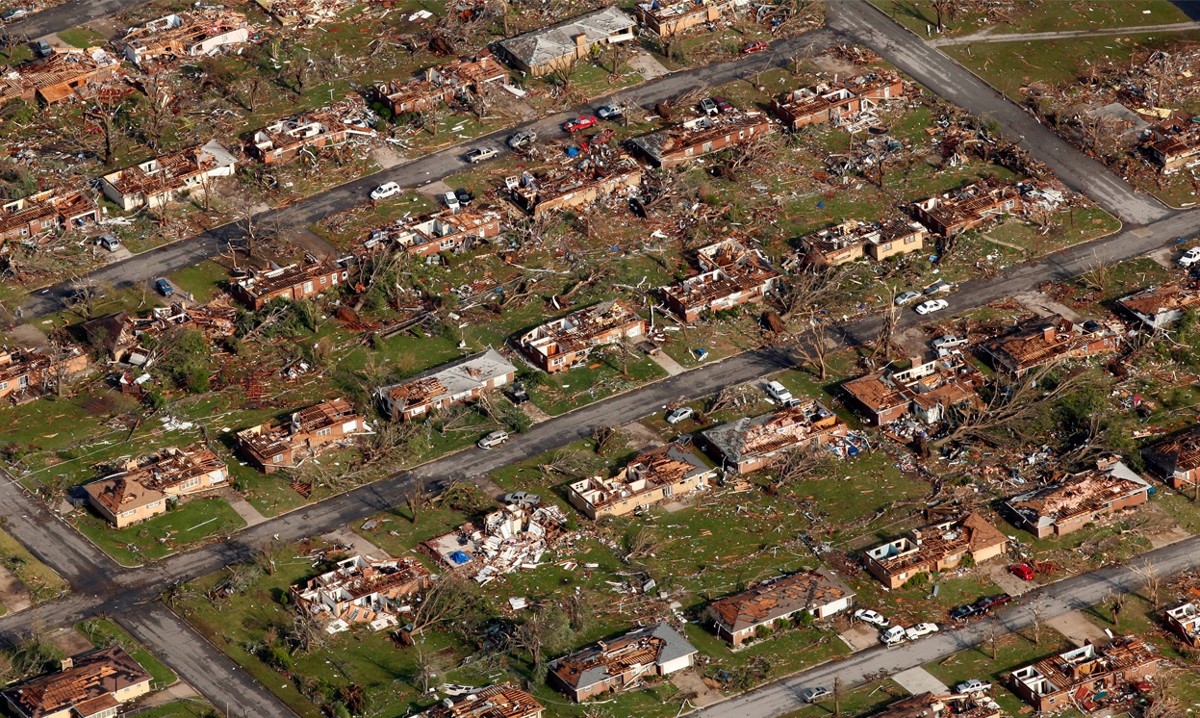 Nine years ago, today, an EF5, multi-vortex tornado slammed into Joplin, Missouri. It formed at 5:34 pm CDT and dissipated at 6:12pm CDT. I remember this one, vividly. I had just moved back to North Carolina from Texas and was, literally, still unpacking. I was shocked at the devastation. ~Vic
[This] was part of a larger, late May tornado outbreak and reached a maximum width of nearly one mile […] during its path through the southern part of the city. This particular tornado was unusual in that it intensified in strength and grew larger in size at a very fast rate. The tornado tracked eastward across the city and, then, continued eastward across Interstate 44 into rural portions of Jasper County and Newton County. It was the third tornado to strike Joplin since May 1971.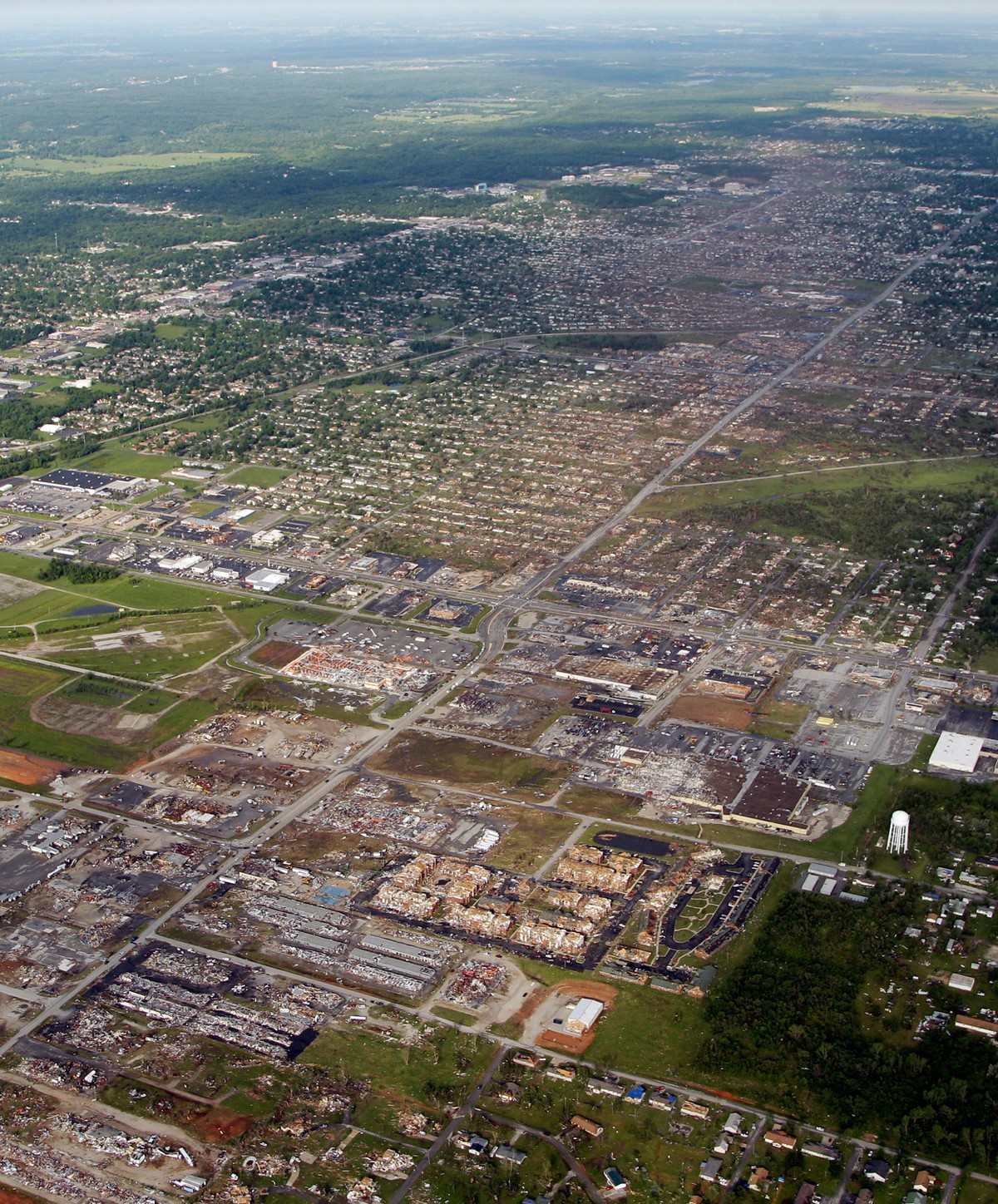 [The] tornado killed 158 people (with an additional eight indirect deaths), injured some 1,150 others and caused damages amounting to a total of $2.8 billion. It was the deadliest tornado to strike the United States since the 1947 Glazier–Higgins–Woodward tornadoes, and the seventh-deadliest overall. Along with the Tri-State Tornado and the 1896 St. Louis–East St. Louis tornado, it ranks as one of Missouri's and America's deadliest tornadoes […]. It was the first F5/EF5 tornado in Missouri since May 20, 1957 [and] was only the second F5/EF5 tornado in Missouri history dating back to 1950.

It also ranks as the costliest single tornado in U.S. history.
Additional Reading & Sources:
May Tornadoes Struck Joplin Twice in the 1970s (Joplin Globe)
Joplin Tornado (National Weather Service)
F5 & EF5 Tornadoes of the US (NOAA)
Tornado Damaged Joplin From Above (The Atlantic)
Joplin Tornado (Tornado Facts Site)
2011 Joplin Tornado (Wikipedia)
Mike Bettes Has A Hard Time

One-hundred, ninety-nine years ago, today, the real Daniel Boone passed away. Two days prior, I posted about the television show Daniel Boone that was hardly accurate in its portrayal or his frame of life despite being a popular show.
From The History Channel:
On September 26, 1820 the great pioneering frontiersman Daniel Boone dies quietly in his sleep at his son's home near present-day Defiance, Missouri.

The indefatigable voyager was 86. Boone was born in 1734 (he has two different dates of birth due to the 1752 Gregorian calendar switch) to Quaker parents living in Berks County, Pennsylvania. Following a squabble with the Pennsylvania Quakers, Boone's family decided to head south and west for less crowded regions and they eventually settled in the Yadkin Valley of North Carolina. There the young Daniel Boone began his life-long love for wilderness, spending long days exploring the still relatively unspoiled forests and mountains of the region. An indifferent student who never learned to write more than a crude sentence or two, Boone's passion was for the outdoors, and he quickly became a superb marksman, hunter and woodsman. (It should be noted here that historian John Mack Faragher stated that Boone "acquired a level of literacy that was the equal of most men of his times. He was often the only literate person in groups of frontiersmen.")

Image Credit: wikipedia.org & wikimedia.org
Alonzo Chappel engraving

In May of 1769, Boone and five companions crossed over the Cumberland Gap and explored along the south fork of the Kentucky River. Boone returned in 1773 with his family, hoping to establish a permanent settlement. An Indian attack prevented that first attempt from succeeding (Boone's eldest son James and, William Russell's son Henry were captured and tortured to death, a prelude to Dunmore's War.) but, Boone returned two years later to open the route that became known as Boone's Trace (or the Wilderness Road) between the Cumberland Gap and a new settlement along the Kentucky River called Fortress Boonesboro. Boonesboro eventually became one of the most important gateways for the early American settlement of the Trans-Appalachian West.
From Wikipedia:
After the French and Indian War (1754–1763) broke out between the French and British, and their respective Indian allies, North Carolina Governor Matthew Rowan called up a militia, for which Boone volunteered. He served under Captain Hugh Waddell on the North Carolina frontier. Waddell's unit was assigned to serve in the command of General Edward Braddock […].

Boone served in the North Carolina militia during [the] "Cherokee Uprising". His militia expeditions went deep into Cherokee territory beyond the Blue Ridge Mountains and he was separated from his wife for about two years.

On December 22, 1769, Boone and a fellow hunter, Benjamin Cutbirth, were captured by a party of Shawnees, who confiscated all of their skins and told them to leave and never return.

Image Credit: wikipedia.org & wikimedia.org
Charles Wimar 1853

[During the Revolutionary War], Boone's daughter Jemima and two other teenaged girls were captured outside Boonesborough by an Indian war party on July 5, 1776. The incident became the most celebrated event of Boone's life. James Fenimore Cooper created a fictionalized version of the episode in his classic novel The Last of the Mohicans (1826).
He lived quite an eventful life.
♦ In February 1778, Boone was adopted into the Shawnee tribe as a prisoner to replace a fallen warrior (a Shawnee custom) and was named Sheltowee (Big Turtle), eventually escaping.
♦ In September 1778, he was court-martialed due to misunderstandings during the Siege of Boonesborough.
♦ There is some indication that Boone crossed paths with Abraham Lincoln's grandfather.
♦ In 1780, Boone was [a] Lieutenant Colonel in the Fayette County militia. In October, his brother Ned was killed by Shawnees and beheaded for a trophy, as the they thought they had killed Boone.
♦ In 1781, he was elected as a representative to the Virginia General Assembly.
♦ [Traveling] to Richmond to take his seat in the legislature, […] British dragoons under Banastre Tarleton captured Boone and several other legislators near Charlottesville. The British released Boone on parole several days later.
♦ In 1782, he was elected sheriff of Fayette County.
♦ By 1787, he owned seven slaves.
♦ In 1798, a warrant was issued for Boone's arrest after he ignored a summons to testify in a court case, although the sheriff never found him.
♦ Also in 1798, the Kentucky assembly named Boone County in his honor.
♦ From 1799 to 1804, he served as syndic and commandant, appointed by the Spanish governor of Spanish Louisiana (now St. Charles County, Missouri).
♦ American painter John James Audubon claimed to have gone hunting with Boone in the woods of Kentucky around 1810 (some historians believe Boone visited his brother Squire near Kentucky in 1810).
♦ Boone died of natural causes at his son Nathan's home. He was 85.