lute
Three hundred, eighty years ago, the Libro quarto d'intavolatura di chitarrone (Fourth Book of Chitarrone Tablature) was published. Composed by Giovanni Girolamo Kapsperger (Johannes Hieronymus Kapsberger), a highly skilled German–Italian early-Baroque musician, it consists of 12 toccatas, 16 preludes, 10 passacaglias, 5 chaconnes, along with other pieces including variations, canzonas & dances. Kapsberger was known for lute & theorbo (chitarrone) mastery. He was in the service of Cardinal Francesco Barberini by 1624, working along side Girolamo Frescobaldi and Stefano Landi, as well as the future Pope Clement IX.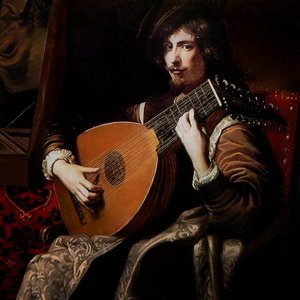 Some of his contemporaries, including Landi, criticized Kapsberger's composing skill. Due to his unusual rhythmic groupings, sharp contrasts and non-conforming to the rules of counterpoint, it was suggested that he was an inferior composer. A current lutenist, Rolf Lislevand commented in liner notes in 1993:
"Kapsberger was as bad a composer as he was a fine instrumentalist […]. The ideas are often badly developed and are freely associated with one another […]. [N]o real musical discourse is built up […] the rhythm, even after serious efforts at fathoming it, wavers between inspired cleverness and total confusion.
Despite the above complaints, Kapsberger greatly contributed towards advancing European plucked string instruments of the time. At least six collections were published during his lifetime, two of which are currently lost.
There is very little else written about this specific composition. ~Vic
Additional Reading & Sources:
Kapsberger: Interview with Anne Marie Dragosits (Cuervas Pulsadas or Pulsed Ravens Website)
Giovanni Girolamo Kapsberger (Wikipedia)
Four hundred, twenty years ago, Renaissance composer, lutenist and singer John Dowland (a contemporary of William Shakespeare) publishes his Second Book of Songs in London. There were 22 song titles in the book and the most well known of these is Flow, My Tears. Written as an aria and for a lute, its style and form is based on a pavane, a slow, couple-dance common in the 16th century. It's original 1596 title was Lachrimae Pavane (literally "tears dance") and Dowland added lyrics later.
This is Dowland's most famous aria and he would, occasionally, sign his name as Jo. Dolandi de Lachrimae (literally, "John of the Tears")
Lines 8 thru 10 are quoted in Philip K. Dick's book Flow, My Tears, the Policeman Said, a science fiction novel set in a dystopian future. The book's title is a direct reference to Dowland's piece.
Additional Reading & Sources:
John Dowland (Edition HH Music Publishers)
John Dowland Part I (Millenium of Music)
John Dowland Biography (Study Website)
Lachrimae: Continental Context (University of London Goldsmiths)
Flow, My Tears (Wikipedia)
Flow My Tears, the Policeman Said (Wikipedia)
Lyrics:
Flow, my tears, fall from your springs!
Exiled for ever, let me mourn;
Where night's black bird her sad infamy sings,
There let me live forlorn.
Down vain lights, shine you no more!
No nights are dark enough for those
That in despair their last fortunes deplore.
Light doth but shame disclose.
Never may my woes be relieved,
Since pity is fled;
And tears and sighs and groans my weary days, my weary days
Of all joys have deprived.
From the highest spire of contentment
My fortune is thrown;
And fear and grief and pain for my deserts, for my deserts
Are my hopes, since hope is gone.
Hark! you shadows that in darkness dwell,
Learn to contemn light
Happy, happy they that in hell
Feel not the world's despite.
Coming forward in time, I was reading around in the 1400s & 1500s (noticing some of the composers that died in the plague) and discovered another interesting little piece: My Lady Carey's Dompe (a lament or dirge), a traditional English dance tune. Written for a harpsichord and, possibly, a lute, the composer remains unknown, though suggested attribution is Hugh Aston and, the specific date is questionable. It could be 1525 or, 1528 if the song was, indeed, composed for the death of William Carey, a courtier in the service of Henry VIII. Lady Carey could refer to his wife Mary Boleyn, a mistress to Henry and sister to Anne Boleyn but, could also refer to his mother, sisters or his sister-in-law.
In any case, the song is lovely and, catchy. Enjoy.
Sources
My Lady Carey's Dompe
1520s in Music
Allmusic Write-Up
The Anne Boleyn Files
Sheet Music
British Library (Record of the Composition)
Internet Archive (History of Keyboard Composition)
"One of the earliest surviving keyboard pieces we have…"