History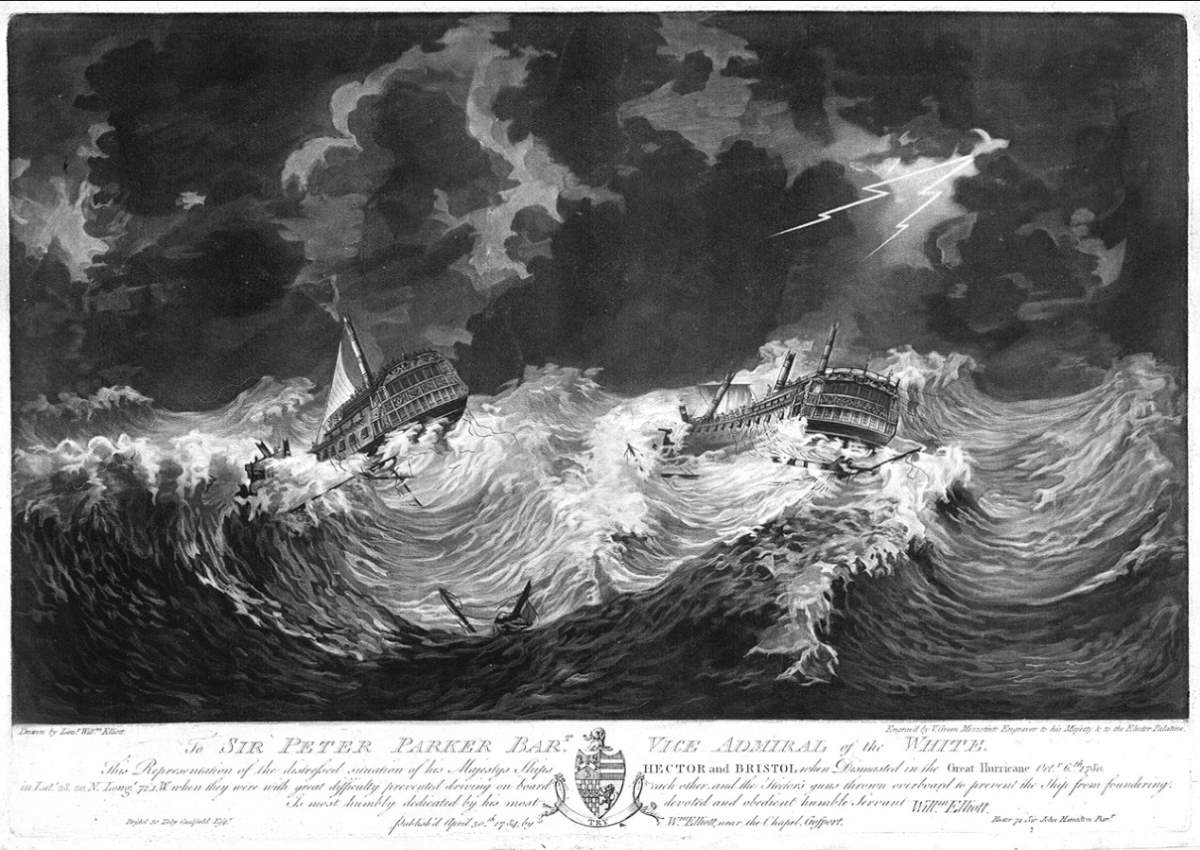 As Hurricane Michael, a Cat 4 monster, slams the Florida Panhandle (making history, today), the Great Hurricane of 1780 is still the deadliest Atlantic hurricane in recorded history, with a death toll between 22,000 and 27,000+. Also referred to as the Great Hurricane of the Antilles, the 1780 Disaster and the Huracan San Calixto, it was one of four major hurricanes in the 1780 Atlantic hurricane season, the worst hurricane season in recorded history.
On October 10, the San Calixto Hurricane (official name) struck the island of Barbados with, possibly, 200+ mph wind gusts, making it an extreme Cat 5. The winds were so violent and so deafening that, reportedly, "people could not hear their own voices". It felled most every tree, stripped the bark off the few left standing and nearly destroyed every house on the island. The specifics of the hurricane's track and exact strength are unknown as the Atlantic hurricane database starts in 1851 but, historical records from Puerto Rico, Jose' Carlos Milas (Cuban Meteorologist), NOAA and hurricane research from The University of Rhode Island indicate that the storm moved on to St. Lucia, Martinique, Dominica and struck Guadeloupe. It turned towards Puerto Rico, hitting Isla de Mona and, later, the eastern portion of the Dominican Republic. The beast finally reached the Atlantic Ocean on October 15 after passing the Grand Turk Island. It passed Bermuda on October 18 and was last seen two days later off the coast of Cape Race in Newfoundland.
From Hurricane Science at The University of Rhode Island:
Coming in the midst of the American Revolutionary War, the 1780 hurricanes caused heavy losses to European fleets fighting for control of the New World's Atlantic coast. A fleet of 40 French ships capsized off Martinique during the Great Hurricane, drowning approximately 4,000 soldiers. On St. Lucia, rough waves and a strong storm surge destroyed the British fleet of Admiral Rodney at Port Castries. Much of the British fleet was decimated by the three storms, and the English presence in the western North Atlantic was greatly reduced thereafter.
The worst losses, however, were suffered by Vice Admiral Peter Parker and Rear Admiral Joshua Rowley.
Other interesting October 10 history:
1582…..Due to the shift from the Julian calendar to the Gregorian calendar, today does not exist.
1845…..The Naval School (U.S. Naval Academy) opens.
1967…..The Outer Space Treaty goes into effect (yes, this is a thing).
1973…..Spiro Agnew, Richard Nixon's first Vice President, resigns after pleading guilty to federal income tax evasion.
1985…..U.S. Navy F-14s intercept the Egyptian plane carrying the hijackers of the MS Achille Lauro and force it to land in Sicily. The hijackers are arrested.
Busy, busy day… ~Victoria
In 1913, The Revenue Act or the Underwood Act or the Underwood Tariff or the Underwood Tariff Act or the Underwood-Simmons Act or, simply, the Tariff Act (Federal Income Tax) was signed into law (re-imposed) by President Woodrow Wilson after the ratification of the Sixteenth Amendment. It was sponsored/introduced by House Majority Leader Oscar Underwood from Alabama.
The very first personal income tax was signed into law in 1861 by Abraham Lincoln as a way to fund the Civil War. It was largely ineffective and, was, originally, a flat rate tax before being repealed and replaced with the Revenue Act of 1862, converting the flat rate into a progressive rate. This act ended in 1866.
When the U.S. Supreme Court struck down the income tax provision of the Wilson-Gorman Tariff Act of 1894 via Pollock vs Farmers' Loan & Trust in 1895, that opened the door for the Sixteenth Amendment 18 years later, affirming that "…the Constitution did not deny Congress the power to impose a tax on real and personal property"… Yay for us.
Other things from October 3…
1922…Rebecca Ann Latimer Felton of Georgia is the 1st woman in the U.S. Senate, if only for one day.
1929…The Kingdom of Serbs, Croats and Slovenes changes its name to the Kingdom of Yugoslavia.
1945…Elvis Presley has his first public appearance at the age of 10. He was dressed as a cowboy, stood on a chair and sang "Old Shep" at the Mississippi–Alabama Fair and Dairy Show.
1955…Captain Kangaroo and The Mickey Mouse Club both premier on CBS and ABC, respectively.
1990…At midnight on this day, the flag of West Germany was raised over Brandenburg Gate, signifying the reunification of Germany.
Forty-five years ago, today, James Joseph 'Jim' Croce, American folk rock singer-songwriter was killed when the Beechcraft E18S, that he and five others were aboard, crashed into a tree during take-off from the Natchitoches Regional Airport in Natchitoches, Louisiana. The accident also claimed the lives of musician Maurice T. 'Maury' Muehleisen, comedian George Stevens, manager & booking agent Kenneth Cortese, road manager Dennis Rast and pilot Robert N. Elliott. Croce's final concert was at Prather Coliseum.
He is buried at Haym Salomon Memorial Park in Frazer, Pennsylvania. His singer-songwriter wife, Ingrid Jacobson Croce maintains an historical site of their work. Their son, Adrian James 'A. J.' Croce is a singer-songwriter in his own right.
His two number one singles…
Behind The Music

September 17 has three celebrations. Constitution Day & Citizenship Day commemorates the 1787 signing of the Constitution of the United States, despite Rhode Island holding out until 1790 and, all naturalized citizens. Patrick Henry refused to attend the Convention as he preferred the Articles of Confederation. He feared a strong central government and saw the Constitution a step backwards.
Will the abandonment of your most sacred rights tend the security of your liberty? Liberty, the greatest of all earthly blessings—give us that precious jewel and you may take everything else. But I fear I have lived long enough to become an old-fashioned fellow. Perhaps an invincible attachment to the dearest rights of man may, in these refined, enlightened days, be deemed old-fashioned: if so, I am contented to be so.
He managed to settle himself down after the Constitutional ratification as the convention members proposed 40 amendments, some of which became the Bill of Rights.
Under the 14th Amendment of the U.S. Constitution, citizenship is defined as "All persons born or naturalized in the United States, and subject to the jurisdiction thereof, are citizens of the United States and of the State wherein they reside."
This holiday was first recognized in Iowa in 1911. The Sons of the American Revolution promoted it in 1917.
Also celebrated today:
National Apple Dumpling Day (Yum!)
National Monte Cristo Day (Also, yum!)
Cheers and enjoy!
[From: Wikipedia & The History Channel]
One hundred and sixty-five years ago, today, The Battle of Antietam, also known as the Battle of Sharpsburg, particularly in the Southern U.S., occurred September 17, 1862, at Antietam Creek near Sharpsburg, Maryland. It pitted Confederate General Robert E. Lee's Army of Northern Virginia against Union General George McClellan's Army of the Potomac and was the culmination of Lee's attempt to invade the north. The battle's outcome would be vital to shaping America's future and it remains the deadliest one-day battle in all American military history, with a combined tally of 22,717 dead, wounded or missing.
McClellan had halted Lee's invasion of Maryland but, Lee was able to withdraw his army back to Virginia without interference from the cautious McClellan. McClellan's refusal to pursue Lee's army led to his removal from command by President Abraham Lincoln in November. Although the battle was tactically inconclusive, the Confederate troops had withdrawn first from the battlefield and abandoned their invasion, making it a Union strategic victory. It was a sufficiently significant victory to give Lincoln the confidence to announce his Emancipation Proclamation, which discouraged the British and French governments from pursuing any potential plans to recognize the Confederacy.
[From: Emerging Civil War…another take…]
Fortunately, for the sake of debate, the outcome of Civil War battles is not as clear-cut as that of a football game, where one can look at the scoreboard at the end of the game and easily determine who won, who lost, or, in some cases, if the outcome was a draw. Historians endlessly debate whether certain battles were overwhelming victories, marginal victories, or draws. Perhaps no other battle's tactical outcome is more misunderstood than the bloodiest single day battle of the war: Antietam.
No one would doubt Antietam's significance in the larger picture of the war. However, the common conception of Antietam is that the battle was tactically a draw, with neither side having gained a significant enough of an advantage to have claimed the victory. This article will challenge that commonly held belief, using particular instances from the battle and the Maryland Campaign to demonstrate the Army of the Potomac's victory at Antietam.
[Had this battle been a Confederate victory, this country might look very, very different. ~Victoria]
While we are on the subject of hurricanes, ten years ago, today, Hurricane Ike struck Galveston, Texas, at 2:10am CDT. It was recorded as a Category 4 on September 4 as it moved near the Leeward Islands. Though it had lessened in strength from its prior Cat4 status to Cat2, this was a bad storm in costs, damage and death. Ike's storm surge went right over the Galveston Seawall, a ten-mile wall built for protection after the devastating Galveston Hurricane of 1900.
Ike claimed 195 lives…74 in Haiti, six in Cuba and 113 in the US. As of August 2011, 16 are still missing. This was a huge storm that also damaged the Bahamas, the Turks & Caicos, the Florida Panhandle, Mississippi and Louisiana. It is the most expensive storm to ever hit Cuba and, at $38 billion, was the second-costliest storm in US history until 2012.
I was living in Texas when Ike hit. I was too far inland to be affected by more than some rain storms. The terrain in Texas is quite different from North Carolina and even though the Austin Area is roughly the same distance from the Texas coast as the Piedmont/Triangle is from the NC coast, my native Texan friends told me that Austin had never been hit by a hurricane.
I was employed by the very agency that responded to the disaster…The Texas General Land Office, though I was not working in the Coastal Management Unit. I was working for the Veterans Land Board but, I remember the teams going down to help with the clean up and the pictures of the damage that were posted to our intranet. The stunning images of the debris that littered I-45 and the heartbreaking photos of the flooding to downtown Galveston. NASA's Johnson Space Center (Houston, we've had a problem…) suffered roof damage to Mission Control and my beloved Lone Star Flight Museum wound up with $18 million in damaged planes and had to be moved inland to Ellington Field. ~Victoria
In 1857, caught in a Category 2 Hurricane, the SS Central America sank 160 miles off the coast of Cape Hatteras, North Carolina, drowning 420+, including Captain of the Ship Commander William Lewis Herndon. Nicknamed The Ship of Gold, 30,000 pounds of gold from the California Gold Rush went down with her, exacerbating The Panic of 1857.
It wasn't until very recently that the lost gold was recovered and only two years ago that the salvage award of 100% was awarded.
In other September 12 trivia bits, as we wait for Hurricane Florence 2018 to show up, this appears to be a rather bad day for hurricanes. Did you know that there have been six Atlantic Hurricanes named Florence? She gets around. ~Vic
1910 Alice Stebbins Wells was hired as the first LAPD Policewoman.
1928 The Okeechobee Hurricane, a Category 4 storm, struck Guadeloupe, killing 1,200.
1979 Hurricane Frederic, a Category 4 storm, slammed into Dauphin Island, Alabama, destroying the bridge to the mainland and killing five.
1988 Hurricane Gilbert, the most intense Atlantic hurricane on record until 2005, devastated Jamaica, produced a 19 foot storm surge and killed 49.
February 11, 1936 – September, 6, 2018
A sad Throwback Thursday…(just a little late posting).
He was Ben Frazer for 20 episodes on the TV show Riverboat, 1959-1960. He was Quint Asper for 50 episodes on the TV show Gunsmoke, 1962-1965. He played Detective Lt. John Hawk for one season on the TV show Hawk in 1966. He was Dan August for one season on the TV show of the same name, 1970-1971 (I remember this…vaguely). He was the voice of Troy Garland on the Out of this World TV show for four years, 1987-1991. He was B.L. Stryker for 12 episodes on the TV show of the same name, 1989-1990. He played Wood Newton for four years on the TV show Evening Shade, 1990-1994. He was even on an episode of The X-Files playing God in 2002.
He was Lewis Medlock in the thriller Deliverance, 1972. He was Jay Grobart in The Man Who Loved Cat Dancing, 1973. He was Robert 'Gator' McKlusky in White Lightening, 1973. He was Paul 'Wrecking' Crewe in The Longest Yard, 1974. He was W.W. Bright in W.W. and the Dixie Dancekings, 1975. He returned in 1976 as 'Gator' McKlusky, again, in Gator, the sequel to White Lightening. He was Billy Clyde Puckett in Semi-Tough, 1977. He was "The Greatest Stuntman Alive" Sonny Hooper in Hooper, 1978. He was Phil Potter in Starting Over, 1979. He was J.J. McClure in The Cannonball Run, 1981 (I remember going to this at the theatre with friends). He was Sgt. Thomas Sharky in Sharky's Machine, 1981. He played the great Sheriff Ed Earl Dodd in The Best Little Whorehouse in Texas, 1982. He was Richard Babson in Best Friends, 1982. He was Stroker Ace in the film of the same name in 1983. He was David Fowler in The Man Who Loved Women, 1983 (he did a LOT of loving!). He reprised his role of J.J. McClure in Cannonball Run II, 1984. He was Mike Murphy in City Heat, 1984. He was Tony Church in Rent-A-Cop, 1988. He was John L. Sullivan IV in Switching Channels, 1988. He was Joe Paris in Physical Evidence, 1989 (another one I remember going to the theatre to see). He was the voice of Charlie B. Barkin, the German Shepherd mix in All Dogs Go to Heaven, 1989.
His career slowed down after that but, he roared back to life playing Jack Horner in the 1997 hit Boogie Nights. He returned to the The Longest Yard remake as Coach Nate Scarborough in 2005. He played Boss Hogg in the 2005 film version of the TV show The Dukes of Hazzard. He was Sam LeFleur in Forget About It, 2006. One of his last movies was playing Vic Edwards in The Last Movie Star, a 2017 fitting story of an aging movie star with the bulk of his work behind him. Burt worked until he died, with his last film, Defining Moments, to be released after his death.
Even with all of the above interesting characters he played in a career spanning 60 years, literally, he will always and forever be…Bo Darville…The Bandit. ~Victoria
Smokey and The Bandit, 1977.
Smokey and The Bandit II, 1980.
Smokey and The Bandit Part 3, 1983.
Addendum:
Awards
♡ 1991 Primetime Emmy Award for Outstanding Lead Actor/Comedy Series in Evening Shade
♡ 1992 Golden Globe Award for Best Actor/TV Musical or Comedy in Evening Shade
♡ 1998 Golden Globe Award for Best Supporting Actor/Motion Picture in Boogie Nights
Notable Nominations
☆ 1971 Golden Globe Award Nomination for Best Actor/TV Drama in Dan August
☆ 1975 Golden Globe Award Nomination for Best Actor/Motion Picture Musical or Comedy in The Longest Yard (The movie won for Best Musical or Comedy)
☆ 1980 Golden Globe Award Nomination for Best Actor/Motion Picture Musical or Comedy in Starting Over
☆ 1991 Golden Globe Award Nomination for Best Actor/TV Musical or Comedy in Evening Shade
☆ 1992 Primetime Emmy Nomination for Outstanding Lead Actor/Comedy Series in Evening Shade
☆ 1993 Golden Globe Award Nomination for Best Actor/TV Musical or Comedy in Evening Shade
★ 1998 Academy Award Nomination for Best Supporting Actor in Boogie Nights
☆ 1998 BAFTA Award Nomination for Actor/Supporting Role in Boogie Nights
☆ 1998 SAG Award Nomination for Outstanding Performance/Male Actor/Supporting Role in Boogie Nights
☆ 1998 SAG Award Nomination for Outstanding Performance/Cast/Motion Picture in Boogie Nights
August 31 has four celebrations and one proclamation day. National South Carolina Day honors the eighth state to join the United States, ratifying the U.S. Constitution on May 23, 1788. Initially part of Province of Carolina, The Palmetto State (Clarendon Province) was split in 1712 from what would become North Carolina (Albemarle Province). It was the first state to vote in favor of secession in late 1860.
It is home to Table Rock & Caesars Head State Parks, Cherokee Foothills Scenic Parkway, the Fort Sumter National Monument, the East Coast Marine Corps boot camp at Parris Island and, Charleston, the oldest & largest city in the state. The two largest Native American tribes were the Cherokee and the Catawba.
An earthquake struck Charleston on this very day in 1886 killing 60 people.
Notable South Carolinians:
Francis Marion [Swamp Fox] – Revolutionary (1732 – February 27, 1795)
James Strom Thurmond, Sr. – Governor (December 5, 1902 – June 26, 2003)
Melvin Horace Purvis, II – FBI Agent (October 24, 1903 – February 29, 1960)
William Childs Westmoreland – General (March 26, 1914 – July 18, 2005)
James Joseph Brown – Musician (May 3, 1933 – December 25, 2006)
Also celebrated:
National Matchmaker Day
National Diatomaceous Earth Day
National Trail Mix Day (Yum!)
***National College Colors Day (If on the Friday before Labor Day…Go Pack!)
Cheers and Enjoy!
August 17 has five celebrations. National Massachusetts Day highlights the sixth state to join the Union and, the first New England colony. This is the place of the famous Boston Tea Party, the Sons of Liberty and, its capital is Boston. Officially, it is the Commonwealth of Massachusetts but, it has a few nicknames:
The Bay State
The Pilgrim State
The Puritan State
The Old Colony State
The Baked Bean State
It is home to Harvard University, Massachusetts Institute of Technology and Martha's Vineyard. It is also the home of the 'real' Boston Creme Pie, something called a 'Fluffernutter' (that will be celebrated October 8), New England 'Boston' clam chowder and cranberries. It was the home of the Springfield Armory (now, a National Historic Site) and the 1692 Salem witch trials.

Notable Bay Staters:
Benjamin Franklin – Founding Father (January 17, 1706 – April 17, 1790)
Samuel Adams – Founding Father (September 27, 1722 – October 2, 1803)
Paul Revere – Patriot (January 1, 1735 – May 10, 1818)
John Adams – Founding Father (October 30, 1735 – July 4, 1826)
John Hancock – 1st Governor of Massachusetts (January 23, 1737 – October 8, 1793)
Eli Whitney – Inventor (December 8, 1765 – January 8, 1825)
John Quincy Adams – 6th U.S. President (July 11, 1767 – February 23, 1848)
Ralph Waldo Emerson – Philosopher/Poet (May 25, 1803 – April 27, 1882)
Oliver Wendell Holmes, Sr. – Physician/Poet (August 29, 1809 – October 7, 1894)
Susan B. Anthony – Women's Activist (February 15, 1820 – March 13, 1906)
Oliver Wendell Holmes, Jr. – Jurist (March 8, 1841 – March 6, 1935)
Richard Buckminster 'Bucky' Fuller – Author/Futurist (July 12, 1895 – July 1, 1983)
Theodore 'Dr. Seuss' Geisel – Author (March 2, 1904 – September 24, 1991)
John Fitzgerald Kennedy – 35th U.S. President (May 29, 1917 – November 22, 1963)
George H. W. Bush – 41st U.S. President (June 12, 1924)
Robert Francis Kennedy – Senator (November 20, 1925 – June 6, 1968)
Edward Moore 'Ted' Kennedy – Senator (February 22, 1932 – August 25, 2009)
Francis Lee Bailey, Jr. – Attorney (June 10, 1933)
Michael Stanley Dukakis – 65th Governor of Massachusetts (November 3, 1933)
Also celebrated:
National Non-Profit Day
National I Love My Feet Day (I'm not kidding…)
National Thrift Shop Day
Black Cat Appreciation Day (Not to be confused with National Black Cat Day…because black kitties deserve two days to be celebrated!)
Cheers and enjoy!
August 16 has four celebrations. National Airborne Day was created by President George 'W' Bush in 2001.

On August 16, 1940, a "Test" Platoon led by Major William Lee and consisting of 48 volunteers of the U.S. 29th Infantry Regiment at Fort Benning, GA, made the first U.S. Army parachute jump from an aircraft in order to explore its applications in battle:
During the time between the World Wars, the 29th Infantry Regiment trained infantry soldiers and leaders, demonstrated tactics and tested innovations in Infantry warfare at Fort Benning including providing soldiers for the first parachute unit in the U.S. armed forces.

The first combat jump was in November 1942 when members of the 2nd Battalion, 503rd Parachute Infantry Regiment, leapt from a C-47 into North Africa.


Also celebrated:
National Tell A Joke Day (HA!)
National Roller Coaster Day (Weeeee!)
National Rum Day (OMG, YUM)
So, let's all have a rum drink, ride a roller coaster, tell a joke and cheer on our Airborne folks! Enjoy, everyone!
One hundred years ago, today, August 13, 1918, Opha May (Jacob) Johnson, born May 4, 1879, enlisted in the Marine Corps Reserve during World War I. She just happened to be the first one in line with 300+ other women behind her.
From the U.S. World War One Centennial Commission:
At the onset and throughout the First World War, women in the United States were still denied the same basic rights and privileges as male citizens, including the right to vote. Suffragists would continue to battle on through this time, but their efforts would not culminate into a constitutional revision until 1920. Not only was the political arena considered off-limits for women, but military service was also denied to them. Though legends of women dressing as males to fight for the United States had been spoken of since the Revolution, women were not allowed to legally enlist in the armed services, the Marine Corps being no exception. By the summer of 1918 however, the Corps was in need of more soldiers, many of whom occupied vital administrative and clerical positions throughout the war department at the time. The idea was circulated and eventually approved to allow women into the marines to fill these non-combat positions, relieving this men to head for the front. From Kokomo, Indiana, Opha May Johnson was first in line when the recruiting station in Washington D.C. opened its doors to women and would become a legend as the first woman Marine.
She passed away August 11, 1955 but, her funeral services were held on August 13, 1955…37 years to the day that she first stood in line.
August 10 has four reasons to celebrate. National Connecticut Day showcases the fifth state to join the United States. It is known, officially, as 'The Constitution State' but, has other interesting nicknames:
The Nutmeg State
The Provisions State
The Land of Steady Habits (my favorite!)
It is the southernmost state in the New England area, settled by the Dutch. Early colonists were noted for their production of brass and, supplied buttons and munitions to the Revolutionary Army. It is the home state of the infamous Benedict Arnold.
Notable Nutmeggers:
Nathan Hale – Patriot (June 6, 1755 – September 22, 1776)
Noah Webster, Jr. – Educator (October 16, 1758 – May 28, 1843)
Charles Goodyear – Chemist (December 29, 1800 – July 1, 1860)
Phineas Taylor 'P.T.' Barnum – Entertainer (July 5, 1810 – April 7, 1891)
Harriet Beecher Stowe – Author (June 14, 1811 – July 1, 1896)
Samuel Colt – Manufacturer (July 19, 1814 – January 10, 1862)
John Pierpont 'J.P.' Morgan – Banker (April 17, 1837 – March 31, 1913)
Charles Henry Dow – Journalist (November 6, 1851 – December 4, 1902)
Edith Kermit Carow Roosevelt – Theodore's First Lady (August 6, 1861 – September 30, 1948)
Alfred Pritchard Sloan, Jr. – General Motors CEO (May 23, 1875 – February 17, 1966)
Dr. Benjamin McLane Spock – Pediatrician (May 2, 1903 – March 15, 1998)
Ralph Nader – Activist Attorney (February 27, 1934)
Gene Francis Alan Pitney – Musician (February 17, 1940 – April 5, 2006)
Joseph Isadore 'Joe' Lieberman – Political Attorney (February 24, 1942)
George "W" Bush – 43rd President (July 6, 1946)
Richard Carpenter – Musician (October 15, 1946)
Anna-Lou 'Annie' Leibovitz – Photographer (October 2, 1949)
Karen Anne Carpenter – Musician (March 2, 1950 – February 4, 1983)
Kathleen Hartington Kennedy Townsend – Lt. Governor of Maryland (July 4, 1951)
Michael 'Bolton' Bolotin – Singer/Songwriter (February 26, 1953)
Also celebrated:
National Shapewear Day (No kidding…)
National Lazy Day (I like the sound of that!)
National S'Mores Day
Cheers and enjoy!