Television
Fifty years ago, today, the British crime-comedy, made-for-tv movie Mister Jerico aired on ABC. Directed by Sidney Hayers, it starred Patrick Macnee, Connie Stevens, Herbert Lom, Marty Allen and Bruce Boa.
Summaries:
Smooth con man Dudley Jerico sets out to rob corrupt millionaire Victor Rosso [sic] of his legendary Gemini diamond.
A conman hatches a plan to swindle a corrupt millionaire out of his treasured priceless diamond by claiming to have discovered its twin. However, his plot is disrupted by a rival hustler who comes up with the same idea and, the two crooks must each convince their suspicious target that they can be trusted and the other is lying.
Reviews:
This disappointing comedy caper evidently got the green light due to the popularity of Patrick Macnee's dapper superspy John Steed in The Avengers. Unfortunately, this attempt to turn Macnee into an equally charismatic jewel thief just can't compete with its bigger budgeted competition, despite the catchy title track from Lulu and the star's stunning array of flowery shirts. Herbert Lom is good value as the object of Macnee's felonious attentions (in a role similar to the one he played in the Michael Caine caper Gambit three years before) but, this lacklustre yarn, ultimately, can't cut it in the excitement or suspense stakes.

Jeremy Aspinall of RadioTimes

Image Credit: wikipedia.org & wikimedia.org

Mister Jerico is one of those charming and fluffy capers that the 1960s did well, quite similar to the higher-budgeted Gambit or How to Steal a Million. The palette is sun-soaked, the plot buoyant and just this side of ridiculous. The second half of the film, in particular, moves along at a nice pace, complicating matters without making anything seem too serious. If you think too deeply about the story, it will all appear very nonsensical but, this is a stylized caper film not intended for deeper scrutiny. It's a surface film and as such it's quite enjoyable.

Lauren Humphries of Suddenly, A Shot Rang Out… Blog

A fun film with a very Avengers feel to it, which should be obvious given the cast and crew. Allen is a little out of place but, Macnee and Lom are great, as is Laurie Johnson's score. I'll even admit, against that, Lulu's theme song is catchy. Apparently [it was] intended as a pilot for a Macnee series to follow The Avengers but, instead, [was] released theatrically (though, in the US, it only ended up as a TV movie of the week).

Dave W. of Actors Compendium
Trivia Bits:
♦ Filmed in Malta and Associated British Elstree Studios in Hertfordshire.
♦ The lead role was originally offered to Robert Wagner but, he was not available.
Additional Reading & Sources:
Rotten Tomatoes
RadioTimes
Cinedelica
Cult TV Blog
Allmovie Overview
Mubi
Video Link: (Late Update)
YouTube Link (Video will not embed as the owner of the account disabled embedding.)
Forty years ago, today, the very first American Movie Awards was televised on NBC. Filmed at the Wilshire Theatre, the ceremony honored film, actors, directors, screenwriters, music, favorites and a special recognition. Co-hosts were David Frost (also Executive Producer) and Dudley Moore with Angie Dickinson as Co-Hostess. Susan Anton was a performer. Judging by what few images I could find, the trophy was designed to resemble the Empire State Building.
Presenters were:
Peter Falk, Anthony Franciosa, William Holden, Christopher Lee, Jack Lemmon, Rita Moreno, Ricky Schroder, Suzanne Somers, Donna Summer and Donald Sutherland.
Winners:
♦ Best Film: Rocky II
♦ Best Actor: Alan Alda (The Seduction of Joe Tynan)
♦ Best Actress: Sally Field (Norma Rae)
♦ Best Supporting Actor: Robert Duvall (Apocalypse Now)
♦ Best Supporting Actress: Meryl Streep (The Deer Hunter)
♦ Best Director: Michael Cimino (The Deer Hunter)
♦ Best Screenplay: The China Syndrome
♦ Best Original Song: Every Which Way But Loose (Every Which Way But Loose)
♦ Favorite Film Star-Female: Jane Fonda
♦ Favorite Film Star-Male: Burt Reynolds
♦ Special Marquee: Clint Eastwood (Distinguished and Continuing Career)
There was another ceremony in March 1982 at a different location and a relaunch in 2013 with ceremonies in 2014, 2015, 2016, 2017 and 2018 focusing mainly on Independent Film. I doubt there will be anymore ceremonies as the website was taken down last year. There are no videos of the event on YouTube, either.
Forty-five years ago, today, the Hallmark Hall of Fame television movie All Creatures Great and Small aired on NBC. Based on two novels by James Alfred Wight (pen name James Herriot), If Only They Could Talk (1970) and It Shouldn't Happen To A Vet (1972), it was the first of a series of films and TV series based on his work. Directed by Claude Whatham and produced by David Susskind, it starred Simon Ward (as James Herriot), Anthony Hopkins, Lisa Harrow, Brian Stirner and Freddie Jones.
From Wikipedia
It is 1937 and newly qualified vet James Herriot travels to Yorkshire to apply for the post of assistant in Siegfried Farnon's practice. He soon learns the facts of country life but, struggles to overcome the prejudices of the Darrowby locals who are skeptical of the novice vet's ability. In between cases, Herriot courts pretty farmer's daughter Helen Alderson and finally marries her.
From Turner Classic Movies:
A gentle, episodic account of author Herriot's apprenticeship in the mid-1930s to an eccentric rural English veterinarian and his awkward courtship of a farmer's daughter.
From IMDB:
The story of a young veterinarian's apprenticeship to a somewhat eccentric, older vet in the English countryside and the young man's hesitating courtship of the daughter of a local farmer.
Filming began May 1974 in Malton, North Yorkshire with studio work in London. The film wasn't released in the UK until May 9, 1975, opening in London at Studio Two on Oxford Street.
Trivia Bits:
♦ Although born in Sunderland, England, James Herriot spent the first twenty-three years of his life in Glasgow, Scotland and never lost the accent, as can be heard in television interviews. Simon Ward however, plays him as a Londoner.
♦ Known to the cast and crew as "All Creatures Grunt and Smell".
Forty years ago, today, Part I of the mini-series Beggarman, Thief aired on NBC. Based on the novel of the same name by Irwin Shaw, it was the sequel to the novel and mini-series Rich Man, Poor Man that aired from February through March 1976 on ABC. An additional sequel, Rich Man, Poor Man Book II aired from September 1976 to March 1977, also on ABC but, was not based on the actual sequel novel.
Directed by Lawrence Doheny, it starred (in credit order) Jean Simmons, Glenn Ford, Lynn Redgrave, Tovah Feldshuh and Andrew Stevens.
From IMDB:
This sequel to "Rich Man, Poor Man" is set in the '60s and focuses on wannabe Hollywood filmmaker Gretchen, black-sheep Army officer Billy and, Billy's cousin Wesley, who's tracking his father's killer in France.
From TCM:
The two-part, four-hour sequel to Irwin Shaw's "Rich Man, Poor Man" and the vastly successful mini-series made from it (and the subsequent, less-successful short-lived series, "Rich Man, Poor Man Book II," during the 1976-77 season). Moviemaker Gretchen Jordache, the sister not seen in either of the predecessors, strives to pull the family together after the murder of brother Tom (in the mini-series) and the disappearance of brother Rudy (in the later series), by first re-establishing contact with her soldier son and, then, patching things up with her sister-in-law, Kate, Tom's widow.
Casey Kasem's Network Promo Advertisement

Casey Kasem's Intro to Part II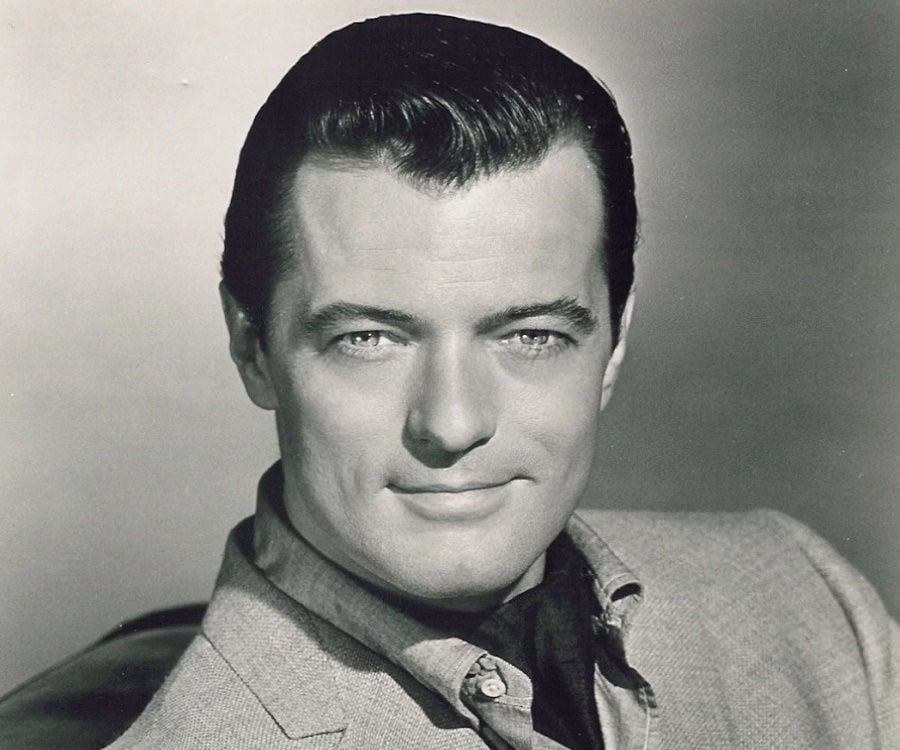 Fifty-five years ago, today, the TV Special An Hour With Robert Goulet, a variety show, aired on CBS. Directed by Clark Jones (The Carol Burnett Show) and written by Arthur Alsberg (Herbie, the Love Bug & No Deposit, No Return), guest stars were Leslie Caron, Peter Gennaro, Phil Silvers, Ed Sullivan, Terry-Thomas, Fredd Wayne and Earl Wilson.
There is very little written about this special, save a New York Times Article, written the next day (No writer credited):
ONE of the tiredest gimmicks of variety shows was coupled last night with a fresh idea on "The Robert Goulet Hour." When the tenor turned his profile toward the sun on a southern California beach and a light wind ruffled his perfectly groomed hair as he sang "Lost in the Stars," his program consciously aimed for the creative touch. Few singers are willing to compete with the Pacific Ocean.

But when Mr. Goulet was on the sound stage of C.B.S. Television City in Hollywood, he was engulfed in that shopworn gag of pretending to be rehearsing a musical special for TV. Leslie Caron joined him in "Call Me Irresponsible" and then said "no," she simply would not sing on his show. Peter Gennaro demonstrated a possible dance step and Fredd Wynne [sic] agonized over material for Mr. Goulet and sketches for Miss Caron. Even the ad‐libs were planned.

Visiting the University of California at Los Angeles, Mr. Goulet and company held a press conference for tanned Tammys and Gidgets, who watched Terry‐Thomas mug shamelessly as a fine arty professor. The atypical students acted like graduates of the Hollywood Professional School.

When the script permitted Mr. Goulet to forget the script, his show had possibilities. Still, the evening's honors must go to Miss Caron, who, impersbnating [sic] Marlene Dietrich as the Blue Angel, tackled a chair with the finesse of an Olympic champion.
IMDB states that it was filmed at the Wilshire Boulevard Brown Derby. The second video, below, appears to be from a Robert Goulet channel that was set up by his widow, Vera Novak. Written below the video:
Robert Goulet Live From Sahara Hotel In Las Vegas was filmed as part of "An Hour With Robert Goulet" TV special in 1964 and produced by our company Rogo Productions, Inc. This is a rare gem and wonderful historical footage of a remarkable entertainer showcasing live entertainment in Las Vegas during 1960s. In this clip, Robert sings a "Medley Of Old Songs" written by Jerry Bresler and Lyn Duddy, which was also recorded in 1963 on Columbia Records "Robert Goulet in Person".

Vera Goulet
Thirty years ago, today, Part I of the mini-series Cross of Fire aired on NBC. Based on the kidnapping, rape and murder of Madge Oberholtzer, it starred John Heard, Mel Harris, David Morse, George Dzundza and Lloyd Bridges. Directed by Paul Wendkos and written by Robert Crais, it was filmed in Kansas, though the historical events occurred in Indiana.
John Heard plays the part of D. C. Stephenson, the Grand Dragon of the Indiana Branch of KKK.
The two-part TV movie Cross of Fire is set in the 1920s, when the Ku Klux Klan was at the height of its political power in Indiana. Part One, originally telecast November 5, 1989, details the resurgence of the Klan (which had been created during the Reconstruction era) under the leadership of David "Steve" Stephenson […]. Cloaking himself in the twin veils of patriotism and morality, Stephenson rails against such "deviates" as blacks, Jews and Catholics, gaining political clout and financial kickbacks as his "invisible empire" grows. Part Two […], telecast November 6, traces the fall of Stephenson…not because his followers have wised up but, because of a 1925 rape and murder charge.

[From Allmovie]
Madge Oberholtzer's Dying Declaration [Warning: graphic descriptions]
Stephenson's Murder Conviction
Aftermath and Fallout
♠ The scandal reached the governor. He was indicted and tried but, the conclusion was a hung jury. He wasn't retried due to the statute of limitations but, left office disgraced with his political career destroyed.
Sixty years ago, today, the game show Take a Good Look debuted on ABC. Created by Ernie Kovacs, it ran for two seasons with 53 episodes. Designed as a parody of Goodson-Todman panel games, celebrities were to guess the secret of the person brought before them. The clues provided were short video clips or skits and were extremely vague. The people brought on stage were regular folks that had an interesting area of expertise, had experienced extraordinary events in their lives or had been in the news.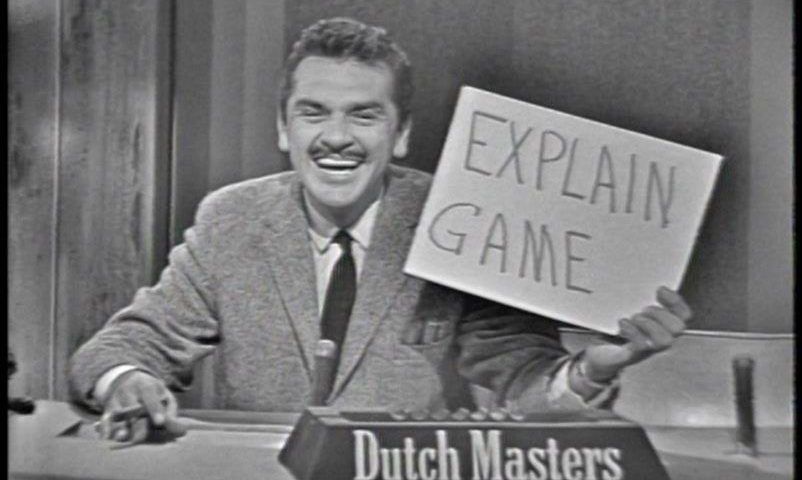 Regular panelists were Edie Adams (Kovacs' wife), Cesar Romero, Hans Conried, Ben Alexander and Carl Reiner (second season). Other panelists to participate were Zsa Zsa Gabor, Jane Wyatt, Mort Sahl, Jack Carson, Tony Randall, Janet Leigh and Jim Backus.
Kovacs was a guest panelist on What's My Line? (10 appearances) and a mystery guest (two appearances). This is probably where the idea for his show came from.
Forty years ago, today, the television film The Flame Is Love aired on NBC. Based on the Barbara Cartland novel of the same name, it starred Linda Purl, Shane Briant, Timothy Dalton, Richard Johnson and Joan Greenwood. Directed and co-produced by Michael O'Herlihy, it was written by Hindi Brooks (teleplay) and filmed in Ireland.
Synopsis from The Movie Database:
This sudsy made-for-TV melodrama is based on a Barbara Cartland novel and follows the romantic exploits of an American heiress who sets sail for exciting Paris at the turn-of-the-century. She is traveling there to meet her fiance but, ends up falling in love with a French journalist.
Synopsis from the actual novel:
Reluctant to accept her arranged marriage to an English Duke she has never met, beautiful, young, American oil heiress, Emmeline Nevada Holtz, nicknamed "Vada" after the state, travels to Paris to buy her trousseau before meeting her husband-to-be. When her travelling companion, Nancy Sparling, has an accident and hurts her leg, Vada assumes her name to avoid unwelcome attention. [She] travels on with just her elderly maid, determined to make the most of her last chance to explore Bohemian Paris and, the wonders of the city that she had heard and read so much about. At her hotel she finds a handsome intruder in her suite, not a thief as she at first thinks but, a journalist looking to interview the famous heiress Emmeline. Smitten by this charismatic Frenchman and his talk of poetry, Vada finds herself agreeing to go with him to the Soleil d'Or, wellspring of the Symbolist movement. Soon, they are deeply and uncontrollably in love, a love that is surely doomed by her deception, her betrothal to the Duke and, now, a terrifying ordeal at a Satanist Black Mass on the dark side of the City of Light.
Timothy Dalton's character Marquis de Guaita is based on Stanislas de Guaita, the founder of Kabbalistic Order of the Rose-Cross (Rosicrucians).
The Complete Movie

Twenty years ago, today, the science fiction series Harsh Realm debuted on Fox. Created and developed by Chris Carter (The X-Files & Millenium), it starred Scott Bairstow, D.B. Sweeney, Terry O'Quinn, Rachael Hayward, Max Martini, Samantha Mathis and Sarah-Jane Redmond with Cameron K. Smith as a Republican Guard Soldier (Smith had fourth billing but, much of his acting history is uncredited) and, Vinnie as Dexter the Dog (seventh billing in the cast list). Filmed in Vancouver, British Columbia, it was loosely based on the Harsh Realm comic book by James Hudnall and Andrew Paquette.
Tagline: Are you ready to play?
From Wikipedia:
Harsh Realm is a virtual reality game created by the U.S. Army, programmed to minutely replicate the real world for training simulations. In the world of Harsh Realm, a small nuclear bomb is detonated in the program's version of New York City, killing four million people and thrusting its participants into a post-apocalyptic disaster scenario. Lieutenant Tom Hobbes is unknowingly thrust into this world by his superiors with one mission: to kill "General" Omar Santiago. Along the way, he meets fellow soldiers sent into the game and alternate versions of people he knows in the real world (including Dexter, an alternate version of his real world dog). It is in this world that Hobbes must survive, defeat Santiago, save the real world and, somehow return to his real life and his fiancée, Sophie Green.
From IMDB:
Lt. Hobbes, a young idealistic Marine who's about to get married, is sent into a [virtual reality] war game simulation where he is to terminate a renegade General who has taken control of the program. [He] also learns that he is actually trapped in the game, along with numerous other soldiers previously sent to kill Santiago. Meanwhile, Hobbes real life fiancee investigates his disappearance with the help of a mysterious female ally with an agenda of her own.
Trivia Bits:
♦ Notable director for one episode: Kim Manners (Supernatural)
♦ Notable writer for one episode: Frank Spotnitz (The X-Files)
♦ Notable composer for the series: Mark Snow (The X-Files & Starsky & Hutch)
♦ Gillian Anderson is the narrator of the Harsh Realm training video in the first episode.
♦ Thomas Hobbes is named for the philosopher Thomas Hobbes, who believed in predestination and that people are inherently selfish and power-hungry.
♦ Hobbes' dog, Dexter, is named after the protagonist from the Harsh Realm comic book series upon which the show is loosely based.
♦ Many [have] wrongly speculated that [the] widely-publicized lawsuit brought about the series' sudden cancellation. It was actually a struggle between Carter and Fox that got the series cancelled (after nine episodes).
♦ The term "harsh realm" originates from the grunge speak hoax of 1992 […]
♦ The theme music contains samples of speeches given by Benito Mussolini.
♦ Music from artists Prodigy, White Zombie (Rob Zombie) and Moby are featured in some episodes.
The Lawsuit
Critical Reception
Nominations
Pilot Episode

Sixty years ago, today, the sitcom The Betty Hutton Show debuted on CBS. Originally titled Goldie, it was sponsored by General Foods' Post Cereals and, produced by Desilu and Hutton Productions. Created by Stanley Roberts, it starred Betty Hutton, Dennis Joel (Olivieri), Peter Miles, Gigi Perreau, Gavin Muir, Tom Conway and Jean Carson.
From Wikipedia:
Hutton stars as Goldie, a showgirl-turned-manicurist. One of Goldie's regular customers is a millionaire, Mr. Strickland. After he suddenly dies, Goldie discovers that he has left everything he owns, including his $60 million fortune and his three children, to her.
From IMDB:
A talkative manicurist inherits a legacy and the custody of three children from a rich Wall Street broker customer.
Although Hutton was a popular actress, the show only lasted for thirty episodes before being cancelled, mainly because it was scheduled opposite ABC's popular series The Donna Reed Show.
Betty Hutton's Website
Episode One: Betty Crosses The Tracks

Fifty-five years ago, today, the action–adventure series Daniel Boone debuted on NBC. Produced by 20th Century Fox Television, it starred Fess Parker, Patricia Blair, Darby Hinton, Veronica Cartwright, Ed Ames & Dallas McKennon. Country singer Jimmy Dean was a guest star for fifteen episodes from 1968-1970 and NFL football player Rosie Greer had regular appearances from 1969-1970. The show's first season was in black & white.
From Wikipedia:
Daniel Boone was one of two significant historical figures played by Fess Parker. He previously appeared as Davy Crockett in a series of episodes of the Walt Disney anthology television series […]. Efforts had been made to secure the rights to Crockett from Walt Disney but, Disney refused to sell, so, the series wound up being about Boone instead. In contrast, Parker's Boone was less of an explorer and more a family man than Parker's Crockett. Parker as Crockett also generally wore a light beard, whereas his Boone was predominantly clean-shaven.

The series is set in the 1770s and 1780s, just before, during and after the American Revolution and, mostly centered on adventures in, and about, Boonesborough, Kentucky. Some aspects of the show were less than historically faithful, which, at one point, led the Kentucky legislature to condemn the inaccuracies. The series' story line does not follow historical events. Instead, story lines run back and forth concerning historical events.

Photo Credit: imdb.com

[Ed Ames] role as Mingo led to a famous tomahawk-throwing demonstration on The Tonight Show, that was rerun on anniversary clip shows for decades afterward, in which Ames threw a tomahawk at a target of a man and the hatchet landed between the cutout's legs, much to host Johnny Carson's amusement.
Trivia Bits:
♦ According to an interview with Veronica Cartwright, she left the series because the producers wanted to have her character of Jemima Boone involved in more mature situations, such as budding romantic relationships. Patricia Blair did not like this because it made her feel too old, so she threatened to leave the series if Cartwright was not let go from the series.
♦ Israel Boone was one of seventy-two killed at the Battle of Blue Licks, one of the last battles of the Revolutionary War, on August 19, 1782. He was twenty-three. His father Daniel was there and saw his son killed. Coincidentally, Darby Hinton, who played Israel, was born on the 175th Anniversary of Israel's death, August 19, 1957.
♦ [The] Boones [actually] had ten children […].
♦ Unlike Fess Parker [6'5″ 1/2], the real Daniel Boone was only about 5'8″.
I'm trying something different. We'll see how it goes. ~Vic
Sixty-five years ago, today, the sitcom Dear Phoebe debuted on NBC. Created by Alex Gottlieb, it starred Peter Lawford, Marcia Henderson, Charles Lane and Joe Corey. The first episode to air, Bill Gets a Job, included a young Chuck Connors and The Christmas Show episode included Jesse White (Maytag Man). The show's theme music was composed by George & Ira Gershwin.
From IMDB:
Bill Hastings works for a daily newspaper in a large city. His duties include a lonely hearts column, where he advises everyone on their problems, as "Phoebe", while trying to deal with his own.
From Wikipedia:
Lawford stars as Bill Hastings, a former college professor who becomes the writer of the advice-to-the-lovelorn column at the fictitious Los Angeles Daily Star. Hastings writes under the pseudonym "Miss Phoebe Goodheart". Marcia Henderson portrayed Mickey Riley, the female sportswriter at the newspaper and Hastings's own romantic interest. Charles Lane, who later portrayed J. Homer Bedloe in the CBS series Petticoat Junction, played newspaper boss Mr. Fosdick. Joe Corey played Humphrey Humpsteader, a copy boy trying to become a reporter.
Trivia Bits:
♦ Peter Lawford's wife, Patricia Kennedy Lawford (sister of John F. Kennedy), made a cameo appearance in one episode.
♦ This series was sponsored by Campbell Soup Company in its original prime time run.
The Christmas Show

Forty-seven years ago, today, the second version of The Price Is Right debuted (the first one ran from 1956 to 1965 and was hosted by Bill Cullen). Created by Bob Stewart, Mark Goodson and Bill Todman and, orignally produced by Goodson-Todman Productions (1972-1984), it was hosted by Bob Barker until June 6, 2007. Drew Carey took over October 15, 2007.
From Wikipedia:
The show revolves around contestants competing by identifying accurate pricing of merchandise to win cash and prizes. Contestants are selected from the studio audience when the announcer states the show's famous catchphrase, "Come on down!" (Contestants' Row) [F]our contestants are called […] to take a spot in the front row behind bidding podiums […]. [They] compete in a bidding round to determine which contestant will play the next pricing game (known as One Bid). After winning the One Bid, the contestant joins the host onstage for the opportunity to win additional prizes or cash by playing a pricing game. [The Showcase Showdown (spinning The Big Wheel) follows with a final winner selected at the end of the episode (The Showcase)]

Barker was accompanied by a series of announcers, beginning with Johnny Olson, followed by Rod Roddy and, then, Rich Fields. In April 2011, George Gray became the announcer. The show has used several models, most notably Anitra Ford, Janice Pennington, Dian Parkinson, Holly Hallstrom and Kathleen Bradley.

Photo Credit: dailymail.co.uk

The Price Is Right has aired over 8,000 episodes since its debut and is one of the longest-running network series in United States television history. The show's [48th] season [will] premiere on September [23, 2019.]
The Price Is Right Models
Awards
Controversies
Debut Episode
Twenty years ago, today, the HBO special Bigger & Blacker, a stand-up routine by comedian Chris Rock, premiered. It was recorded at the Apollo Theater in Harlem. The, now, defunct DreamWorks Records released a DVD on July 13.
List of Guests (Aired Special)
In his third HBO stand-up special, Chris Rock brings his critically acclaimed brand of social commentary-themed humor to this 1999 stand-up comedy presentation. Also released as an album, Chris Rock: Bigger and Blacker features Rock on-stage extolling his razor-sharp wit and wisdom on such topics as gun control, President Clinton, homophobia, racism, black leaders and relationships.

[Source]
Grammy Award (Best Comedy Album)
 
 
 
 
***LANGUAGE***

 
***LANGUAGE***

 
***LANGUAGE***