Music
Five years ago, today, the #1 song on the Billboard Hot 100 was Can't Stop The Feeling by Justin Timberlake. Released on May 6, 2016, it is the second track from the Trolls motion picture soundtrack album. It debuted at #1 on the chart and was the best selling digital song of 2016.
Written by Timberlake, Max Martin and Shellback, Timberlake was also executive producer of the album. It was nominated for an Academy Award (Best Original Song), a Golden Globe (Best Original Song) and won a Grammy for Best Song Written for Visual Media.
The sunny song, which arrived a few minutes after midnight, has the potential to be a contender for the song of the summer. He was tapped to pen and perform new songs for the animated movie, and he will also voice the character Branch.

Jon Blistein
Rolling Stone
May 6, 2016
Can't Stop the Feeling is a straight-up pop hit that is funky and fun, with a solid disco feel that will inspire you to get up and dance, as the lyrics instruct us all to do. The song gives off a feeling of pure joy that only a talent as great as Timberlake could bring to the table.

Jon Niles
Music Times
May 6, 2016
Three hundred, twenty years ago, yesterday, Scottish Sea Captain William Kidd was hanged at Execution Dock in London at low tide:
[P]roceedings against [Kidd] had been long and notorious. The actions for which he was tried had been still more notorious, one involving murder and five [involving] piracy. His career had been brief, brilliant in the beginning [but], catastrophic at the end. The general excitement at the time of his execution and, all during his imprisonment in London, had been at [a] fever pitch. Gossip went to work and, the wildest of tales of Kidd's wickedness and wealth were believed. […] Upon his death, numerous accounts, both factual and fictitious, appeared.

William Hallam Bonner
University of Buffalo
American Literature, Vol. 15, No. 4, Jan. 1944
Journal Storage
Kidd was commissioned by King William III (William of Orange) as a Privateer and carried a license to hunt pirates, reserving 10% of any bounty acquired for the Crown. His murder charge was the result of the killing of crew member William Moore, his gunner, during a near mutiny.
Of all the things written and expressed, the ballad Captain Kid's Farewel to the Seas (or the Famous Pirate's Lament) was the only thing to survive. It was quite popular in the Colonies where the Captain had a home and may be considered America's first folk legend. There is a British version and an American version, which changed the Captain's first name to Robert for some strange reason and, several contemporary covers. The last website, below, has his name as John. He had to be hanged, twice, as the rope broke the first time. ~Vic
Additional Reading:
Captain Kidd Lyrics (David Kidd Website/Wayback Machine)
Captain Kidd Song (Wikipedia)
The Ballad of Captain Kidd (Chivalry Website Archive)
Wizard of the Seas (Ex-Classics Website)
Fifty-five years ago, today, the documentary A Boy Called Donovan aired on ITV in the UK.
A rare documentary by Scottish folk singer Donovan P. Leitch. Insights into his life with rare recordings from the beginning of his career as a folk singer. Portions of the film was [sic] filmed on St. Ives, Cornwall on Porthminster [B]each in 1966.
It shows Donovan's life before becoming famous, when he was busking and living in Saint Ives with his friend Gypsy Dave. And, then, when the fame came in with Ready Steady Go! Donovan and his friends are seen smoking marihuana [sic], very shocking for its time. This warned the police to keep him under surveillance and ended up arresting him for drugs [sic] possession in mid-1966.
Born Donovan Philips Leitch in Glasgow, Scotland on May 10, 1946, Donovan was part of the British folk scene and the British music invasion in America. His style was distinctive and incredibly eclectic. As a child, Donovan was vaccinated with the polio vaccine and contracted polio. Though the vaccine was later made safer with the Sabin oral vaccine, the disease and treatment left Donovan with a limp. The public never knew this.

1965
Photo Credit: Netherlands National Archives
Wikipedia & Wikimedia

He established close relationships with leading musicians of the time including Joan Baez, Brian Jones of the Rolling Stones and, the Beatles. He taught John Lennon and Paul McCartney […] his finger-picking guitar technique. On his first trip to the USA, he performed in New York with Pete Seeger, […] appeared on The Ed Sullivan Show, Hullabaloo, and Shindig! He gained critical acclaim and acceptance when he performed at the Newport Folk Festival in 1965.

[E]arly on, he was compared with Bob Dylan […]. By 1966, [he] had become one of the first British pop musicians to adopt the flower power image. His music contained many drug references during this time. His recordings were also the first pop music to contain the sound of the sitar, later copied by other famed music groups. [He] was the first high-profile British pop star to be arrested for possession of marijuana. Though Donovan's drug use appeared to have been moderate, and his drug use was not on the scale of others such as Jimi Hendrix and Brian Jones who later died from overdoses, his use of LSD is referred to in many of his lyrics. Public attention was drawn to his drug use by [the] TV documentary, A Boy Called Donovan, which was broadcast during that year and newspaper coverage of the drug scene in England.

The Hurdy Gurdy Man of the Psychedelic Sixties: Donovan Leitch
Felice Prager
"I had no clue what I was getting into. So, I'll blame it on the Cuervo. Oh, where did my manners go?"
Returning to my Samsung playlist, submitted for your approval on this first Saturday of the new year…I present Last Name by Carrie Underwood. Released in April 2008, it was written by Underwood, Luke Laird and Hillary Lindsey. It is the eighth track from the album Carnival Ride and the third release. It peaked at #1 on the Billboard Hot Country Songs chart on June 21, 2008, was #1 on the Billboard Country Airplay chart, made it to #3 on the Canada Country Billboard chart and #19 on the Billboard Hot 100 chart.
I remember when she wowed the whole world on the fourth season of American Idol in 2005. It's hard to believe that it has been over 15 years since she stormed the music world. I never watched the show but, she was all over the media. When I heard Before He Cheats on the radio, I knew she was gonna be an incredible star and, as far as I'm concerned, she could sing the phone book to me. I don't own any of her albums/CDs as, after the 90s, everything went digital.
♦ The music video portrays the song as a prequel to her Before He Cheats song, even going so far as to hire the same actor to play the man in question.
♦ [This song] became Underwood's fastest single to hit number one on the U.S. Billboard Hot Country Songs chart after only 13 weeks of its official release […]. It stayed there for one week.
♦ 2009 Grammy Award for Best Female Country Vocal Performance.
Other Awards
Carrie Underwood Official (Official Website)
Providing some wonderful Christmas music, a bit of humor and a flashback. I hope everyone has a lovely Christmas. ~Vic
Mary, Did You Know?


Christmas Must Be Tonight


Light of the Stable


Blue Christmas


House Lights From 2005

Three hundred, forty years ago, Danish-German Baroque composer and organist Dieterich Buxtehude composed Membra Jesu Nostri. Considered to be one of the most influential composers in Germany, his style is reflected in the works of Johann Sebastian Bach, one of his students. [More] than 100 compositions of his survive […].
Membra Jesu Nostri [or The limbs of our Jesus], BuxWV 75, is a cycle of seven cantatas composed by Dieterich Buxtehude in 1680 and dedicated to Gustaf Düben. The full Latin title Membra Jesu Nostri Patientis Sanctissima translates to "The most holy limbs of our suffering Jesus". This work is known as the first Lutheran oratorio. The main text are stanzas from the Medieval hymn Salve Mundi Salutare, also known as the Rhythmica Oratio, a poem formerly ascribed to Bernard of Clairvaux but, now thought more likely to have been written by Medieval poet Arnulf of Leuven […]. It is divided into seven parts, each addressed to a different part of Christ's crucified body: feet, knees, hands, sides, breast, heart and face. In each part, biblical words referring to the limbs frame verses of the poem.
Sources:
Duke Vespers Ensemble (MSR Classics)
Salve Mundi Salutare (New Advent)
Buxtehude Composition List (Wikipedia)
Dieterich Buxtehude (Wikipedia)
Membra Jesu Nostri (Wikipedia)
The International Dieterich Buxtehude Society
"Oh, it's Friday night. Let's run tonight, 'til the morning light…"
Returning to my Samsung playlist, this Saturday's submission is Keep On Runnin' by American rock band Journey, formed in San Francisco in 1973 out of former members of Santana and Frumious Bandersnatch. The fourth track from the album Escape (released in July 1981), it was co-written by Jonathan Cain, Steve Perry and Neal Schon and, was never released as a single, though the album, itself, reached #1 on the Billboard 200 on September 12, 1981. The song does show up in the Journey video game from Bally Midway, that came out in March of 1983, with this tagline (one of three):
"The hottest band in the country is about to take over the planet!"
The album got its own Atari 2600 video game in 1982. This album, and Frontiers after it, is a musical tapestry to my high school years.
I got to see the band in concert, twice, in Texas and was lucky enough to get to meet them. This is the tour where Journey dropped Steve Augeri and picked up Jeff Scott Soto for a year. Neither could match Perry but, Augeri was close.
I'm on the far left next to Jonathan Cain. My buddy Monica is in between Cain & Neal Schon. My buddy Amy is in between Deen Castronovo & Ross Valory.
It's a shame the members are embroiled in a lawsuit. ~Vic
Switching things up a bit…~Vic
Five years ago, today, the #1 song on the Billboard Hot 100, R&B/Hip-Hop and Canadian Hot 100 charts was The Hills by Canadian singer The Weeknd (Abel Makkonen Tesfaye). Released May 27, it was the 5th track from the album Beauty Behind the Madness and the second single released.
"When a song takes its hook from a horror film, Wes Craven's 1977 cult classic The Hills Have Eyes, you know there's bound to be trouble.

Brian Mansfield
USA Today
June 2, 2015
♦ Certified Diamond (RIAA 2019)
♦ The song was featured in an Yves Saint Laurent Black Opium commercial featuring Zoe Kravitz.
♦ The song was used in the TV show Life in Pieces, Season One, Episode 21.
Three hundred, fifty years ago, Jacques Champion de Chambonnières, a French harpsichordist and dancer, composed Les Pieces de Clavessin de Monsieur de Chambonnieres or Harpsichord Pieces.
Due to lack of manuscript sources, little is known about French harpsichord music of the first half of the 17th century and Chambonnières emerges as the sole, major composer of the time with a large surviving oeuvre (works of art). Some 150 pieces are extant, almost all of them dances. Sixty were published by the composer, himself, in 1670 in two volumes of Les Pièces de Clavessin and the rest are known through some 20 manuscript sources, most of which were discovered only in the mid and late 20th century.

Since the exact course of evolution of the classic French harpsichord style remains a mystery, it is impossible to ascertain the role Chambonnières played in establishing said style. He was obviously influenced by the French lute school, adapting its style brisé to the harpsichord and he may have been among the first to do so. Another important influence was a thorough grounding in counterpoint, probably transmitted from his grandfather Thomas through his father.
[The] Pièces de Clavecin (published 1670) reflect in style and texture the compositions of the noted lutenist-composer Denis Gaultier and thus emphasize the roots of the early harpsichord style in lute music. The Pièces are highly ornamented, and rich in harmony, and are grouped by key into suites of dances […] and miniature pieces with fanciful titles. There is no thematic relationship between the movements of a single suite, the aim being rather for contrast within a given key. Chambonnières was one of the first to attach tables of ornaments to his works, indicating the manner of performance of the many embellishments so vital to his free-voiced style.
It appears that he had lavish tastes and struggled financially because of it. He lived beyond his means and died in poverty two years after his Harpsichord Pieces.
Additional Reading & Sources:
Jacques Champion de Chambonnières (Britannica)
Jacques Champion, Sieur de Chambonnières (Here of a Sunday Morning Site)
Chambonnières, Jacques Champion, Sieur de (Oxford Music Online)
List of Compositions (Wikipedia)
These are, roughly, two & half hours long, taken together.
The first one has a minute's worth of spoken French at the beginning.

"The only comfort is the moving of the river…"
Saturday night's playlist submission is Ice by Sarah McLachlan. The 8th track from her album Fumbling Towards Ecstasy, it was never released as a single so, there is no chart information. Sarah was already a star in her native Canada but, this album was her breakthrough in the US, exploding on the scene when her first track, Possession was released. Born in Halifax, Nova Scotia in 1968, she was playing music, early, starting with a ukulele at age four. In high school, she was the singer for the short-lived band The October Game and, after finishing a year in college, signed a recording contract with Nettwerk without having written a single song.
This is another album/CD I have worn out. I can remember when Possession showed up on the radio and I first heard it. I was driving home from work and immediately went looking for her album. Her music has been used in many television shows and I remember her being on Charmed. Notable movies using her songs are City of Angels, Message in a Bottle, The Brave One and Four Christmases.
Sarah McLachlan (Official Website)
Sarah McLachlan Online (Fan Site)
"She may be one good reason to leave but, I'm a hundred reasons to stay…"
This Sunday's playlist submission is Hands Tied by American pop rock band Scandal, formed in 1981 in New York City by guitarist Zack Smith…and not to be confused with the Japanese band or the Australian band. Written by Holly Knight and Mike Chapman, it was the third track from the album Warrior (featuring Patty Smyth). I can't find a release date but, it entered the Billboard Hot 100 on October 20, 1984, and peaked at #41 on December 1st. It also peaked at #21 on the Billboard Mainstream Rock Tracks on the same day.
This album was the very first CD I ever owned. It was a gift and, up until that point, I only had vinyl, 45s and cassettes. I wore this one out, too. The band called it quits in 1985 but, reformed in 2004 and are still active. The song Love's Got A Line On You from their debut EP Scandal was on the soundtrack to the 1983 movie Easy Money and Smyth was a solo artist on soundtracks for Caddyshack II & Armageddon. Other songs have appeared in additional movies and TV.
Patty Smyth & Scandal (Official Site)
Three hundred, eighty years ago, the Libro quarto d'intavolatura di chitarrone (Fourth Book of Chitarrone Tablature) was published. Composed by Giovanni Girolamo Kapsperger (Johannes Hieronymus Kapsberger), a highly skilled German–Italian early-Baroque musician, it consists of 12 toccatas, 16 preludes, 10 passacaglias, 5 chaconnes, along with other pieces including variations, canzonas & dances. Kapsberger was known for lute & theorbo (chitarrone) mastery. He was in the service of Cardinal Francesco Barberini by 1624, working along side Girolamo Frescobaldi and Stefano Landi, as well as the future Pope Clement IX.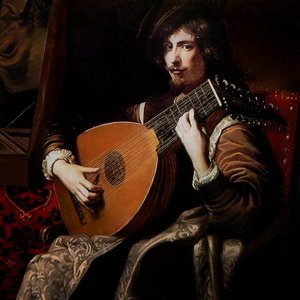 Some of his contemporaries, including Landi, criticized Kapsberger's composing skill. Due to his unusual rhythmic groupings, sharp contrasts and non-conforming to the rules of counterpoint, it was suggested that he was an inferior composer. A current lutenist, Rolf Lislevand commented in liner notes in 1993:
"Kapsberger was as bad a composer as he was a fine instrumentalist […]. The ideas are often badly developed and are freely associated with one another […]. [N]o real musical discourse is built up […] the rhythm, even after serious efforts at fathoming it, wavers between inspired cleverness and total confusion.
Despite the above complaints, Kapsberger greatly contributed towards advancing European plucked string instruments of the time. At least six collections were published during his lifetime, two of which are currently lost.
There is very little else written about this specific composition. ~Vic
Additional Reading & Sources:
Kapsberger: Interview with Anne Marie Dragosits (Cuervas Pulsadas or Pulsed Ravens Website)
Giovanni Girolamo Kapsberger (Wikipedia)